Under fire from Georgia government officials caught flatfooted by the winter storm that socked the South this week, weather forecasters are mad as heck and want them know: They're not going to take it anymore.
With the capital city, Atlanta, paralyzed by less than 3 inches of snow, Georgia officials complained that they weren't warned what was on the way Tuesday:
"We have been confronted with an unexpected storm that hit the metropolitan area," Georgia Gov. Nathan Deal said Tuesday night.
Wednesday, he said, "There's not anybody in this room who could have predicted to the degree and magnitude the problem that developed."
Later Wednesday, he said: "If we closed the city of Atlanta and our interstate system based on maybes, then we would not be a very productive government or a city. We can't do it based on the maybes."
Asked why the city didn't deploy sanders and plows until eight hours after the National Weather Service issued a winter storm warning early Tuesday, Atlanta Mayor Kasim Reed called such criticisms "Monday morning quarterbacking."
The National Weather Service wouldn't comment, but other experts were quick to leap to its defense.
"Wrong, wrong, wrong and wrong," Marshall Shepherd, president of the American Meteorological Society, said of critics who alleged that the weather service botched its forecasts.
In a post on a blog he set up Wednesday specifically to defend the performance of forecasting services this week, Shepherd pointed out that the weather service issued watches and warnings well before the storm arrived, providing plenty of time for Georgia officials to make the right decisions.
"Yet, as soon as I saw what was unfolding with kids being stranded in schools, 6+ hour commutes, and other horror stories, I knew it was coming, I knew it. Some in the public, social medial or decision-making positions would 'blame' the meteorologists," Shepherd wrote in a post titled "An Open Thank You to Meteorologists in Atlanta."
NBC News meteorologist Al Roker agreed.
"The mayor and the governor got on TV yesterday and said all this wasn't expected, and that's not true," Roker said Wednesday on TODAY.
Scrolling through the weather service's reports for the last few days reveals that its forecasters were sounding the alarm of possible "widespread ice accumulations" across the South as early as Saturday — "expanding into the Southeast U.S. Tuesday into Wednesday."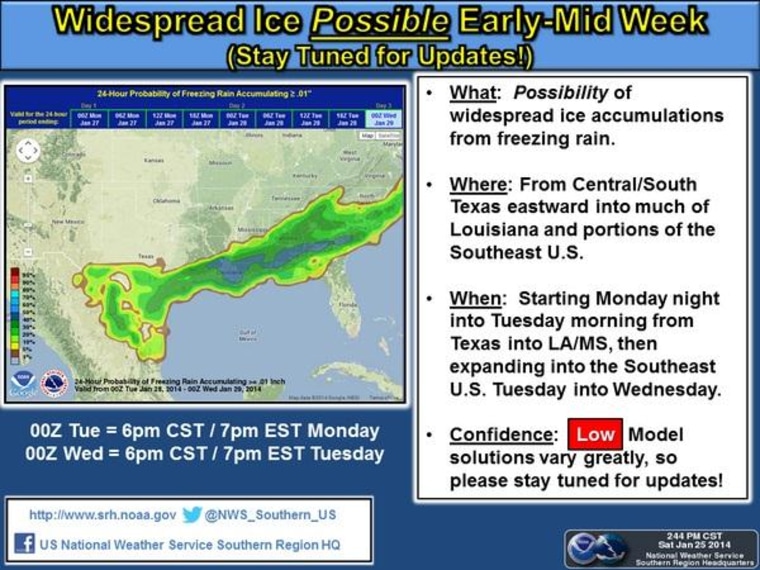 Which is exactly what happened.
On Monday — a day before the first snowflake fell — the weather service warned of snow and possible heavy snow right across north Georgia.
Which is also exactly what happened.
At 3:22 p.m. Monday, the weather service issued an advisory that specifically there was a potential "for 2 inches of snow and up to a half-inch of sleet from Atlanta to Athens."
Once again: exactly what happened.
"It absolutely breaks my heart," said Jim Cantore, a meteorologist for The Weather Channel.
"There are certainly chances that you take with this inexact science of forecasting a winter storm warning," Cantore said Wednesday. But this time, "the National Weather Service was absolutely spot-on with this."
"It's just an absolute cop-out," he said, telling Georgia officials:
"Admit you're wrong. Admit you took a chance to save some money and you blew it. You blew it. And now, people are suffering, unfortunately, in the city of Atlanta."