Twenty-one cars of a freight train carrying oil and propane derailed in western Pennsylvania on Thursday morning during heavy snowfall, according to officials.
The 120-car Norfolk Southern Corp. train jumped off the tracks in Vandergrift, Pa., and some cars struck a nearby steel plant, but no one was injured, said Dan Stevens, an emergency Management Coordinator in Westmoreland County, Pa.
The employees of the steel plant were forced to evacuate because the crash compromised "the integrity of the building," Stevens said. One train car was still in the building on Thursday afternoon, according to Norfolk Southern.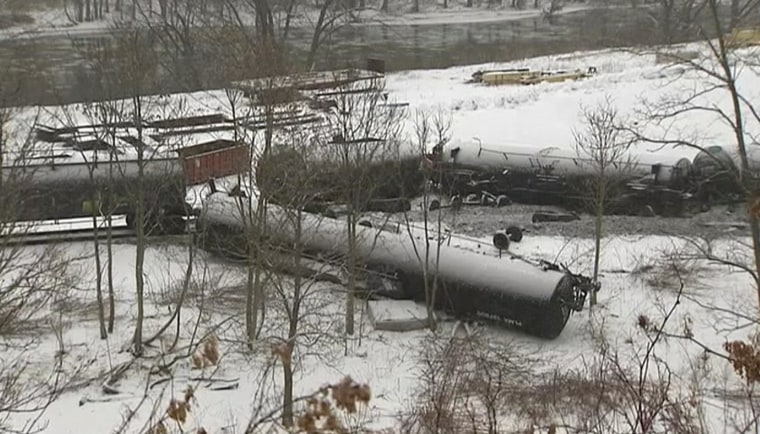 The cars that derailed were carrying propane and crude oil, and four cars leaked 3,000 to 4,000 gallons of oil before they were plugged, said Norfolk Southern Spokeswoman, Susan Terpay. The train cars had the capacity to carry over 24,000 gallons each, Terpay said.
The accident did not spark a fire, and no additional people were forced to evacuate because of the leaks, Stevens said.
An environment team was working to clean up the spills, Terpay said.
The train was traveling from Conway, Pa., to Mooresville, Pa. and transporting soda ash and food products along with the flammable material. Vandergrift is about 20 miles Northeast of Pittsburg, Pa.
Stevens said the train derailed while navigating "a slight bend," and while snow pummeled the area, a cause would not be determined until Norfolk Southern finished their investigation.
— Elisha Fieldstadt