Heavy, wet snow crippled travel options for millions of people Thursday, with more than 5,800 canceled flights by midmorning making for the worst single travel day this winter, according to masFlight.
The current storm has so far caused about 11,600 cancellations, compared with 9,700 during last week's weather incident Feb. 2-6, said masFlight, a data company specializing in airline operations.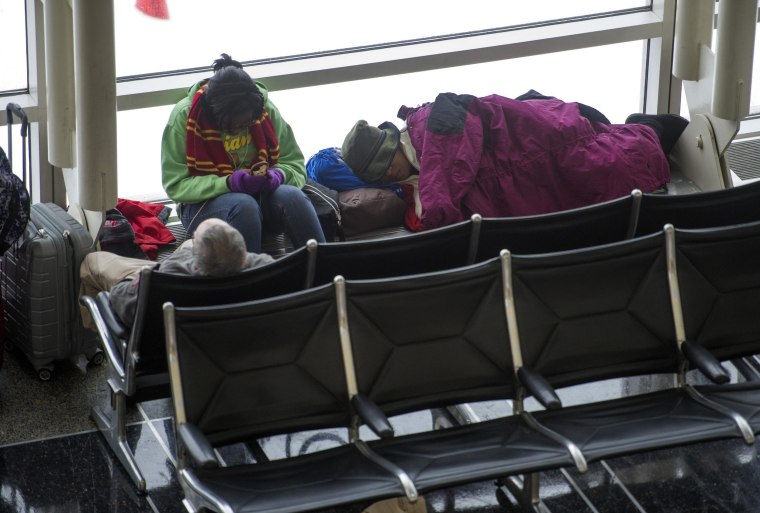 "I think this has a bigger effect because it's up and down the coast," said Michael Benjamin, CEO of FlightView, a flight tracking site.
By 11:30 a.m. EST, more than 5,900 flights were canceled and an additional 3,400 were delayed. Airports in Washington, D.C.; Philadelphia; Atlanta; New York; Virginia; North Carolina; and Boston were among the locations with the most cancellations, according to FlightAware, a tracking service. (See the latest air travel status here.)
"I think there will be a ripple effect the next couple of days," Benjamin said. "It's the reaccommodation of passengers that's going to be the tricky part."
More than 8 inches of snow had already piled up in Philadelphia and the nation's capital by midmorning.
The roads and rails were heavily impacted as well. Amtrak announced that it was reducing service on its Acela Express, Northeast Regional, Keystone and Empire lines. Plus there were numerous cancellations for its trains from New York to New Orleans, Miami, Savannah, Ga., and other locations.
Both Greyhound and MegaBus reported widespread weather-related cancellations in places such as North Carolina, Virginia, Maryland, Pennsylvania, New Jersey, New York, Connecticut, Massachusetts, Vermont, Washington, D.C., and Canada.
Including December, 94,400 flights have been canceled this winter, according to masFlight. "The cancellation rate for this winter-to-date has more than doubled since winter 2012/13 because of the sequential storms that have hit the U.S. since December 1," the company said Wednesday.
That translates into about 4.9 million passengers impacted by flight cancellations and 36.4 million by flight delays.