BOSTON — There's no sex in sight, nor drugs. And the rock 'n' roll is a still a few hours away. For now, Pinky Weitzman, a touring member of the Magnetic Fields, one of the most acclaimed indie bands of the past quarter-century, has spreadsheets. Lots of spreadsheets.
Later, Weitzman will play the viola (plus a half-dozen other instruments) and sing in front of a sold-out crowd at the Berklee Performance Center here. She's toured with Belle and Sebastian, played in a musical that just got nominated for a boatload of Tony's, supported Moby at a benefit concert that also featured Paul McCartney, and fronts a band that delivered what New York Magazine once approvingly called, "Perhaps the Nuttiest Loft Show We've Ever Seen."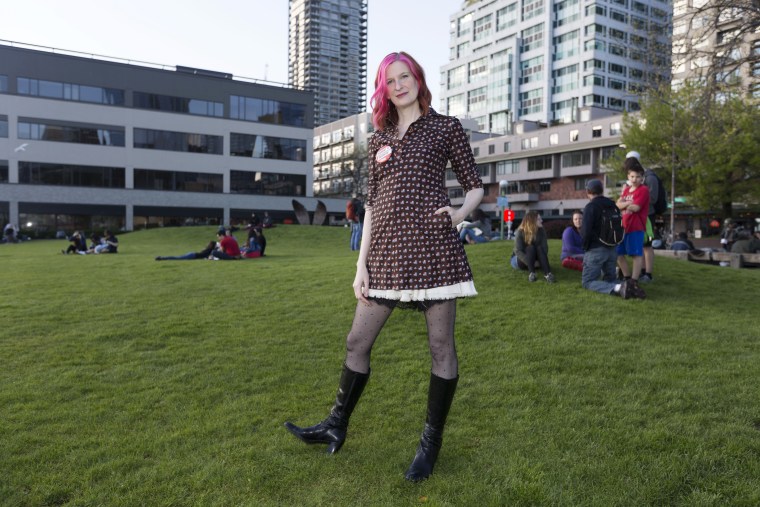 But on a recent Friday morning, she's backstage on a conference call and squinting at her laptop, which displays endless rows of numbers on email click-through rates, social media growth, and search engine optimization stats for the American Civil Liberties Union.
Weitzman, whose neon hair matches the "Pinky" name she gave herself in college but that even her parents now use, is at her day job, helping the century-old civil liberties group reinvent itself to fight the Trump administration. Membership has quadrupled since the election and more than $83 million has flowed in, much of it online, according to a recent cover story in Fast Company magazine that declared: "The ACLU is Leading the Resistance."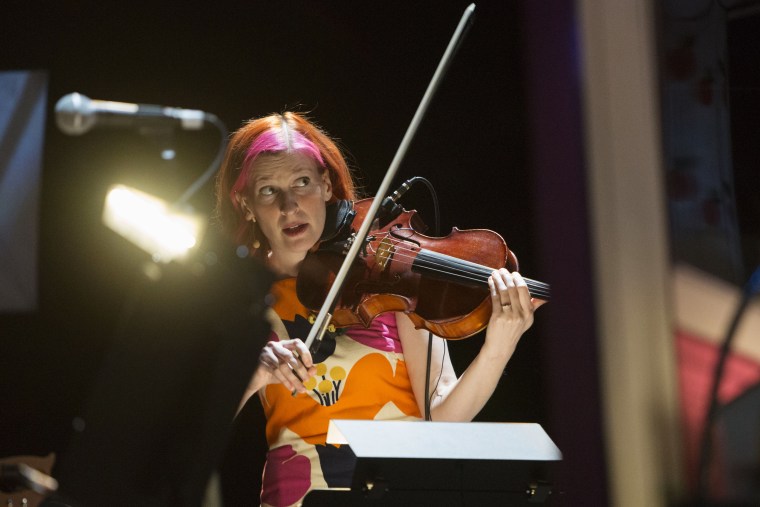 That means there's lots to do for Weitzman, the ACLU's deputy digital director, who took an earlier leave of absence to run presidential candidate Bernie Sanders' digital campaign in the critical state of Iowa last year.
This year, Weitzman, 40, who lives in New York, had planned to take a break from politics to focus on music and the tour with the Magnetic Fields. But then, as the band members gathered for their first day of rehearsals, which just happened to be Election Day, they watched in shock as the candidate whom the ACLU called "a one-man constitutional crisis" scored one of the biggest political upsets in history.
"How do you leave the ACLU when Donald J. Trump gets elected? The answer is you do not. You stay and you fight and you figure everything else out around that," Weitzman said over lunch between her two jobs.
So for the past few months, Weitzman has done her day job wherever her night job takes her: Tour vans; airports; backstage; and even on stage, where she keeps her laptop open to stay in touch with colleagues during soundchecks. Soon, the band will head to Europe, where the time change will pose a fresh challenge.
Fortunately for Weitzman, both of her bosses support the missions of the other.
"We're not only members of the ACLU, the ACLU is members of us," said Stephin Merritt, the Magnetic Fields' famously droll frontman (he wears only brown and wrote a song with the chorus: "Rock 'n' roll will ruin your life ... and make you sad.")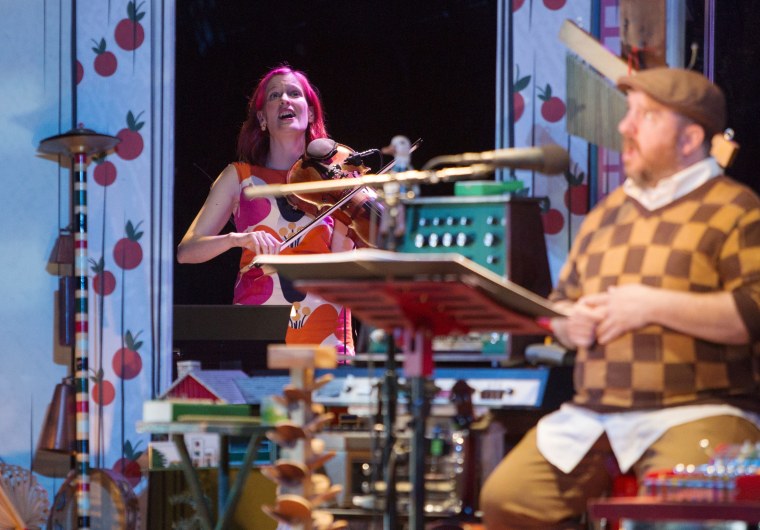 Jenn Sturm, Weitzman's boss at the ACLU, said accommodating a year-long international tour with a major-label band was definitely one of the more unusual requests she's received from an employee. But she said it was worth it to keep Weitzman.
"Pinky has two careers," Sturm said. "She just happens to be doing them both at the same time."
For her part, Weitzman says music helps "keep the burnout at bay" when many of her comrades in "the resistance" are already experiencing outrage fatigue. "For the few hours of sleep that I get every night, I sleep very peacefully," she said.
Plenty of musicians have professional side gigs, including other members of the Magnetic Fields. Sam Davol for instance, was in law school when the band recorded its breakthrough album "69 Love Songs," and he now runs a nonprofit with his wife.
But few political operatives moonlight as musicians, and let alone in bands that have produced one of the 500 greatest records of all time, according to Rolling Stone.
When Weizman first started at the ACLU's New York office five years ago, after a stint touring with "Spring Awakening." She didn't tell anyone she was also performing in the then-Off Broadway musical "Natasha, Pierre & the Great Comet of 1812." This week, the Broadway version of that show nabbed 12 Tony Awards nominations, the most for any play this year.
"I was leaving ACLU, racing downtown, getting into costume, playing, getting home at midnight. Rinse repeat, seven shows a week," she said. "Not a good idea."
After five months, she had to quit the show, but has kept playing in theater and other gigs around town. Eventually, she started inviting ACLU colleagues to see her other band, Not Waving But Drowning, which describes its third album as "musically revelrous, but lyrically so very much about death."
When Merritt, whom she first met in 2003, asked her to join this tour, supporting his musical memoir — 50 songs, one for each year of his life — she felt she couldn't say no.
"When Pinky and I first started working together, I remember thinking she reminded me of a far more interesting Clark Kent," said Noa Yachot, an ACLU colleague. "By day she's overseeing huge campaigns ... come evening, she'll throw on some tulle and platforms and skip out with her viola to perform with Questlove or on Broadway or something."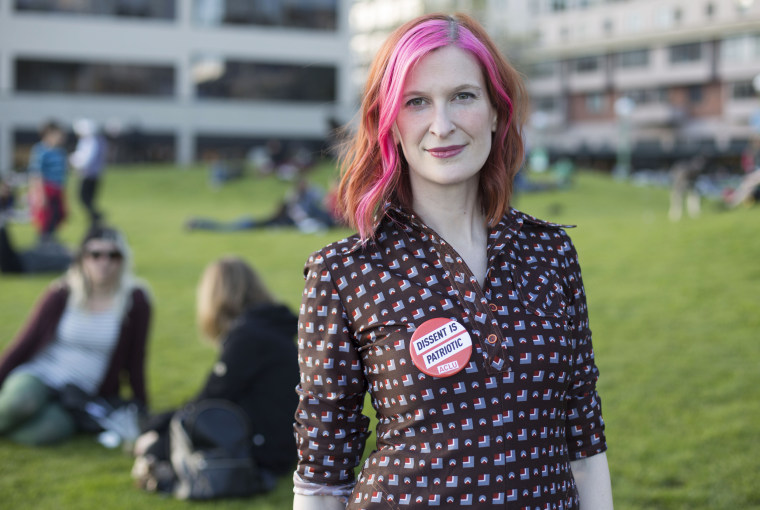 Weitzman, who grew up in an "IBM Family" outside New York City, studied computer science in college before moving to San Francisco to work for an internet company that ended up getting busted for fraud.
Disillusioned with the corporate world, she decided to pursue non-profits and the viola, which she took up in middle school as minor act of rebellion ("I chose Russian instead of Spanish, viola instead of violin, pink hair," she said).
Kenneth Pennington, who was Sanders' national digital director, said he was surprised to discover a personal website with musical booking info when they were considering hiring her for the campaign.
"I was like, wait ... this is really going to be the digital staffer for the most important state in the primary process?" he recalled. But, he said, Weitzman ended up being "one of the greatest digital minds" on the campaign and "easily the most beloved."
Her two worlds collided at a show in Washington, D.C. this year when she invited some friends from the Sanders campaign backstage. Everyone was excited, given the band's political leanings.
"When Team Bernie came backstage at the D.C. show — the feeling of, 'Oh my god, you guys are rockstars' totally went both directions," Weitzman said. "You don't have to be on stage to be a rock star."