It was a near-miss for Democrats in Georgia's 6th Congressional District — and President Donald Trump was crowing about the opposition party falling short.
Democrat Jon Ossoff, a 30-year-old documentary filmmaker who shattered fundraising records, finished well ahead of his challengers — but came just shy of the 50 percent threshold necessary to win the closely watched race outright, according to the Associated Press, which called the race just before 1 a.m. Wednesday.
Ossoff, who finished with about 48 percent, will now head to a runoff on June 20 against Republican Karen Handel, the former Georgia Secretary of State, who bested 10 other GOP hopefuls with about 20 percent of the overall vote in the unusual all-party primary.
In a tweet Wednesday, Trump said the race was now "Hollywood vs. Georgia" — an apparent reference to Samuel L. Jackson, who made a radio ad supporting Ossoff, and other stars who are backing the Democrat.
In his speech to supporters Tuesday night, Ossoff called his first-place finish an odds-defying "victory for the ages."
"There is no doubt that this is already a victory for the ages," the Democrat said at his election-night party. "We fight on, we have defied the odds. We have shattered expectations."
Very high turnout — as many as 200,000 people may have cast ballots, roughly 45 percent of those registered — suggests voters in the longtime Republican district will be paying close attention to second round of the contest in two months to replace former Rep. Tom Price, who stepped down to join Trump's Cabinet as Health and Human Services Secretary.
"Tomorrow, we start the campaign anew, and it is imperative that all of us as Republicans come together," Handel said at her victory party.
Ossoff failure to win outright is a win for Trump, who had repeatedly attacked the Democrat.
Trump, who called Handel on Wednesday to congratulate her, made a last-minute intervention in the race this week, aware it was already being seen as a referendum on his political prowess. On Twitter, he had called Ossoff a "super liberal" who doesn't even live in the district, and on a robocall, he went further.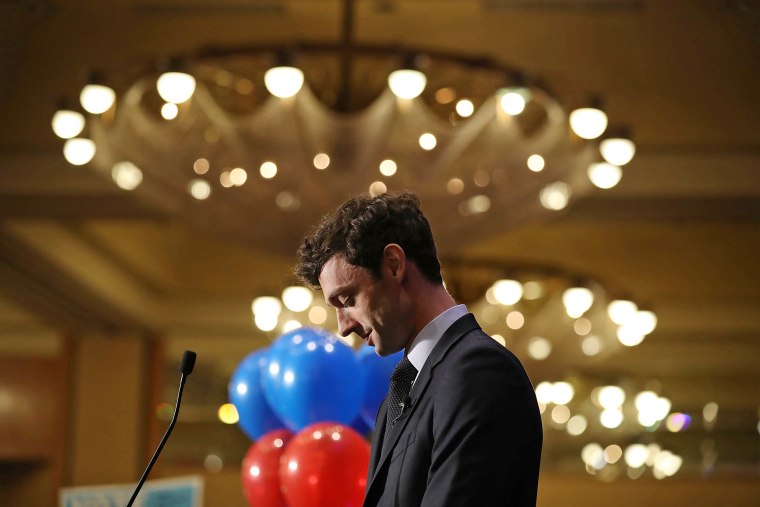 "Liberal Democrats from outside of Georgia are spending millions of dollars trying to take your Republican Congressional seat away from you. Don't let them do it," Trump said in the recorded message.
The president tweeted early Wednesday morning, "Despite major outside money, FAKE media support and eleven Republican candidates, BIG 'R' win with runoff in Georgia. Glad to be of help!"
While Handel kept her distance from Trump, Ossoff launched his bid with an email solicitation inviting liberals to "Make Trump Furious." That lead more than 8,000 to volunteer for his campaign and thousands more across the country to contribute money.
Operatives in both parties expected Ossoff to fall short of the 50 percent threshold, and Ossoff's campaign spent Tuesday telling volunteers to prepare for a runoff.
RELATED: Trump's shadow loomed over Georgia election
But Democrats are keenly aware that the June election will present new challenges. Ossoff will have to face off against a Republican party united behind a single candidate, instead of split between 11 as was the case Tuesday.
Even with Ossoff's unprecedented fundraising success, Republicans together outspent the Democrat by nearly two-to-one. Now, all of that firepower will be concentrated on Ossoff.
Nonetheless, Democrats are hailing Ossoff's double-digit edge Tuesday night in a district that Price won reelection to by 24 percentage points in November.
"The mere fact that we're even talking about a competitive race in a congressional district Democrats haven't held in over 40 years, let alone Jon Ossoff's sound victory tonight, is a testament to the growing strength of a nationwide, grassroots movement that's looking for leaders ready to stand up to the Republicans empowering Donald Trump's hate-fueled agenda," said Jim Dean, leader of the liberal group Democracy for America.
In some ways, Tuesday night was a repeat of last week's special election in Kansas. There, the Democratic candidate vastly outperformed his party's previous benchmark, but fell short of victory as a large lead among early voters gave way to superior Republican turnout on Election Day.
Looking ahead, Democrats are eyeing a special election Montana, where Bernie Sanders-aligned folk singer Rob Quist has won the party's nomination for the state-wide seat. But beyond that, they'd have to compete in even less favorable terrain than Georgia's 6th.
But at some point, Democrats are going to have to prove they can convert the anti-Trump resistance into wins, like Republicans did with Scott Brown's victory in 2010 in Massachusetts and Democrats did with 2007 special elections in Mississippi and Louisiana.