WASHINGTON — The Democratic National Committee has a problem.
In the basement of the DNC's headquarters here, Rep. John Lewis, the famed civil rights activist, and Rep. Keith Ellison, the party's deputy chair and a member of its left wing, squeezed into a tiny room to go over the night's game plan — one aimed at helping the party's premier national organization tap into the rollicking anti-Trump sentiment drawing millions to the streets and pumping millions of dollars into activist causes.
As Lewis and Ellison kicked off "Democrats Live," the DNC's new show broadcast on Facebook, they'd be taking questions online and trying to convince viewers to sign up for what the DNC calls "Resistance Summer" — the party's first major effort to tap into "The Resistance" movement that sprung up after President Donald Trump's election.
Both the DNC show and its organizing program are attempts to connect with a fired-up and somewhat alienated grassroots base that has largely put its energy and money into other organizations. The DNC wants to bring into the fold ahead of the midterms and 2020 presidential race some elements of The Resistance that want nothing to do with the party organization, partly based on what is perceived as the DNC's shabby, finger-on-the-scale treatment of Senator Bernie Sanders during the Democratic primary against Hillary Clinton in 2016.
A sign of the problem: Last month, the DNC posted its worst April fundraising haul in eight years, even as other Democratic committees and left-leaning groups raked in cash at unprecedented rates.
To try to turn protesters into voters, the DNC is doing something it doesn't typically do in non-election years: Funding a small army of field organizers across the country "to build the Democratic resistance." They'll be hired by state parties, which will compete for grants to make the hires.
While the 2018 and 2020 elections are still far off, the party has pinned its hopes for electoral redemption on the new wave of anti-Trump activism. Democrats like DNC Chair Tom Perez say they're kept up at night worrying that the party will "lose this moment."
And activists, like Heather Booth, herself a famed civil rights organizer, told the "Democrats Live" audience that the anti-Trump marchers could only achieve their goals by "electoralizing" themselves and working with the DNC.
Movements and parties don't always get along. The Tea Party, the most recent forebearer of the "resistance," spent almost as much time battling the Republican party as it did the President Barack Obama. And some movements, like Occupy Wall Street, don't want anything to do with elections.
Still, it's increasingly clear to both the anti-Trump grassroots and the party that they need each other.
Some potential friction was evident even in the safe confines of the DNC basement last week despite its invitation-only studio-audience when a woman publicly confronted Ellison on Sanders' refusal to formally join the Democratic party of which he is not a member.
Ellison disagreed, engaging in a brief but tense exchange with her just before the cameras rolled.
"I think we need every single American who's willing to vote for us and support what we're doing to be part of it. And if we start saying, 'you need to be a card-carrying Democrat,' well, that's subtraction and we need to be operating on the basis of addition and multiplication," Ellison said later in an interview.
"I'm not insensitive to the concerns she's raising, but we can't be a club," Ellison continued. "We are an advocacy agency that coalesces around a set of values and tries to win elections to advance those values. And I don't care if you're a moderate Republican or a Jill Stein voter, we want you."
Ellison recently gave up his co-chairmanship of Congressional Progressive Caucus to focus on his DNC duties, including hosting "Democrats Live." He has big plans for the show, touting newly purchased equipment that will allow remote interviews.
"It's all driven by the fact that there are people scattered all across this country that if you say, what are the Democrats up to, too many of them would say, 'I don't know,'" Ellison said. "If there's one thing that our party must do, it is connect with our base."
Sen. Elizabeth Warren has been a guest. Ellison soon expects to book Sanders, along with Chuck Schumer and Nancy Pelosi, the top Democrats in each chamber of Congress.
Sanders has his own show on Facebook Live, which generally enjoys more views thanks to his massive online footprint.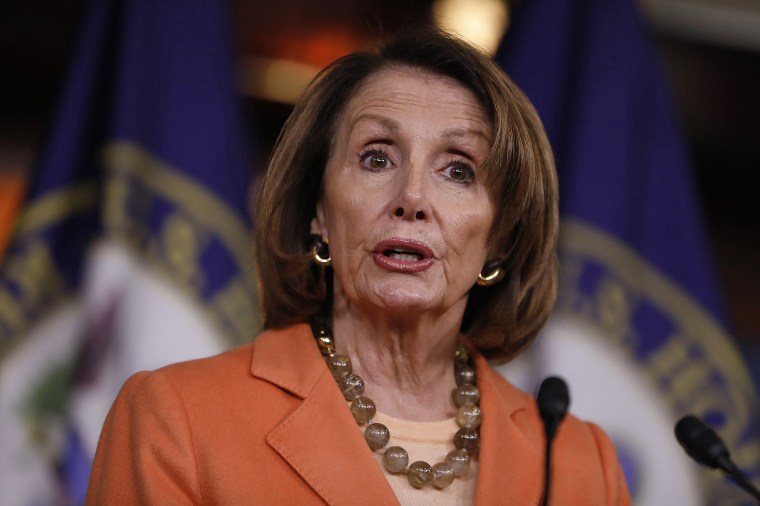 Pelosi said the party needs to be making more efforts to reach to grassroots activists.
"[I]f we want to hold the GOP accountable, we need to convert that energy into wins at the ballot box. The Resistance Summer project will add to the avalanche of grassroots activism we've seen in every corner of the country since the Women's March," the House Minority Leader said in a statement.
Lewis compared the party's current work to what he and his compatriots did with John F. Kennedy, Hubert Humphrey and other Democratic leaders. "The party should be out there leading. Pointing the way, leading the way. We need that energy," he told NBC News.
That political energy can be also difficult to control sometimes, Ellison acknowledged. But he said Democrats have to accept it, even if it leads to Tea Party-like primaries.
"We don't own these seats, the American people own then, we just occupy them," Ellison said. "Some of our great leaders who are out there, honestly, I don't want to see them primaried, because we're barely hanging onto that seat and they're very very close. But at the end of the day, you can't stop people from running."