FLINT, Michigan — Democrats' path back to power is through unrelenting opposition to President Donald Trump, Democratic National Committee Chairman Tom Perez told NBC News in a wide-ranging interview.
In Michigan on Friday for the first stop of a multi-state listening tour, Perez celebrated the failure of the Republican health care plan as "a good day for the good guys" and vowed that there are going to be plenty more bad days ahead for the president.
"I could not be more thrilled that they have failed," Perez told NBC News. "But if your question is am I going to remind voters of this effort, then the answer is, 'You're damn right I will!'"
Nearly a month into his tenure as chairman of party now removed from power, Perez detailed his plan for rebuilding the Democrats and taking on Trump. Some highlights:
Perez, a former Justice Department official, predicted that the FBI's investigation into alleged collusion between the Trump campaign and Russia will lead to indictments.

Perez said he was confident that Democrats will sustain a filibuster against Trump's Supreme Court nominee, Neil Gorsuch.

The party's "biggest challenge" is turning widespread grassroots opposition to Trump into electoral victories, Perez said.
Perez said Democrats will continue to press on alleged Trump involvement with Russian meddling in last year's election, saying, "This story has legs for years to come."
Perez, a former federal prosecutor, even predicted potential criminal prosecutions for those close to Trump.
"The appalling silence of so many Republicans is one of the noteworthy stories of this. History has its eyes on them, and it will not judge them well, because I have little doubt that this — at the end of this — there will be indictments," he said.
"The mountain of evidence is being built that there was massive collusion between [Russian President Vladimir] Putin and the Trump campaign during the election," Perez added.
And if the tables were turned, Perez said, Republicans "would have already filed articles of impeachment" against a Democratic president. But he said it's too soon for that with Trump.
Democrats have mostly abandoned their initial openness to working with the White House, and Perez batted away any hope for cooperation on Gorsuch's confirmation.
Related: House Democrats Hit GOP With First Attack Ads
Perez said Democrats wouldn't give Republicans the eight votes they need in the Senate to overcome a filibuster, even though several moderate Democratic senators haven't yet said how they plan to vote.
"I'm very confident that they will not get the votes," Perez said, calling Gorsuch "far outside the mainstream."
That would invite Senate Majority Leader Mitch McConnell, R-Kentucky, to invoke the "nuclear option" to allow Gorsuch's confirmation with a simple majority of votes and not the 60 currently required.
Perez was in Michigan for the first phase of a "Democratic Turnaround Tour" that will also take him and Rep. Keith Ellison, D-Minnesota, to Texas, Virginia and New Jersey. Ellison had to skip Friday's trip to stay in Washington for the expected health care vote.
"Michigan is a state we should have won in 2016, and we didn't, and I want to understand why," Perez said. "And it's also a good stop to understand not simply why we lost in 2016, but why we had a bad stretch over the last eight years."
The party is at a low political moment, and even many loyal Democrats have lost faith in the DNC for a host of reasons, from hacked emails released by WikiLeaks to its financial management.
"I understand that there's a sense among some that the DNC is irrelevant. I'm not offended by that, but I now own that," Perez said.
He's staking the party's future on trying to demonstrate to grassroots activists that they can notch victories when they work with the Democratic Party, pointing to Friday's outcome on health care as an example.
The thing Perez says inspires him — the "unrelenting grassroots activism" against Trump — also "keeps me up at night."
Related: Democrats introduce 'Mar-A-Lago Act'
He likes to say that "the leader of the Democratic Party is the millions of people in the streets," but he's aware that they don't see it that way now.
"Our biggest challenge is to make sure we channel that energy into electoral success for Democrats. To me, that's our biggest challenge," he said. "We cannot lose this moment."
One of the keys may be Ellison, who ran against Perez for the chairmanship with the support of Sen. Bernie Sanders, I-Vermont.
Perez called Ellison a friend and "an ideas factory," especially for connecting with the grass roots. Many doubt the sincerity of their partnership, but even critics familiar with the inner workers of the DNC say the chairman has brought the deputy chairman into decision-making circles.
The DNC Charter makes no provision for a deputy chairman, but Ellison's responsibilities will be spelled out formally next week, Perez said, along with those of the party's five vice chairmen.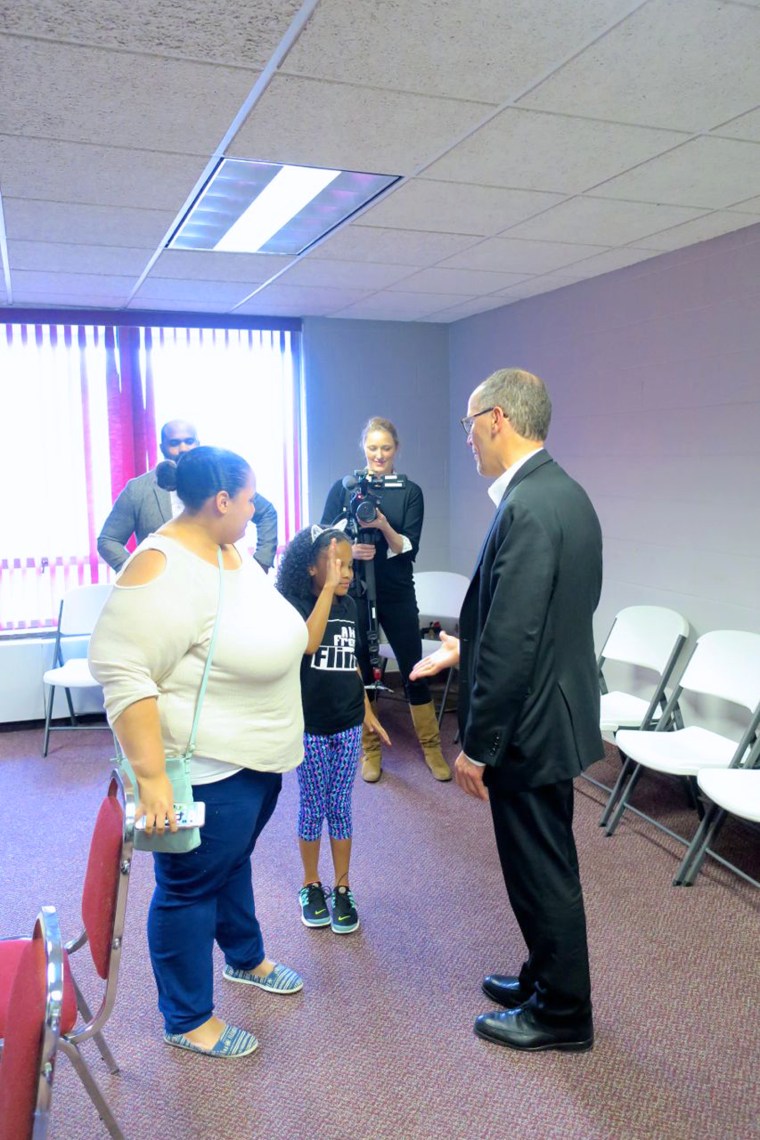 In Michigan on Friday, Perez made three stops: He heard from union leaders in Macomb County, a mostly white Detroit suburb that swung from Obama in 2008 and 2012 to Trump in 2016; he met with activists in Flint, which is still reeling from its water crisis; and he visited the church where Ellison's brother is the pastor in Detroit, where depressed African-American turnout helped cost Democrats the state.
At each stop, Perez would speak for a bit and then "shut up and listen," he said.
What generally followed was an outpouring of criticism, most of it on the theme of feeling taken for granted by the party. Perez would stay quiet until the end, then try to sum up what he heard.
"What they heard from [Trump] was 'I feel your pain,' and what they heard from us is 'he's crazy,' which I'm prepared to stipulate, but that's not a message," Perez said.