WASHINGTON — The Democratic National Committee is sending $1.5 million and several top staffers to Virginia to boost gubernatorial nominee Ralph Northam, whose war chest was depleted after a tough primary campaign, an official told NBC News.
It's a significant financial and personnel investment for a national party that has underperformed in fundraising expectations and a reflection of the importance of this year's elections in Virginia, where Democrats are also hoping to make gains in the House of Delegates and hold onto state-wide offices.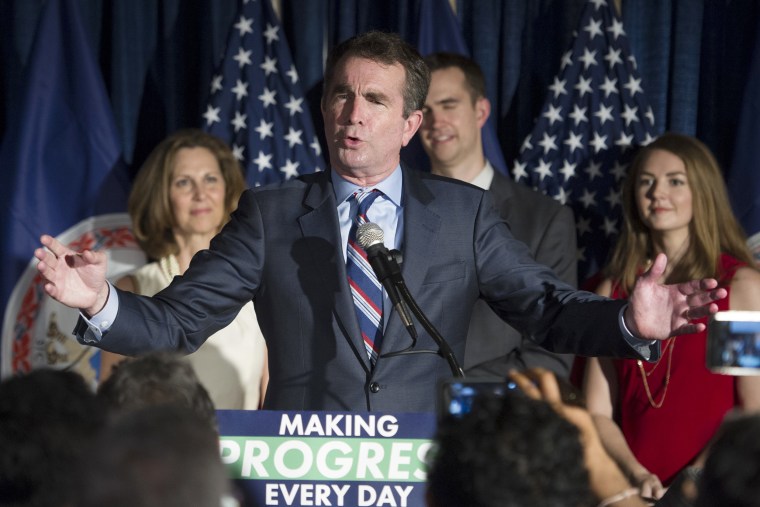 "The DNC is all-in in Virginia," DNC Chairman Tom Perez said in a statement. "We are training organizers, doubling our boots on the ground, and making significant investments in our digital and data operations that will help lift Democrats to victory up and down the state ballot."
In addition to doubling the number of paid field organizers in the state, the money will be used to beef up the party's operations in the state, including training, digital and tech.
Perez is also sending three of his top political aides, including Chief of Staff Sam Cornale, DNC Political and Organizing Director Amanda Brown Lierman, and DNC political adviser Ramsey Reid, who ran get-out-the-vote operations for the Virginia Democratic Coordinated Campaign in 2016.
Northam comfortably won his primary against former congressman Tom Perriello, but it left him with just $1.75 million in the bank — about half as much as GOP nominee Ed Gillespie — according to financial disclosures released earlier this month.
A new Monmouth University poll released Monday shows the race neck-and-neck, with Northam, the state's lieutenant governor, and Gillespie, a former Republican National Committee chairman, tied at 44 percent each.
Gov. Terry McAuliffe (D) remains popular, but Virginia's constitution prohibits governors from serving more than one term.