WASHINGTON — Senate Democrats staked out a tough stance on international trade Wednesday as they attempt to outflank President Donald Trump on some of the populist campaign themes that helped him peel away once-reliably Democratic blue-collar voters.
"The problem is President Trump has talked a good game but done nothing on trade but study it," Sen. Chuck Schumer, D-N.Y., said outside the Capitol as he introduced the second phase of the party's "Better Deal" messaging blueprint for the 2018 midterm elections.
Many of the 10 Democratic senators who will be facing reelection next year in states Trump won hail from the Rust Belt, and several of them stood with Schumer to announce what the minority leader called "a tough, tough" plan to "finally put Americans first."
"The administration needs to be consistent with what the president said when he was campaigning to make sure that we renegotiate NAFTA in a serious way," said Sen. Bob Casey, D-Pa., who is on the ballot in 2018.
Since Bill Clinton first pushed the North American Free Trade Agreement in the 1990s, trade has been one of the most divisive issues inside the Democratic Party.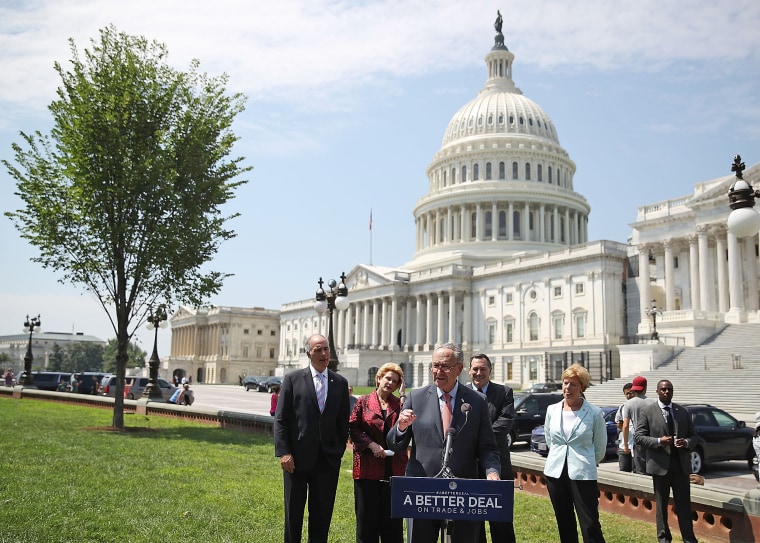 Casey and other Midwest Democrats like Sen. Sherrod Brown, D-Ohio, have long fought new trade deals, including the Obama White House's Trans Pacific Partnership. And Sen. Bernie Sanders, I-Vt., hammered Hillary Clinton on the issue during last year's Democratic presidential primary.
The prominent enshrinement of trade in the party's new official messaging plan suggests it's taking a turn away from the pro-trade wing.
"Anybody who believes that free trade is fair trade, come to West Virginia," the state's Democratic Senator, Joe Manchin, said with Schumer at his side.
The new Democratic proposal include some ideas that Clinton championed in an attempt to inoculate herself from attacks from both Sanders and Trump last year, like the creation of an Independent Trade Prosecutor.
And they include some ideas that Trump championed, but has since failed to follow through on or even reversed course, like cracking down on currency manipulation. The party also called for punishing companies that move jobs overseas, stricter "Buy America" rules for federal contractors, and an American Jobs Security Council that could veto foreign company purchases that fall through.
The proposals have little-to-no prospect in a Republican-controlled Congress, but Schumer said they are looking for GOP allies and may use upcoming must-pass legislation as leverage.