Voters in Omaha, Nebraska, will pick a new mayor Tuesday in a local election that has become the epicenter of a divisive national Democratic fight over abortion.
The flareup started almost by accident, but has escalated through a series of heated comments and attempts at clarifying statements from Democratic leaders until it snowballed into an inquiry about whether the party should accommodate those who oppose abortion.
The issue was a hot topic among attendees at a fundraising gala last week in Washington, D.C., for Emily's List, which supports Democratic women who favor abortion rights. Some attendees felt passionately about the issue, while others said privately they felt the party had needlessly plunged into a tiff for no reason.
"Republicans want us fighting amongst ourselves instead of organizing to beat them," Stephanie Schriock, the group's president, said in her speech at the gala. "And, from what I can tell, a lot of people in the Democratic party are happy to have that argument."
While it's unclear if the row will have any long-term consequences, it underscores the difficulty the Democratic party has in speaking with one voice right now, despite its professed unity in battling the common enemy of President Donald Trump.
"I think there is [room] for Democrats who don't support abortion rights], but I think they would have to be very nuanced in how they talk about these issues," Illinois Sen. Tammy Duckworth said. "The Democratic Party is a far bigger tent than the Republican Party is. And you will be given a fair choice to make your opinions heard. We have a full range of folks. But at the end of the day, it's about respecting each individual's rights, and that means you have to respect woman's rights."
RELATED: The Democrats vs. Trump: Full coverage
The abortion debate touched on many of the party's most sensitive spots, from the hard-fought 2016 presidential primary, to which kind of voters it should prioritize, and tradeoffs between focusing on economic or social issues.
Division over abortion, usually largely under the surface in the Democratic party, reared its head because of what amounts to a miscommunication.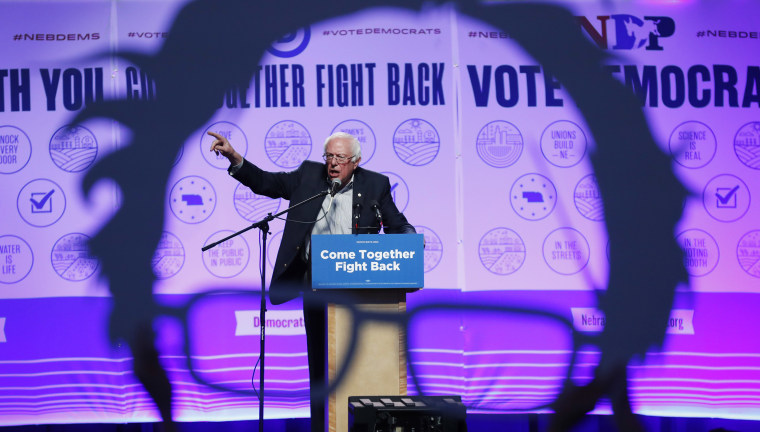 It began when Vermont Sen. Bernie Sanders wanted to add a stop to the Democratic National Committee's recent unity tour with DNC chairman Tom Perez to support Omaha mayoral candidate Heath Mello. Sanders' goal was to show Democrats can win in conservative states like Nebraska, and the state party chairwoman had asked for the help.
Aides looking into Mello were under the impression that he had a 100% rating from the local chapter of Planned Parenthood, which his campaign publicly affirmed. The co-chair of Mello's finance committee, Andy Holland, is a past chair of Planned Parenthood in Nebraska. And House Minority Leader Nancy Pelosi contributed $1,000 to Mello's campaign.
But it turned out, as Planned Parenthood later said in a statement, that impression was "an inaccurate representation" of Planned Parenthood's rating. When Mello was in the state Legislature years earlier, he had voted for legislation favored by anti-abortion rights activists (though the details of the key bill in question, regarding ultrasounds, were later disputed by Mello's campaign).
Pro-abortion rights groups were furious that the DNC and Sanders backed Mello.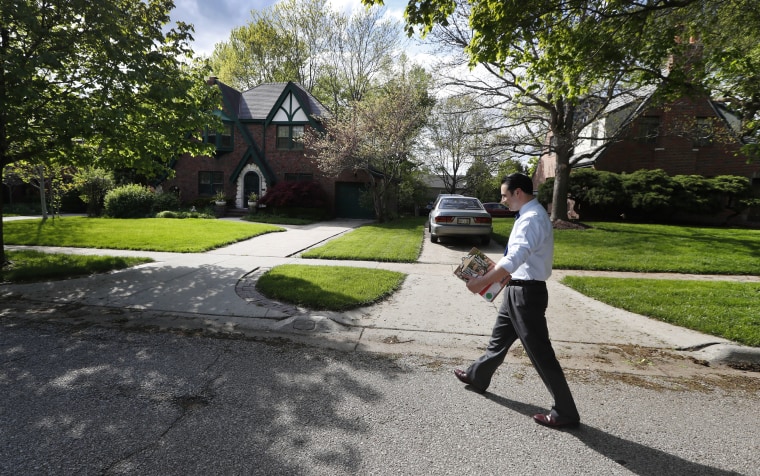 "The actions today by the DNC to embrace and support a candidate for office who will strip women — one of the most critical constituencies for the party — of our basic rights and freedom is not only disappointing, it is politically stupid," Illyse Hogue, the president of NARAL Pro-Choice America, said at the time.
The split was further inflamed by earlier interviews Sanders had given in which he seemed to brush aside concerns about Mello's abortion record. And Sanders had been cooler on Jon Ossoff, the Democratic candidate in the high-profile special congressional election in Georgia, who supports abortion rights.
That led to accusations that Sanders had a blind spot on gender and that the DNC was willing to negotiate away abortion rights.
Sanders and the DNC scrambled to clean up the damage.
The Vermont senator put out a statement a few days later declaring his support for Ossoff.
Then Perez issued a statement that inadvertently ended up escalating the controversy.
"Every Democrat, like every American, should support a woman's right to make her own choices about her body and her health," the DNC chairman said. "That is not negotiable and should not change city by city or state by state...we must speak up for this principle as loudly as ever and with one voice."
Many read Perez' comments as an eviction notice to Democrats who oppose abortion rights.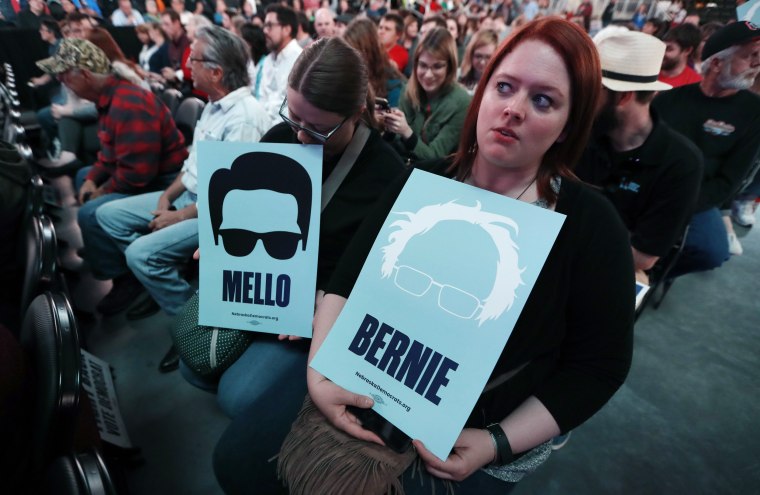 Former Michigan Democratic Rep. Bart Stupak, who held up congressional action on the Affordable Care Act under President Barack Obama over concerns that it would fund abortions, told a conservative news outlet that Perez should "take a hike" and resign.
When NBC's Chuck Todd asked Pelosi about Perez's statement on "Meet the Press" last month, she said "of course" there was room in the party for Democrats who don't support abortion rights — a statement seen as a rebuke of her party's leader.
Then last week, Pelosi gave the controversy new life when she told the Washington Post that the abortion issue had faded in importance and suggested the party shouldn't enforce ideological purity on the issue. "This is not a rubber-stamp party," Pelosi said.
That prompted a new rebuke from Hogue, the head of NARAL.
"This absolutely has to stop. Democratic leadership is sending bad messages that will lead to poor outcomes both in policy and politics. There's no excuse. Do much, much better Leader Pelosi," the NARAL president said.
It wasn't over. A clarification came from Pelosi's spokesperson.
"In her conversation with the Washington Post today, Leader Pelosi discussed how the issue of abortion has 'faded' as an issue that divides Democrats given that the vast majority of Democrats in Congress are staunchly pro-choice. House Democrats recognize, while there are differences in the closest of families about deeply held personal beliefs, legislating those beliefs onto others is a complete non-starter," said spokesperson Drew Hammill.
Plenty of leading Democrats, like former Vice President Joe Biden and Virginia Sen. Tim Kaine, are personally opposed to abortion, but rarely got any blowback. That's because they have vowed not to support government action to meaningfully restrict abortion rights.
"Of course the Democratic Party has room for those who identify as personally opposed to abortion. It always has and always will," NARAL's Hogue said.
"However, the real question," she continued, "and where we draw the line, is when candidates and elected leaders force their own ideology and religious values on their constituents and the women of this country."