Get ready to see Elizabeth Warren everywhere.
The famously press-averse Massachusetts senator will suddenly be very visible as she tours the country to promote her new book ahead of a 2018 reelection campaign, all of which could lay the groundwork for a possible 2020 presidential bid.
On Tuesday, Warren released "This Fight Is Our Fight: The Battle to Save America's Middle Class," the 11th book by the former professor and bankruptcy law expert, who has published both academic treatises and mass-market tracts, including several co-written with her daughter.
While appearing on TODAY to explain how Democrats have become energized after last year's election, she threw cold water on the idea of her running for the White House, replying "no" when asked if she has plans. She offered instead: "I am running in 2018 for senator for Massachusetts."
TODAY co-host Matt Lauer added that "She persisted" bumper stickers have been created in reference to a presidential campaign in 2020, but Warren simply smiled in response.
Warren has a planned public appearance Tuesday night at the Barnes & Noble in Union Square in New York City, where Hillary Clinton kicked off her own tour to promote her 2014 book "Hard Choices."
From there, Warren will head to Boston's famous Old South Church and Mt. Holyoke College in Western Massachusetts, before making stops at Chicago's Music Box Theater, Washington D.C.'s Sixth and I Historic Synagogue and the 1,400-seat Alex Theater in Los Angeles.
All of the events are already sold out underscoring Warren's popularity in Blue America.
Separately, Warren will be the keynote speaker at a massive NAACP fundraiser in Detroit next weekend, which is expected to attract up to 10,000 people at the Cobo Center. Clinton was gave the keynote last year and former Vice President Joe Biden had the honor in 2015.
Warren, who famously avoids reporters in the halls of the Capitol and gives few interviews, will sit for interviews with other news and late-night programs in coming weeks.
RELATED: The top Democrats who could challenge Trump
She already appeared on a Sunday morning political talk show — CBS's Face the Nation — and invited two newspapers, the Boston Globe and USA Today, to her Cambridge home for interviews.
Warren, who has raised an eye-popping $9.2 million for re-election, is bracing for a tough Senate run next year, though she has so far not attracted a top-tier challenger.
Book tours have often been the first tentative step onto the campaign trail for White House aspirants, going back to at least John F. Kennedy, who wrote "Profiles in Courage" three years before being elected president.
Conservatives are reading Warren's new book as "a soft launch of her 2020 presidential run," as Colin Reed, the executive director of the super PAC America Rising, put it in a memo to reporters.
The opposition research group, which started digging up dirt on Clinton when she launched her pre-campaign book tour three years ago, announced Tuesday that it was starting "The Elizabeth Warren Initiative" to "make Warren's life difficult."
The group plans to send operatives with video cameras to track Warren's public appearances, launch Freedom of Information Act requests to dig up records, and hit her in the press with the goal of damaging her both in 2018 and ahead of 2020.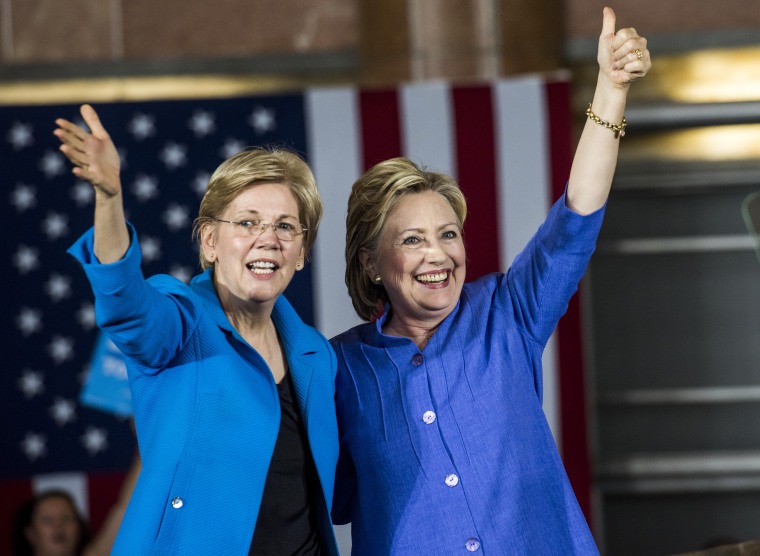 Warren's book, according to early reviews, seems designed to avoid unnecessarily foreclosing any doors. She avoids criticizing Clinton for missteps in last year's presidential campaign, skips weighing in on the myriad internecine fights inside the Democratic party, and only touches on her own brief considerations to run last year.
And Warren is not the only Democrat with a book.
Minnesota Sen. Al Franken's latest book will be released May 30. Satirically titled "Al Frank, Giant of Senate," Franken uses the book to tell the unlikely story of how a former Saturday Night Live comedian ran for office and became the titular "giant" of the upper chamber.
Vermont Sen. Bernie Sanders, meanwhile, who released a book late last year about his presidential run, is involved in another one geared for your adults. "The Bernie Sanders Guide to Political Revolution," geared for young people interested politics, is due out later this year.