WASHINGTON — Rep. John Conyers, D-Mich., plays the long game.
The longest-serving member of the House of Representatives introduced a bill to make Martin Luther King's birthday a holiday four days after his assassination, but had to wait until the Reagan administration to see it become law.
For the past two decades, Conyers' moonshot idea has been transforming America's healthcare system into a more European-style single-payer one, in which everyone gets coverage under the federal government's Medicare program. He's introduced the bill in every new Congress, and watched it go nowhere each time.
Now, things are changing. Single-payer is attracting serious attention as it gains increasing prominence in the post-Obamacare ideological battle over health care.
Conyers' bill, called "Medicare for All" and one of many like-minded approaches to single-payer, would entirely replace private insurance plans with free coverage of everything from eyeglasses to emergency room visits, paid for by new taxes concentrated on the wealthy.
The concept was easy for Hillary Clinton to dismiss last year during the presidential race. "People who have health emergencies can't wait for us to have a theoretical debate about some better idea that will never, ever come to pass," she said in January in Des Moines, Iowa.
A week later, Sen. Bernie Sanders, I-Vt., came within a bushy-eyebrow hair of defeating Clinton in the Iowa caucuses on a platform built around Medicare for All, launching him and the issue toward the mainstream of the Democratic party.
Last week, Senate Republicans tried to weaponize Conyers' bill by forcing Democrats to vote on something that the GOP is convinced is politically toxic.
"This single-payer, it's the gold standard for the Democrats," said Sen. Steve Daines, R-Mont. "President Trump, the Republicans, want to make America great again. The Democrats want to make America like England again."
Daines and other Republicans ticked through the litany of criticisms that have made single-payer a non-starter so far: Exorbitant cost to taxpayers; potential for health care rationing and long wait times; and government interference in personal health decisions.
Daines' move to force Democrats to vote on it fell flat when three red-state Democrats took the opportunity to go on the record against the plan. The rest of the Democrats abstained at the urging of Sanders and Conyers, thus keeping the door open as the party moves increasingly toward single payer at a faster clip than almost anyone expected.
"I don't know how many of the candidates will support Medicare for All," Conyers said of the party's prospective 2020 presidential field. "But it's pretty obvious at this point that the winning one will."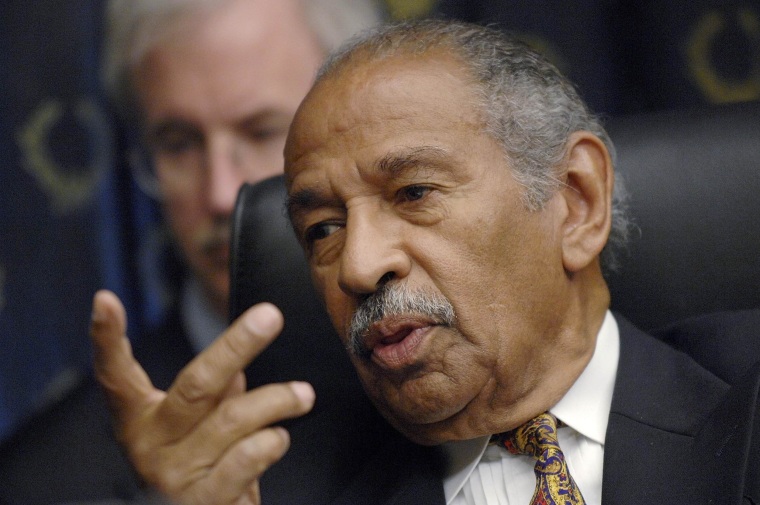 Still, Daines' political calculus may yet prove correct. As Republicans learned last week, making grand promises to the base on health care is easy — following through on them is not. For now, single-payer is little more than a slogan.
Despite that, one thing is for sure, the issue is moving in only one direction for Democrats and it's gaining steam quickly, including with recent converts in billionaires Warren Buffett and Mark Cuban.
"An idea's time just comes"
"I think single-payer is like a big old locomotive coming down the tracks," said Rep. Keith Ellison, D-Minn., a progressive leader who is also the deputy chairman of the Democratic National Committee.
While others on the left are gearing up for an intra-party battle over Medicare for All, Ellison thinks critics will eventually roll over, just like they did on the $15 minimum wage, which became party orthodoxy after reservations from some in the mainstream Democratic establishment.
"I predict there will not be a fight over single-payer in our party," he said. "Sometimes, an idea's time just comes."
Support for single-payer has jumped 19 percentage points among Democrats since 2014 — and nine points since January alone — to 52 percent, according to a Pew survey in June. With 85 percent of Democrats and Democratic-leaning independents now saying the federal government has a responsibility to make sure every American has health care, two-thirds of liberals favor single-payer as the means.
Dr. David Himmelstein, who co-founded Physicians for a National Health Program 30 years ago as a pro-single-payer alternative to the American Medical Association, called the current moment "a high-water mark" of his quixotic journey.
"Within the mainstream of the Democratic party, we've never had as much traction as today," he said.
A majority of the Democrats in the House — 115 out of 194 — are now co-sponsors of Conyers' bill, including three members of the moderate Blue Dog caucus. One of them, Rep. Jim Cooper, D-Tenn., is a deficit hawk who prominently withheld support for the 1990s Clinton White House health plan because he worried it was being written by "disappointed single-payer advocates" who "believe the old-time religion that only Canada works."
At a town hall in April, Cooper explained his change of heart.
"I've thought about holding out and not co-sponsoring [Conyer's bill] until they could get some Republicans on board, because I've always been a firm believer that health care needs to be bipartisan," he said. "But I've finally given up that fight...The Declaration of Independence promises us life, liberty and the pursuit of happiness, and you really can't have any of those three unless you have health care."
When Conyers first introduced his bill in 2003, fewer than one-in-five House Democrats backed it. He and other liberals aborted a vote on the plan during the Affordable Care Act debate when it became clear the results would be embarrassing, according to a source involved in the matter.
Now, Conyers credits Sanders and the GOP Obamacare repeal push for making it safe for Democrats across the party's spectrum to discuss Medicare for All.
"I like the idea of single-payer," said Sen. Patrick Leahy, D-Vt., the longest-serving member of the Senate.
"Of course," Leahy added, "the devil will always be in the details."
What's happened in Europe?
Leahy knows the challenges all too well after a single-payer scheme collapsed in his own state in 2014.
Despite Vermont's progressive leanings, the state's ruling Democrats realized they faced a serious political threat when they could not make the finances work and decided to beat a hasty retreat. With projected costs ballooning, then-Gov. Peter Shumlin, a Democrat, nearly lost re-election to a Republican who campaigned against single-payer, convincing lawmakers they had lost any public mandate for the plan.
In California and New York, Democratic legislators have put forward bills to transform their states health care system into single-payer plans in which workers and businesses would no longer buy private insurance.
But the price tag is enormous — in California, it was projected to cost $400 billion per year, more than the state's entire current budget. Legislators there have yet to work out a way to pay for it, which could require a 15 percent payroll tax.
Supporters know that sticker shock is a major obstacle. An analysis of an earlier Sanders plan, by the Urban Institute, predicted it would cost $32 trillion over a decade. Sanders intends to release a newer, more detailed plan in September.
Proponents argue the raw cost number is misleading: Yes, people would pay more in taxes, but they'd be hit with less in insurance premiums and get more in services under a system that provided more comprehensive coverage to everyone.
There's also an argument that a single-payer system could bring down overall health care costs. With private insurers gone, the government could negotiate lower payments to doctors and hospitals, cut out unnecessary overhead, and eliminate shareholder-demanded profits, advocates argue.
Supporters frequently point to Europe and Canada, where health care expenses are much lower relative to the size of their economies — often by one-third or more.
"A lot of health care spending in the U.S. goes toward administrative costs and so moving towards a single-payer system would presumably reduce a lot of those costs," said Bradley Herring, an associate professor at the Johns Hopkins Bloomberg School of Public Health.
But skeptics say that the American activists pushing single-payer still aren't grappling with the tradeoffs that other developed nations make to keep those costs down.
Some countries, like France, have hybrid systems that offer basic public insurance that citizens can supplement with private insurance. Canada's public plan doesn't cover prescription drugs. In the United Kingdom, the government doesn't just pay for medical costs, but employs the doctors and runs the hospitals, which gives it more control over spending.
"A robust U.K. or Canada-style single-payer system could actually spend less money than what America spends," explained Avik Roy, president of the conservative Foundation for Research on Equal Opportunity.
But it would require cutting payments to doctors and enforcing other difficult cost-reduction measures. "To do that, though, you have to do the things that Canada and the U.K. do, which most U.S.-based advocates have been less comfortable doing," Roy said.
The most prominent American proposals at the national and state level cover just about everything and do so without co-pays or deductibles. That goes even further than the current Medicare system, which generally requires some cost-sharing from patients. Offsetting the cost of these benefits could require not only raising taxes, but lowering payments to providers by dramatic amounts, which could start a lobbying war with the health industry.
As long as Democrats have no actual power in Washington, the issue will remain symbolic. Democrats running on single-payer use it as much to signal what kind of a Democrat they are as to showcase their goal of providing universal coverage.
"It's a litmus test," said RoseAnn DeMoro, the executive director of the Sanders-aligned National Nurses United union. "It's a clarifying issue like none I've ever seen. We're talking about people's lives and health and money."
The next presidential race
For anyone testing the crowded waters of Democratic presidential politics these days, the applause they hear for "Medicare for All" makes the issue a no-brainer.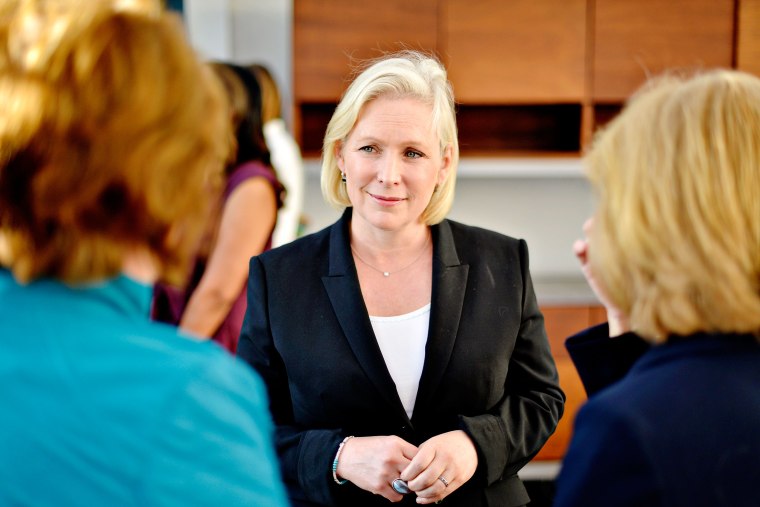 Two weeks ago in Syracuse, it was the first question at the first town hall meeting Sen. Kirsten Gillibrand, D-N.Y., held this summer.
"I want to push you a little as a Democrat," said Andy Major, one of Gillibrand's constituents. "Part of why we're in this situation is that what the Democrats came up with with Obamacare was a half solution."
Gillibrand, who is widely seen as eyeing a 2020 bid for the White House, despite her denials, didn't need the nudge.
"I think we do need a single-payer system in this country," Gillibrand replied to cheers, according to video of the event. "The reality of Obamacare is that it was built on a for-profit system...so for a lot of middle-class families, for a lot of businesses, Obamacare is still too expensive."
In addition to Sanders, among the party's possible presidential candidates, Sens. Elizabeth Warren, Cory Booker, Kamala Harris and Sherrod Brown, to name a few, have all voiced support for at least the idea of Medicare for All.
Those who oppose single-payer will likely do so to make a point and distinguish themselves from the pack. New York Gov. Andrew Cuomo, a possible 2020 candidate, has notably avoided taking a position on the state's single-payer bill.
False starts
The trend on health care has not been linear for Democrats.
President Harry Truman pushed aggressively for nationalized health insurance, expanding on Franklin Roosevelt's earlier proposal. "We should resolve now that the health of this Nation is a national concern," he said in 1945.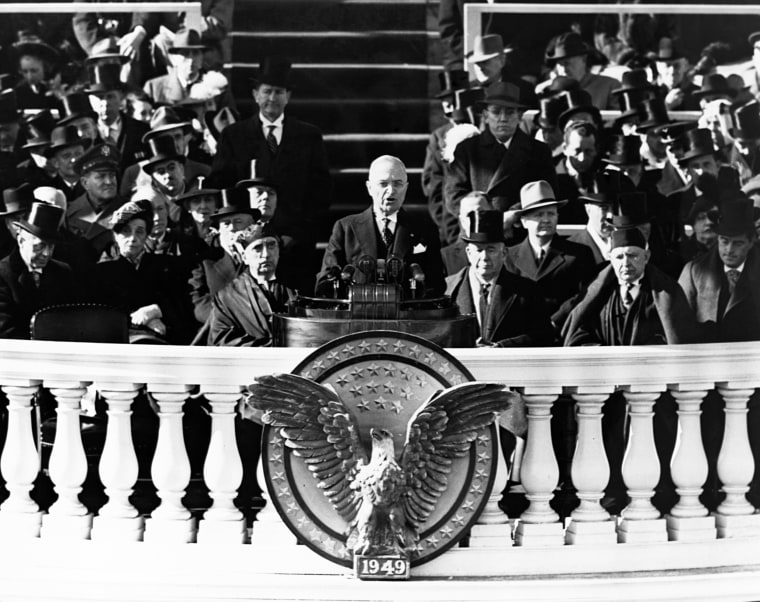 For years afterwards, the Democratic party's platform called for a "federally-financed and federally-administered...system of universal National Health Insurance," as the 1972 document stated.
But Democrats were thwarted by the large price tags, the policy complications, and the pernicious association with socialism, leading them to eventually conclude that only more modest reforms like Obamacare were possible. And support for the approach in the Senate among Democrats lags behind the House.
"There's a bit of a false dawn with single-payer that this is going to be popular even once details are known," said Jim Kessler, the senior vice president for policy at the centrist Democratic think tank Third Way.
"There's going to be tons of disruption," Kessler continued. "Maybe it's worth it, maybe it isn't. But before people sign on in a rush to it, we have to have a serious analysis of what it's going to mean for people and all the institutions involved."
"The ACA's changes to the health insurance system and the number of people affected by those changes has been small compared to the upheaval that would be brought about by the movement to a single-payer system," the Urban Institute noted in its analysis of Sanders' plan.
Indeed, the same polls that supporters cite to demonstrate the appeal of single payer also show that voters are responsive to negative arguments about costs and government control.
"While a slim majority favors the idea of a national health plan at the outset," wrote Liz Hamel and her colleagues at the nonpartisan Kaiser Family Foundation of their July poll, "the poll finds the public's attitudes on single-payer are quite malleable, and some people could be convinced to change their position after hearing typical pro and con arguments that might come up in a national debate."
Many Democrats worry their party is hurtling toward a policy commitment they don't fully understand when they should be focused on defending existing gains.
"We're one bad election away from the Affordable Care Act being repealed," said Kessler, referring to possible GOP gains in next year's midterm elections.
Campaign in single-payer, govern in public option
It's possible single-payer could give way to less sweeping changes if Democrats retake power.
Democrats have revived their push to create a public option — a government-run alternative that would be sold alongside private insurance on the ACA exchanges. The idea, which liberals unsuccessfully fought to include in the ACA, would be far less expensive than full single-payer since most Americans would still get coverage from traditional insurance. Another proposal is to allow older people to voluntarily buy into Medicare.
"Every major breakthrough from Civil Rights to Social Security to what happened on the right under Ronald Reagan were driven by significant mobilization behind an idea that was much more extreme than what actually happened," Yale political scientist Jacob Hacker, who popularized the public option, told NBC News.
A few short years ago, Hacker's idea for a public option was killed by conservative Democrats involved in crafting Obamacare who saw it as too radical. Now, Hacker gets attacked by single-payer activists as a sellout for still favoring the idea.
Some politicians are trying to temper expectations. Sen. Ron Wyden, D-Ore., championed the Obamacare provision that allows states to enact their own single-payer plans, but noted that places like California and Vermont have had trouble finding a way to "get from here to there."
Instead, he hinted at a more gradual path to single-payer by passing legislation that would encourage more workers to buy insurance on an individual basis rather than through their employer. If you gave them access to a public option, he argues, it could grow to eventually become the dominant plan.
"You really strengthen the exchanges and probably provide another path for people actually advocating single-payer...to make the transition work," he said.
As for Conyers, who turned 88 a few months ago, he's willing to wait.
"I've said before, this is a civil rights issue and it'll take a movement on the scale of the one Dr. King led," he said. "I'm glad we're here — it shows we're making progress — but my goal isn't a certain number of co-sponsors, it's passing a bill that makes every American Medicare-eligible."