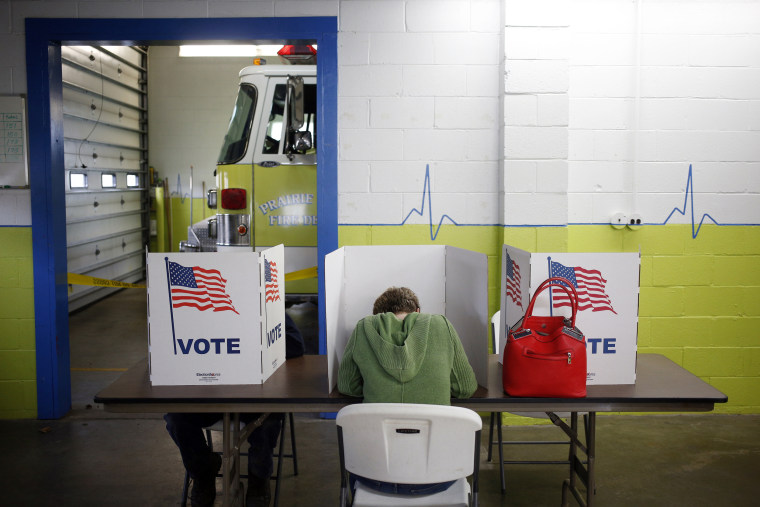 If you want to understand how badly Democrats lost the white working class in the 2016 election, your local fire station is not a bad place to start.
Nearly 85 percent of professional firefighters are white, and more than 95 percent are men, making them look a lot like the other blue-collar voters who surged to Donald Trump this year. But firefighters are also heavily unionized, tend to live in cities or suburbs (rural areas often have volunteer fire companies) and are government employees — all factors generally associated with the Democratic Party.
And all of those characteristics, along with the fact that firefighters are roughly evenly distributed across the country, make the group a microcosm of the larger breakup between working-class whites and the Democratic Party this year.
In 2008, members of the International Association of Fire Fighters, the profession's main union, voted narrowly for Barack Obama over John McCain, according to an internal poll conducted by the union at the time. Four years later, the margin shrunk, but they still voted by a razor's edge to re-elect Obama.
Even as the group was slowly drifting away from Democrats at the presidential level, members continued to vote reliably Democratic further down the ballot, where decisions about issues like collective bargaining rights and retirement security are more tangible. In 2012, for instance, they opted for Democratic Senate candidates over Republicans by an 8-point margin.
But in 2016, support for Democrats among firefighters cratered.
When the IAFF union polled its members after the election last month, just 27 percent said they had voted for Hillary Clinton. Nearly twice that number, 50 percent, reported voting for Donald Trump, while an unusually large chunk refused to answer.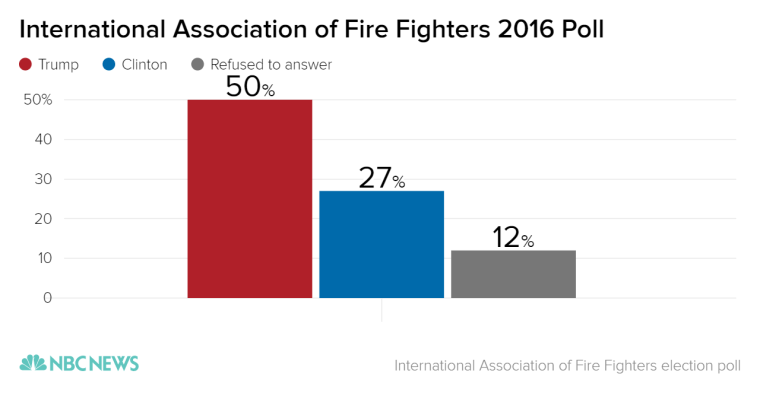 In Senate races, the poll showed a 17-point swing toward Republicans from four years earlier. And the shift was visible across all regions of the country, not just in the upper-Midwest states where Trump eked out his Electoral College win.
So how did a group of union members go from voting for Obama twice to breaking for Trump by a two-to-one margin?
The results stunned union officials, who had never seen numbers like that before. But they were not entirely surprised.
According to Harold Schaitberger, who has been the union's president for more than 15 years, the Democratic Party left his members behind — not the other way around — when it went all in on a bet to win minorities and college-educated whites and lost focus on its traditional blue-collar base.
"They talk about a sector of working-class membership, and particularly those that look like me, and they almost speak about us in a disparaging way," said Schaitberger, who, even sitting in his corner office a few blocks from the White House, looks the part of union chief with a bushy mustache and barrel chest.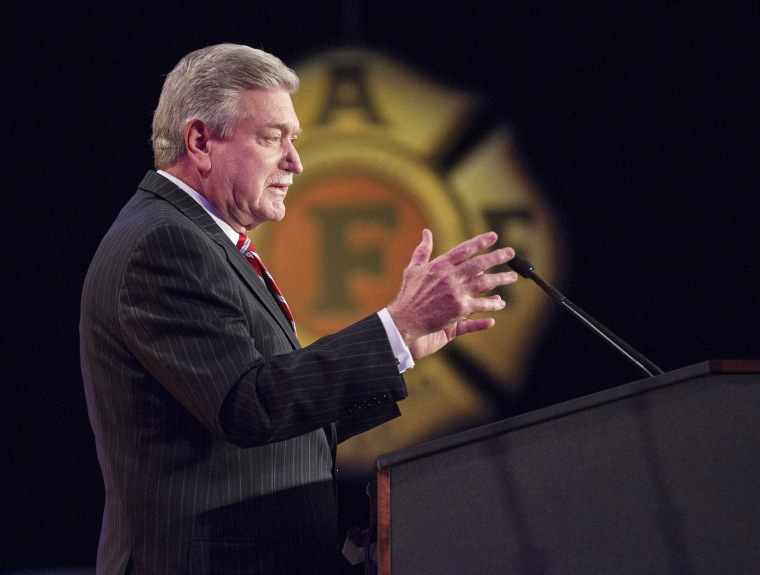 "This was the same portion of the electorate — good blue-collar, middle-class, working-class workers — that were at the heart of the Democratic Party for decades," he said. "But there was such a focus on identity issues, the party lost sight of the central core to all workers, and that is their economic security, their family security, their retirement security, their ability to negotiate a contract, their health care, their employee rights."
In the ongoing debate inside the Democratic Party about whether it should try to win back white working-class voters, Schaitberger has made himself one of loudest voices arguing against cutting them loose. "I think that is (an) absolute failing strategy," Schaitberger said. "It's almost offensive."
He was particularly exercised by a recent comment from former President Bill Clinton, long seen as his party's best ambassador to beer-drinking whites, that Trump only knows "how to get angry, white men to vote for him."
Related: Key Union Backs Tom Perez for DNC Chair
"We supported Bill Clinton," Schaitberger said. "But that's not a way for an elder of the party to be messaging to a very significant part of the labor movement and the American electorate and that they should recognize that they fundamentally lost."
With 304,000 members, Schaitberger's union is nowhere near the largest. But Americans' nearly unrivaled admiration for firefighters, and the union's stepped-up financial largess, has helped the union punch above its weight politically.
With a more conservative membership than other unions, the IAFF has always been more transactional in its dealings with lawmakers and administrations of both parties. And unlike some others, they're trying to avoid poisoning relations with the incoming Trump team. But it's still adjusting to a world in which most of its members voted for a Republican. "We—," Schaitberger began a sentence before catching himself as an aide shot him a glance. "I mean the Democratic Party. I know I shouldn't say 'we.'"
Now, like other unions with mainly white working-class membership that warmed to Trump, firefighters are grappling with longstanding assumptions about organized labor's place in the political landscape and how they should organize themselves as a movement.
Trump earned levels of support among union members that the GOP hasn't seen since Ronald Reagan. Members of the AFL-CIO labor federation overall voted for Hillary Clinton by a wide margin, according to an internal survey. But that obscures a wide and growing gap inside organized labor between different types of unions, such as the mainly white building trades and the heavily minority service-sector unions.
Most public sector unions are still heavily Democratic, and Schaitberger is convinced the party can win back firefighters and blue-collar whites with a different message and different candidates (52 percent of IAFF members expressed a "very unfavorable" view of Clinton).
"Get back to the real fundamentals and the workers who did abandon the party will come back home," he said.
But Schaitberger says the party should not abandon the fight for social justice — just that it can't drown out the bread-and-butter economic arguments. "If they want to be inclusive, inclusive needs to be inclusive. And that is a message for all working class, middle class people of all ethnicities, race, gender, sexual preferences," he said.
And it doesn't mean moderating on economic issues either.
Special report: How Donald Trump Won
IAFF members had a much more favorable view of Bernie Sanders than Clinton when the union polled its members in February, even though Trump surpassed them both. "[Sanders] had that economic populist message that resonated with our traditional Democratic base," said Schaitberger.
Critics may infer gender bias among members, which is certainly possible. But Elizabeth Warren was the star of the firefighters' national 2015 conference.
The firefighters union was an early supporter of Warren's 2012 Senate race, making a visible commitment to her race by sending its gold-and-black IAFF bus to Massachusetts.
And Schaitberger sees their latest endorsement, for Labor Sec. Tom Perez in the Democratic National Committee Chair race, as a "good example of us that we don't just have this peculiar view" of only supporting white candidates.
Still, it puts the unions on the opposite side of Warren and Sanders, not to mention the AFL-CIO, who have all gotten behind Minnesota Rep. Keith Ellison, showing the party's divisions go beyond merely progressive versus establishment.