SANDY SPRINGS, Georgia — When he ran for president in 1976, Jimmy Carter raised about $33 million and made it to all the way to the White House. In the special congressional election Tuesday near Carter's Atlanta home, the candidates and outside groups have already spent $40 million and counting.
The race, which pits Democrat Jon Ossoff against Republican Karen Handel, is easily the most expensive House race in American history, captivating both officials in Washington and grassroots activists across the country in the first pitched electoral battle of the Donald Trump presidency.
"Is $40 million a lot for a congressional election? Yes. Is $40 million a lot for a national election? No," said Randy Evans, a Republican National Committeeman from Georgia.
The 6th congressional district has been held by Newt Gingrich, Sen. Johnny Isakson (R-GA), and Health and Human Services Secretary Tom Price, who left the seat open when he joined Trump's Cabinet. So when the contest heated up, people paid attention — partly because it is seen as a referendum on Trump and possibly an early indicator of how the midterm elections could go next year.
"Democrats saw an opportunity, so they went all in," Evans said. "Republicans have responded by saying, 'That's our seat, it's a historic seat, we're going to go all in.' And when we you have both teams go all in, it becomes one of these unique historic moments."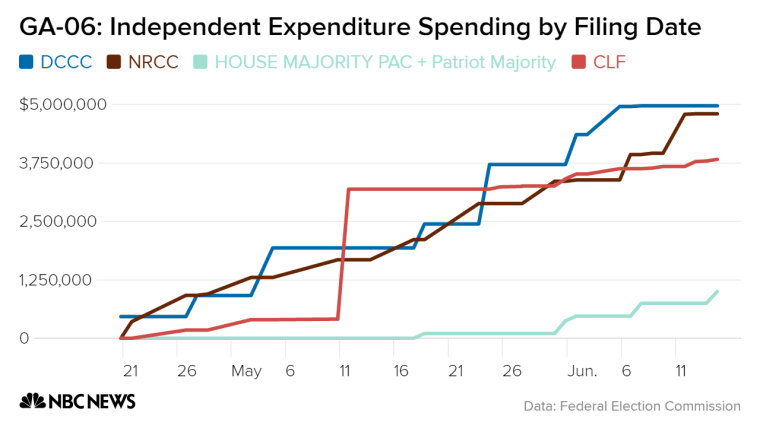 Everyone agrees "the money is crazy," as Price said at a rally for Handel on Saturday.
"It's taken on a bit of a life of its own," Ossoff said with a chuckle in an interview with NBC News Sunday.
It was not inevitable. There are other special congressional elections this year, including in places arguably as competitive as these North Atlanta suburbs. And leaders in both parties were, initially at least, not eager to burn through so many millions of dollars so quickly.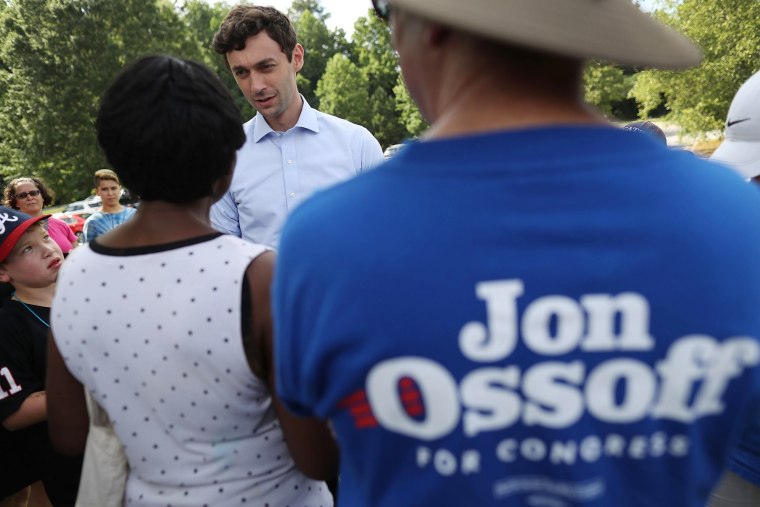 But Ossoff became a vessel for the anti-Trump "resistance," forcing the GOP to counter. With the race close for months, both parties have felt the need to keep upping the ante, leading to a campaign fundraising arms race of historic proportions.
The previous most-expensive House contest was the 2012 battle between Allen West and Patrick Murphy in Florida in which about $30 million was spent.
Here's how the Ossoff-Handel race set a record.
Ossoff was the fourth Democrat to enter the contest. But when he declared in early January, he had $250,000 in commitments from donors and the support of both Atlanta-area Democratic congressmen, including civil rights icon Rep. John Lewis.
Lewis called on Democrats to unite behind Ossoff and they did, despite the fact that the candidate had never held public office and was only 30 years old.
"When John Lewis talks, you listen," said Adam Bozzi of the liberal group End Citizens United, which has helped raise $1.5 million in small online contributions for Ossoff's campaign.
It helped that candidates from all parties were thrown in together in the first round of the election in April, so groups that typically stay out of party primaries felt comfortable consolidating around one candidate.
One of the first groups to "discover" Ossoff was the liberal blog Daily Kos, which was already eyeing the district after they noticed it had taken a hard turn against Trump in November. Voters in Georgia's 6th backed Mitt Romney by over 20 percentage points in 2012, but barely favored Trump over Hillary Clinton last year.
The blog's analysts worried that Democrats would split their vote, so days after Trump's inauguration and the Women's March, just as liberals were looking for cause, the site endorsed Ossoff. They were not prepared for what happened next.
RELATED: How health care is playing out in the Georgia battle
Their endorsement ricocheted across the country, racking up 135,000 shares on Facebook and sending up flares as far away as Hollywood and San Francisco, where Ossoff, a former documentary filmmaker who talks about making Atlanta the Sillicon Valley of the south, was an instant hit. Within a week, $400,000 poured in through Daily Kos, shattering a previous fundraising record held by Sen. Elizabeth Warren (D-MA).
"The powerful response from the Daily Kos community that immediately followed utterly blew us away," said the site's political editor, Carolyn Fiddler.
Fundraising begat more fundraising, and Ossoff collected one million contributions at the fastest clip of any candidate in history — faster even than Bernie Sanders' and Barack Obama's presidential campaigns.
At the same time, Democratic leaders in Washington were under pressure to invest more in this spring's special congressional elections. And thanks to a fluke of scheduling, hundreds of party officials got a close-up look at Ossoff when they came to Atlanta in February for the Democratic National Committee chairmanship race.
Ossoff proved to be a disciplined campaigner who had attracted top-flight strategists, so the official campaign arm of House Democrats felt comfortable pouring more money in than they had in other elections.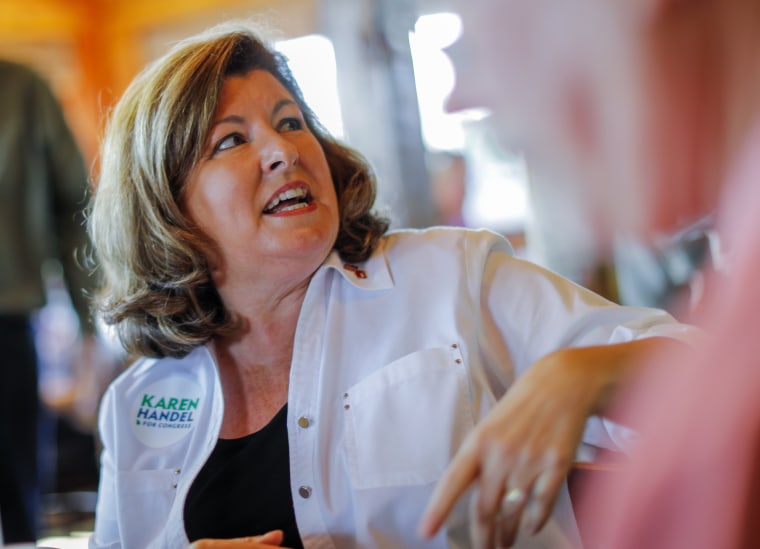 Meanwhile, Republicans were divided between 11 candidates in the first round of voting, when they were already filling the airwaves with ads attacking Ossoff and each other.
Once Handel emerged as the GOP nominee, outside groups cranked up the firepower to help her keep pace with Ossoff's spending. Atlanta is one of the nation's most expensive places to buy advertising. There's been so much demand in this race that local TV stations have added broadcasts so they can sell more ad time.
While one seat will do little to change to the makeup up of the House, the race has more than symbolic value.
Across the country, potential candidates and incumbent lawmakers are watching the race closely as they decide whether to run or sit out what could be a tough election year.
"It's a smart early investment to try to steal a seat, but also to send asignal that this is going to be a good year for Democrats," said Dave Hamrick, the former political director of the Democratic Congressional Campaign Committee in the lead up to the party's 2006 wave. "The conditions are right to potentially win seats in an expanded set of districts, but you can only do that if you have good candidates on the field."
But Trump is clearly the more immediate issue on the line and on voters' minds Tuesday.
"This is an opportunity for Georgia to send a message to the rest of the county that we want some fresh leadership, that we're not satisfied with the direction Washington is going," Ossoff said.