WASHINGTON - In a move sure to stoke speculation about another presidential bid, Bernie Sanders will return to Iowa this weekend for the first time since the Vermont Independent senator narrowly lost the state's first-in-the-nation presidential caucuses last year.
Sanders will give the keynote address Saturday at the annual convention sponsored by the Iowa Citizens for Community Improvement, a liberal group that helped Sanders lay the groundwork for this 2016 bid with early invitations to the state.
"That's right — Bernie is coming back to Iowa for the first time since the 2016 election," the group teased in marketing material for the event. "He'll talk about how we continue the political revolution right here in Iowa."
Sanders will also go back to Iowa again in August to promote his new book for young adults, "Bernie Sanders: Guide to Political Revolution," the Iowa City Press Citizen reported Monday and Sanders' office confirmed.
That event will feel more like a rally than a typical author reading, with the Prairie Lights bookstore in Iowa City booking the University of Iowa's 1,800-seat auditorium for the event.
"It's good that Bernie Sanders is coming back. He has a lot of friends throughout the state, and he could be helpful in electing Democrats in 2018," said Iowa Democratic strategist Jeff Link. "He might also get encouragement to run again if he's out here."
Sanders, 75, has demurred when asked about his intentions of challenging President Donald Trump in 2020, but he has done little to tamp down speculation.
He's kept up a busy travel schedule since Trump's election, with a string of speeches against the GOP healthcare plan, including two last weekend in Kentucky and West Virginia, and an earlier tour with Democratic National Committee Chairman Tom Perez.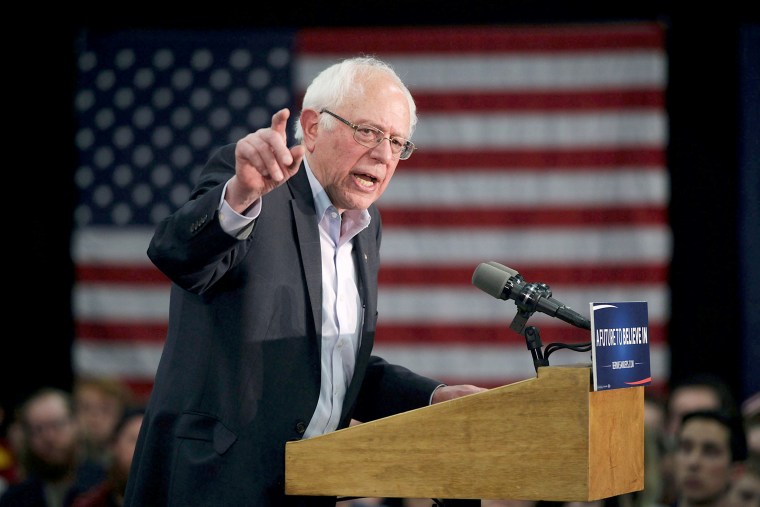 Wherever Sanders goes, he's greeted by supporters wearing t-shirts and holding signs encouraging him to run again in 2020.
If he does, he'll likely face a larger Democratic field of primary candidates and new questions about the FBI investigation into a land deal brokered by his wife when she ran a small Vermont college. (Sanders has denied all wrongdoing and called the charges politically motivated.)
Analysts and party activists often see visits to states like Iowa and New Hampshire, which hold critical early nominating contests, as signs that politicians are laying the groundwork for a presidential bid.
Sanders is not the only Democrat to visit Iowa. Sen. Amy Klobuchar, D-Minn., visited the state in May. Former Maryland Gov. Martin O'Malley, who also ran for president last year, has campaigned for Democrats in the state. And former Missouri Secretary of State Jason Kander will make another trip to the state in September.
One Republican, Trump-critical Sen. Ben Sasse, R-Neb., also visited Iowa recently.