Joe Biden isn't done with politics yet.
The former vice president is launching a new political action committee Thursday that will keep him involved in elections and on the minds of fellow Democrats, potentially helping to lay the groundwork for another presidential bid in 2020.
Biden gave few details about his plans for the new PAC, called American Possibilities, in an email to be sent to supporters Thursday. But the former vice president, who has harbored presidential ambitions for decades, said he wants Americans to "dream big" again.
Related: Clinton Says Russia Likely Had American Help to 'Weaponize' Campaign Leaks
"The history of this nation is one of ordinary people doing extraordinary things. And that's who we still are," Biden wrote in the email, obtained by NBC News. "That's why the negativity, the pettiness, the small-mindedness of our politics drives me crazy. It's not who we are."
Biden's wife, Jill, said in an appearance on CBS "This Morning" on Thursday that the former vice president plans to be involved in the midterm elections next year.
"Joe is not going away and you know that, all of you," she said. "He loves politics, he loves what he's doing, and he said he would stay involved. So he set up this PAC because he's going to be involved in the midterm elections."
The ex-veep has stayed busy since leaving the White House in January, with projects at the University of Pennsylvania, the University of Delaware, and his charitable foundation, which is focused on finding a "moon shot" cure for cancer.
The PAC is "a natural extension of what he said he would do when he left the White House - continue to build up and support the Democratic Party and focus on the issues he cares about," said Kate Bedingfield, a former spokeswoman still involved with Biden.
Many former politicians, including Hillary Clinton, create political groups. But Biden's is already being seen as the first step toward fulfilling the former vice president's longstanding goal of winning the presidency.
Presidential speculation has swirled around Biden since he was sworn into the Senate at just 30 years old weeks after his wife and one-year-old daughter were killed in a tragic car accident.
He made his first real consideration about a White House bid in 1980, but ultimately passed before running in 1988, only be to derailed by a plagiarism scandal. He ran again in 2008 and when he came up short, Barack Obama offered him the consolation prize of the vice presidency.
Obama, then a freshman senator, wanted to balance his ticket with an elder statesmen like Biden, who by then had chaired both the Senate Foreign Relations and Judiciary Committees and had a number of major pieces of legislation to his name, such as the Violence Against Women Act.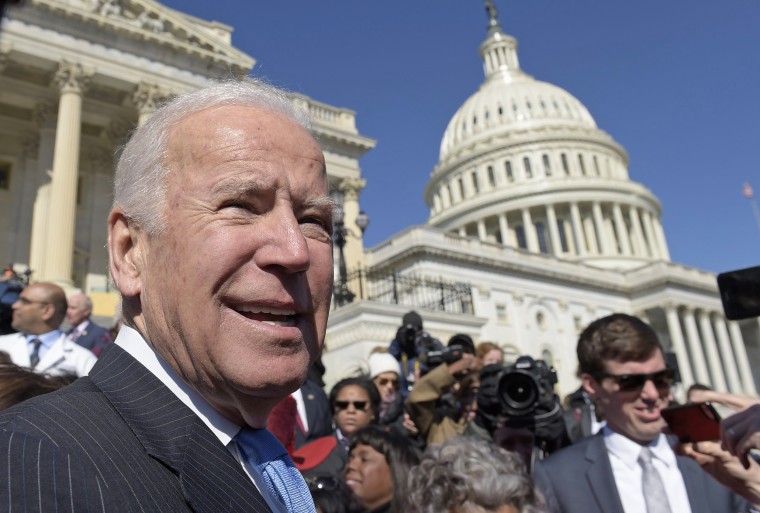 But while Biden was one of the youngest people ever elected to the Senate, he would be the oldest president at 78 years old, if he ran and won. He's only four years older than President Donald Trump, but even many Democrats would prefer to see a fresher face rise up to challenge Trump.
Still, after so many years in the party, plenty of other Democrats would be happy to see Biden as their nominee, and think he could connect with the white, working class voters who abandoned the party for Trump last year.
"I think he does miss it today. But we'll see what he wants to do. He'd make a good president. He'd make a great president," Boston Mayor Marty Walsh, a longtime former union organizer, told Politico Massachusetts Wednesday.
Walsh, who was spotting dining with Biden last week in Boston, added that he would "probably" support the vice president if he ran.
But Biden's long history in politics has also produced a number of vulnerabilities that have never been fully tested in today's Democratic Party, which has adopted a much more progressive stance on race, criminal justice, gender issues, abortion, and trade policies.