It's Thursday afternoon and Bernie Sanders is on a TV set about to go live when he realizes there's a problem.
"Does this make me look fat?" he asks, looking down at how his stomach folds into a red upholstered arm chair.
He's seated at a coffee table with a journalist, New Yorker writer Jane Mayer, in front of a bookshelf filled with generic TV props — books, empty vases, fake house plants.
He decides the chair has to go and two straight-backed leather replacements are quickly brought out.
Sanders can choose the chairs because this is his show. He's the host, not the guest, and everyone here works for him, or the newly revamped studio run by the Senate Democratic Media Center.
The voice of an aide comes over the P.A. system. "Alright Senator, we're ready in 5...4...3...2..."
"Well, welcome everybody," Sanders says, kicking off the fourth episode of "The Bernie Sanders Show."
Pretty much every politician today is trying to use social media to get their message out to supporters and around the filter of the mainstream press.
President Donald Trump's Twitter account may be the most powerful media outlet in the country. And as one of his first acts after taking over the Democratic National Committee, Chairman Tom Perez started a series of conversations with party stars called "Democrats Live."
But no one is doing it with quite the ambition of Sanders, whose new talk show on Facebook Live is just latest project of a mini-media production house being run out of his Senate office.
RELATED: Sanders says DNC needs "massive overhaul"
Sanders, thanks to his presidential campaign, is a content marketer's dream. In mediaspeak, Sanders is a cross-platform brand with a loyal and unusually engaged audience in the key demographic of 18-34 year olds.
"Bernie is viral gold," said Armand Aviram, whom Sanders recently hired to produce short-form videos like the ones he made for NowThis, a buzzy millennial-focused media outlet.
The Vermont senator has 4.7 million followers on Twitter and 7 million likes on Facebook — more than double that of his closest competition in Congress, including national stars like Sens. Elizabeth Warren and Cory Booker.
Guests on "The Bernie Sanders Show" have so far included Rev. William Barber, the leader of the "Moral Monday" movement, anti-fracking filmmaker Josh Fox and former "Science Guy" Bill Nye, whose conversation with Sanders about climate change racked up 4.6 million views and 25,000 shares.
The Vermont lawmaker spends no money on advertising or promoted content.
For Sanders, it's all about controlling his message, getting around the "corporate media."
"It gives me an opportunity to speak directly to many millions of people about the work that we're doing about the issues that we consider to be important," Sanders told NBC News.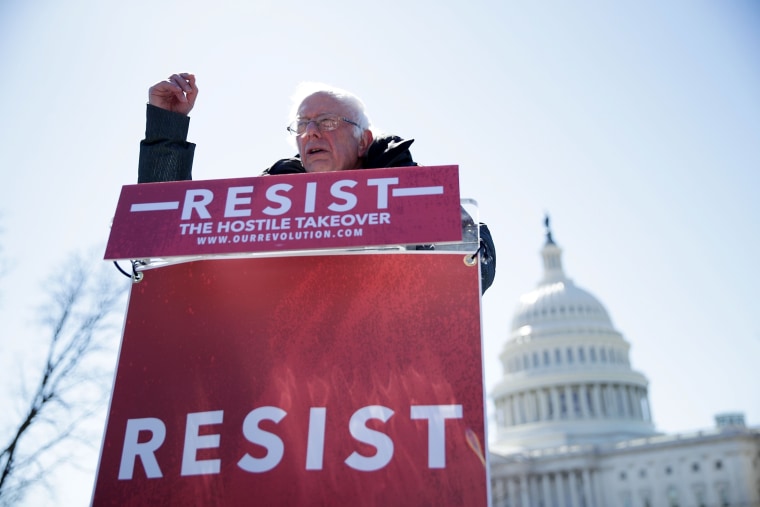 Lately, those issues have been both what's driving mainstream coverage, like the doomed GOP plan to repeal Obamacare, and more under-the-radar topics, like Trump's pick to lead the Securities and Exchange Commission or plans to reform prescription drug pricing.
Other videos are aimed at inspiring activists or educating them about the basics of perennial issues like corporate tax reform, Medicaid or renewable energy.
While his calls himself a "luddite," Sanders has long used the feedback he gets on social media posts to hone his message and better understand what his audience is responding to.
Now, like every other digital content creator, he's looking to get more invested in video.
"What my young people tell me — and nobody over 12 really understands this — is video is increasingly important," he said. "And I'm not particularly happy about that. I kind of think it's OK for people to actually read for five minutes. But I'm told less and less that that's the case and that people increasingly want to see video. So we'll do video."
A talk show on Facebook Live is the logical next step for a politician who in the past hosted his own cable access as mayor of Burlington Vermont and helmed a local radio show as a member of Congress.
"Bernie has come out of the campaign as a real powerhouse, unlike before when nobody knew who he was," said Bill Press, a friend and liberal talk radio host.
Press said he's not worried about competition — "the more progressive voices the better" — but Sanders reach on Facebook is greater than that of major outlets.
His Facebook page has generated 164 million video views since the beginning of year. And even a 40-second cell phone video of Sanders talking next to a ficus plant can rack up 14 million views.
In the last week, 1.8 million people were "talking about" Sanders' Facebook page, according to the platform's metric — more than The New York Times, MTV, Vice and some network news outlets.
Of course, the bigger a politician's media platform gets, the less they need coverage from a critical press.
RELATED: Democrats beware: Sanders' movement turns to midterms
At a point in her wonky conversation with Sanders on campaign finance, Mayer felt compelled to defend her profession from the senator's criticism.
"Bernie playing reporter, me playing interview subject, and he whacking the [mainstream media] with me defending it! I felt like I was in an Escher drawing!" she said later in an email. "The hardest part for me was to not be able to pose questions back at him."
Adding to strangeness: Mayer had interviewed Sanders many times before, since she started her journalism career after college at the Rutland Herald newspaper in Vermont.
But she said it was a good opportunity to promote her new book, "Dark Money: The Hidden History of the Billionaires Behind the Rise of the Radical Right," for an audience that is really passionate about campaign finance.
"It wasn't that different from doing any other media for the book except that in this instance the interviewer was a celebrity, and for a pleasant change, knew as much about the issues as I did, if not more," she said.
Sanders, a media critic since college, has been creating his own content for decades.
Before he entered politics, he made film strips about historical figures like Eugene Debbs, the socialist presidential candidate.
As mayor of Burlington in the 1980s, he hosted his own cable access show called "Bernie Speaks," in which he interviewed residents, touted his accomplishments, read poetry, and even recorded a folk performance of "We Shall Overcome."
And in the 2000s, as a member of Congress, Sanders hosted a radio show on WDEV.
When he had to give it up during his reelection bid, the station manager asked another host, Thom Hartmann, if he would let Sanders be a regular guest.
Hartman was skeptical at first, but Sanders was an immediate hit with the left-leaning audience and ended up spending an hour on the show every Friday for 11 years.
Sanders even brought his own guests on his "Brunch with Bernie" segments, like former Transportation Secretary Ray Lahood in 2011.
"We would talk between the two of us for five or 10 minutes, and then for the rest of the hour all I would do is screen calls. 'Greg from Burlington, you're on the air,'" recalled Hartman, now one of the country's biggest liberal talkers.
"That's literally all I did for an hour, which breaks every rule of talk radio. The host should never turn their show over to the guests. That's just absolutely death," Hartman said. "But our audience just absolutely loved it."