On the heels of a cross-country book tour that has stoked speculation about a 2020 presidential run, Sen. Elizabeth Warren told a women's group Wednesday night that they will help put a woman in the White House soon enough.
Warren, D-Massachusetts, delivered the keynote address at the annual fundraising gala for Emily's List, which works to elect female Democrats, stepping into the same role Hillary Clinton played in early 2015, weeks before he announced her presidential campaign.
But with President Donald Trump, and not Clinton, in the White House, Warren said it was time for Democrats to prepare to win it back.
"We're going to shatter the glass ceiling into so many pieces that the Donald Trumps and Mitch McConnells of the world will never be able to put it back together again!" Warren said. "The way things are going, if the next 3 years and 261 days are like Donald's first 100 days — I wonder if America will ever be ready for a male president again."
Warren has repeatedly dodged questions on her own presidential ambitions, including on MSNBC's "Morning Joe" Wednesday.
But she tipped her hat to Clinton by borrowing her line that women's rights are humans rights. And she took a shot at Bill O'Reilly, the former Fox News host who was recently parted ways with the network over sexual harassment allegations.
McConnell, the GOP Senate Majority Leader, inadvertently handed Warren what could become her campaign slogan earlier this year when he silenced her on the Senate floor after warning her against speaking out against a fellow senator.
"Donald Trump might call us names. Mitch McConnell might tell us to sit down and shut up," Warren said. "We will not back down. We will not play dead. We will resist. We will persist. And we will win."
Warren made a national name for herself as a progressive firebrand on Wall Street reform, but used her speech to highlight a more personal side, including her modest upbringing and financial struggles as a young mother.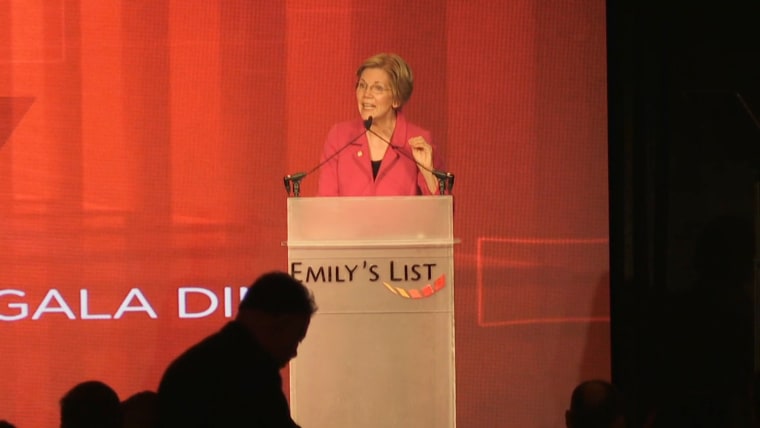 "I'm the daughter of a janitor who became a professor at Harvard Law School and a United States Senator," she said.
Illinois Sen. Tammy Duckworth, a rising star in her own right who was elected last year, told NBC News she would "always love to see a woman run for president."
"So if she decides to run, good for her," she said.
"One of the women in this room tonight will be our first woman president," Stephanie Schriock, the president of Emily's List, said earlier in the night.
Meanwhile, California Rep. Maxine Waters earned cheers at the event when she reiterated her call to throw Trump out of office.
"I want him impeached. I'm not afraid of the word of impeached. That is what he deserves!" Waters said, calling Trump a "disgusting poor excuse of a man ... who has no business representing our country."