Dr. Nahid Bhadelia is one of those people you wish you could be, if only you had the strength.
Dr. Bhadelia, 37, recently landed in Sierra Leone, where she will be training doctors and treating patients for endless hours every day with the international aid group Partners in Health.
It's her second trip in four months, so she knew just what to pack — plenty of antibacterial wipes and other gear to prevent infection. But she also knew what to expect this time — a much more difficult pill to swallow.
"I think that I wasn't ready to walk into an environment to see so many people dying," she said. "I had provided a lot of care in the past in resource-limited settings but I think what surprised me was how many people were ill. And how few hands were in the field to help out."
Before she left her home in Boston, where she is an infectious disease doctor at Boston Medical Center, we sat down and talked about what she had seen on her last trip over the summer. Parents grieving their children. Children left behind as orphans. And always, more patients.
"You walk in and you are covered head to toe in personal protective equipment and all that is really showing is your eyes and you have a lot of kids there that have lost their entire family and they are wandering alone in the Ebola treatment units," she said.
Touching them on the shoulder and looking them in the eye was enough to take the fear away — "but it is clearly not enough," she said.
Dr. Bhadelia does not want to be the focus of attention; she just wants to do her job and save lives while we remember the patients who are suffering in West Africa. She wants other medical workers from America to join the fight.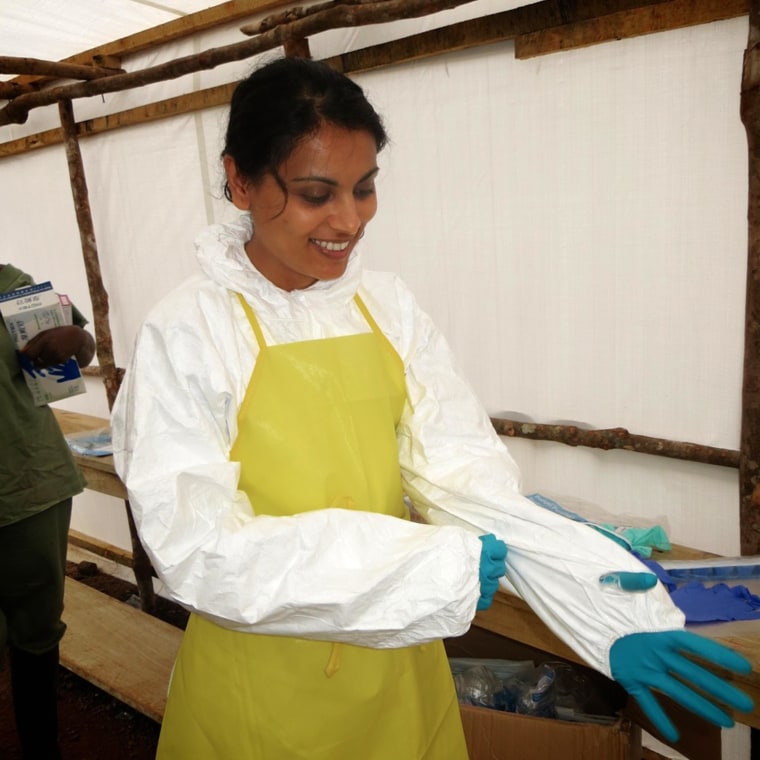 "I think that anyone who has the time and the ability to do so should volunteer. This is our time. This is a call to action for us, for our generation of physicians," she says.
After a 12-hour day in Sierra Leone, we caught up with Dr. Bhadelia by Skype. At one facility she visited, she said there were 60 patients and just one doctor — not nearly enough. But she wants Americans to know how rewarding it is to be one of the few.
"It feels good to be back in the fight."