A fresh outbreak of Ebola in the Democratic Republic of Congo (DRC) will cost $10 million to fight, and it could take months because victims are in such a remote and disrupted part of the country, the World Health Organization said Thursday.
At least 20 people are sick and three have been killed by the virus, WHO officials said. They are the first case — a 39-year-old man — a person who cared for him and a man who drove him on a motorcycle to get help.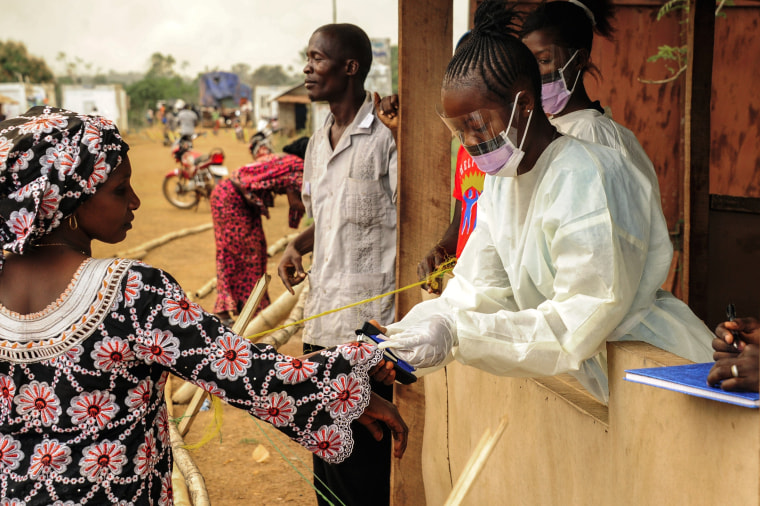 "There are only 20 kilometers (12 miles) of paved roads in this area and virtually no functioning telecommunications," WHO's Dr. Peter Salama told a news conference.
"As of now we do not know the full extent of the outbreak."
WHO needs governments to help it and the Democratic Republic of Congo fix airstrips, roads and set up clinics — and all that just to even get a grip on how bad the outbreak is, Salama said. Work is under way to get approval and facilities in place to use an experimental Ebola vaccine in the area.
Ebola has been causing sporadic outbreaks in various parts of Africa since 1976. The first and only epidemic was in 2014-2016 in Guinea, Liberia and Sierra Leone — a part of the continent where Ebola had never been seen before. It infected at least 28,000 people and killed more than 11,000 before it was brought under control.
Related: Ebola Vaccine Works, Study Finds
This is the DRC's eighth Ebola outbreak.
"We believe that the DRC's government has strong experience … and a proven track record of handling Ebola outbreaks," Salama said.
An Ebola vaccine was tried out in West Africa but there were not enough cases to show how well it worked. That vaccine is not yet approved by any government authority but Salama said it could be used under compassionate use circumstances if the DRC government agrees.
But it will be hard to get it to the affected area in the north of the country because of the lack of roads and electricity. The vaccine must be kept at -80 degrees C. "This is going to be an enormous challenge," Salama said.
And the Lord's Resistance Army, a violent and disruptive armed group, has been operating in the area, WHO added.
Related: Six Things to Know About Ebola
Despite the problems, Medecins Sans Frontieres, a nonprofit aid group also known as MSF or Doctors Without Borders, has already set up one treatment center, said Dr. Matshidiso Moeti, WHO regional director for Africa.
"I have been very encouraged by this rapid reponse," Moeti told the news conference.
And, she said, polio vaccination teams were already in place, giving everyone a head start. "They have been the people who are leading surveillance in the country," Moeti said.