Dr. Rick Sacra, the medical missionary who has become the third American infected with Ebola in Liberia, is being flown to a special isolation unit at The Nebraska Medical Center in Omaha for treatment, SIM USA said Thursday.
"Dr. Sacra is expected to arrive in Omaha Friday morning and begin treatment in the hospital's Biocontainment Patient Care Unit," the Christian mission group said in a statement.
"I just had a call from the doctor who put Rick on a plane to come to the United States and he said that Rick is clearly sick but that he was in good spirits and he walked onto the plane," his wife, Debbie Sacra, told a news conference. "We are really encouraged by that news and looking forward to being reunited with him."
"Rick is clearly sick but ... he was in good spirits and he walked onto the plane."
Health care professionals have been hard hit by Ebola, which has infected more than 3,600 people in the West African epidemic and killed half of them.
"I am overwhelmed and abundantly blessed by all the kind words that have been said about Rick," Debbie Sacra added at the news conference held by the University of Massachusetts Medical School, where Sacra works.
"We are indeed praying that Rick will stay longer with us so that he will continue the good work that he has been doing in Liberia, but he would want you to know that he would not be afraid to pass into eternal life with the Lord," she added, choking up as she spoke.
Sacra was in Liberia volunteering as an obstetrician with SIM USA.
"SIM's global family from over 50 countries is extremely grateful for the generous cooperation of many agencies and organizations in the U.S. and in Liberia which made it possible for Rick to be brought to Omaha," SIM USA president Bruce Johnson said in a statement.
"It took an exceptional effort across many organizations to make this happen. We particularly thank the U.S. Department of State and its many agencies and The Nebraska Medical Center."
Two other medical missionaries, Dr. Kent Brantly of Samaritan's Purse and Nancy Writebol of SIM USA, were treated at Emory University Hospital in Atlanta and released last month.
"This unit was specifically designed to care for patients of this nature and is staffed with infectious disease experts who have prepared for years for situations like this one," said Dr. Phil Smith, medical director of Nebraska's biocontainment unit. "The unit is sealed, guarded and secure. It's separate from other patient care areas, and just like the facility at Emory University, which successfully treated two Americans with Ebola last month, we are uniquely prepared to handle infectious diseases here."
Some people have expressed fears that Ebola-infected patients might spread the virus in the U.S.
"We want everyone to know that every precaution is being taken in transporting this patient here and caring for them once they arrive," said Dr. Angela Hewlett, associate medical director of the biocontainment unit. "This is one of the safest places in the country for this patient to be treated, both for the public and for the medical professionals providing care."
The unit at Emory, the National Institutes of Health in Bethesda, Maryland, and the Rocky Mountain Laboratory in Montana operate similar high-containment treatment facilities.
"This is one of the safest places in the country for this patient to be treated."
"There are strict guidelines in place to ensure staff members who work in the unit are protected," Smith added. "Staff members have drilled on a routine basis to prepare for something like this since the unit opened in 2005. The unit is equipped with a special air-handling system to ensure that microorganisms don't spread beyond the patient rooms, with high-level filtration for additional protection. A dunk tank for lab specimens and a pass-through autoclave help assure that hazardous materials are decontaminated before leaving the unit."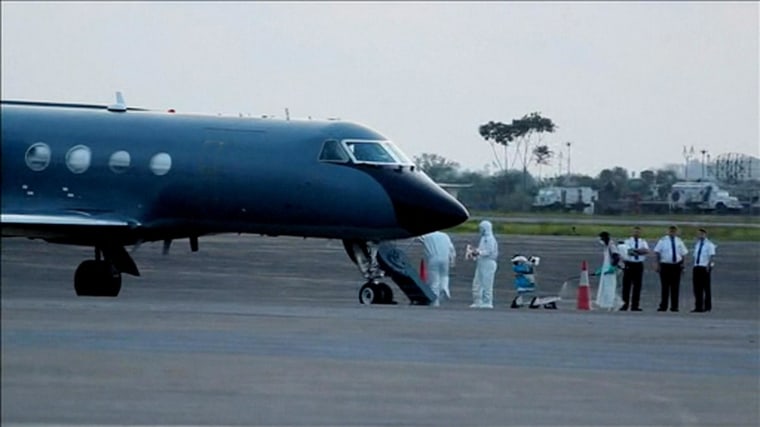 Ebola is not airborne, but other diseases that could be treated at the center are.
"We understand that some people might have questions about why this patient is coming here instead of Emory, where the first two patients were treated," added Hewlett. "We are doing this at the request of the U.S. State Department. The fact is, handling the Ebola outbreak is a marathon, not a sprint. We didn't request that a patient be brought here, but having the unique ability to care for this patient will only serve to build up our national resiliency in treating other similar patients in the future."