The Ebola virus may not make some people sick, researchers reported Tuesday.
It shouldn't be surprising — most viruses can cause silent infections in at least a few people. But Ebola is so notorious for causing horrific symptoms, and for being so very deadly, that no one had taken the time to see if it might not always be so bad.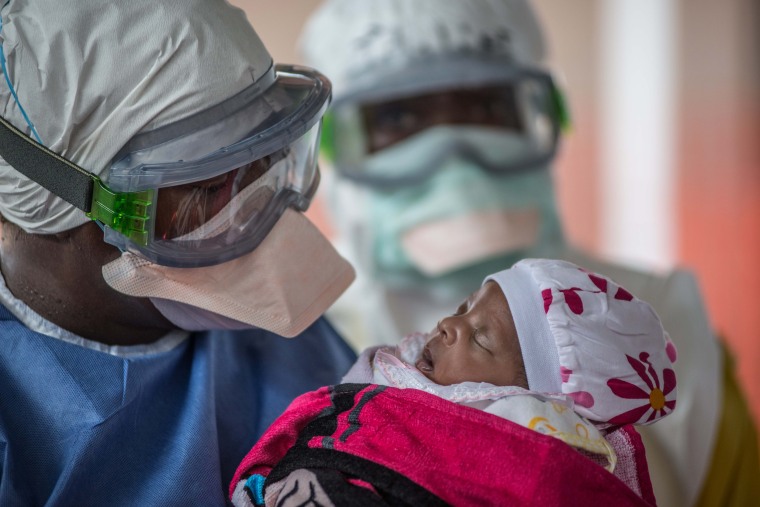 In at least one village in Sierra Leone, it seems that up to a quarter of those infected may never have known it.
"Our data indicate that 25 percent of Ebola virus infections may have been minimally symptomatic," an international team of researchers writes in the Public Library of Science journal PLoS Neglected Tropical Diseases.
Related: Ebola Virus Mutated to Better Infect People
Ebola swept across Guinea, Sierra Leone and Liberia from 2014 to 2016, infecting at least 28,000 people and killing at least 11,000 of them. The true toll may never be known as so many victims were buried hurriedly.
It was by far the worst outbreak of the virus, which spreads through bodily fluids. Doctors who treat Ebola patients say that as they get sicker, the virus multiplies in their blood, their bowels and even in urine and sweat, making them highly infectious to people caring for them.
And usually the symptoms are severe. Although Ebola starts with a fevers — meaning it looks like hundreds of milder infections — it progresses to a cholera-like diseases, causing violent vomiting and diarrhea.
"Our data suggest that a significant portion of Ebola transmission events may have gone undetected during the epidemic."
The death rate depends on the strain of virus and how quickly a patient can get emergency care — mostly fluid and electrolyte replacement.
Dr. Gene Richardson at Stanford University and colleagues across the U.S and in Sierra Leone wanted to know if there were people who didn't show such extreme symptoms. They couldn't do it at the height of the epidemic, when health workers were flat out trying to keep thousands of victims alive and trying to safely bury the bodies of those who died.
But they could do blood tests later, once the epidemic had passed.
They chose the village of Sukudu in the diamond-rich Kono District. Richardson had been working there with the charity Partners in Health. The collected blood from 187 people who had been quarantined after they shared latrines with known Ebola patients.
Related: Ebola Lingers a Year or Longer in Semen
They also tested the blood of 132 people who had not been near Ebola patients.
They found 14 with antibodies to Ebola, something that suggested they'd been infected. Twelve of the 14 said they did not remember ever having had a fever or being sick during that time.
Health workers had kept a close eye on villagers, so the researchers believe it's unlikely the people hid their illness.
"Our data suggest that a significant portion of Ebola transmission events may have gone undetected during the epidemic," the team wrote.
Related: Ebola Survivors Suffer Long-Term Consequences
What the researchers do not know is whether people who have no symptoms can infect others with Ebola.
The virus is known to linger in the semen of male survivors, who can infect sexual partners months after they have recovered. "It's unclear if they can pass it along it sexually," Richardson said.
Now the team will look in more places to see if they can get an idea of how many Ebola survivors escaped illness. "We expect to find a lot more undocumented survivors, so we can begin to answer the question of what was the true burden of disease," Richardson said in a statement.