Doctors treating the third U.S. Ebola patient, Dr. Rick Sacra, have given him every treatment they can think of, and say something seems to be working because he's getting better every day.
Sacra, 51, got two transfusions of blood serum from Ebola survivor Dr. Kent Brantly, who flew to Nebraska to donate his blood. He's also getting an experimental drug — his doctors won't say what — and careful testing of important compounds called electrolytes, to keep his heart and other organs functioning properly.
"We just administered everything we had access to, basically," said Dr. Phil Smith of the Nebraska Medical Center in Omaha, where Sacra is being treated at a special biocontainment unit.
Sacra, who was flown to Nebraska from Liberia last week, is steadily improving, said his wife, Debbie Sacra. "We are amazed at how quickly Rick's condition seemed to turn around after he was admitted on Friday. As his friend Kent Brantly said on national TV, we attribute his recovery to both faith and science," Debbie Sacra told a news conference Thursday.
He was well enough to try 10 minutes on an exercise bike in his room, she said, although it tired him out badly.
"We just administered everything we had access to, basically."
Sacra and another Ebola survivor, Nancy Writebol, were in Liberia with the missionary organization SIM USA. Brantly works for Samaritan's Purse, headed by Billy Graham's son Franklin Graham. All three of the survivors say their faith has sustained them through the crisis.
A fourth American, a doctor who was working for the World Health Organization, is being treated for Ebola at Emory University Hospital and had not been named.
"We want people to understand what is really happening in Liberia," Debbie Sacra said. "We appreciate all the attention and concern for Rick, but he wants you to share his burden for the people of Liberia and West Africa, to carry it along with him. We appreciate that many have given to our mission and many other organizations to make sure that health workers have protective equipment. But the fight against this crisis is going to take more time and resources," she added.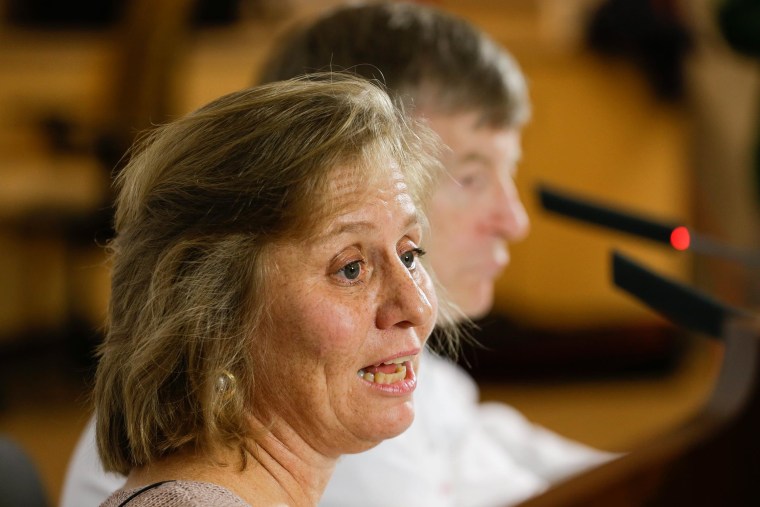 "I know he would hate all this attention, but if he can use it to make sure that resources are used well in Liberia and in Sierra Leone and Guinea to help lick this thing and build up the health care system so they are not at risk of this kind of disaster again … then he would say 'this is not about me.' This is about getting the job done," she said.
Sacra, a family physician from Worcester, Massachusetts, wasn't treating Ebola patients when he got infected. He was helping pregnant women. Like Writebol and Brantly before him, when a fever came on, he desperately hoped it was malaria and not Ebola.
"We were scared," Debbie Sacra said. "He had chills and fever over the weekend." Sacra had to wait for a few days to be tested, because early tests for Ebola can give a false negative. He knew electrolytes were important so he dosed himself with a home-made rehydration drink.
"His progress has been remarkable."
He was very weak when he arrived in Nebraska but has recovered quickly, his doctors said. He's not completely out of danger, but Dr. Angela Hewlett said she believes a relapse is becoming less likely.
"His progress has been remarkable," she said.
Besides the usual supportive care of intravenous saline and carefully measured electrolytes, Sacra got two doses of serum taken from Brantly's blood. Because he recently recovered from Ebola, Brantly is likely to have plenty of antibodies against the virus although the Omaha team did not test the serum for that.
"I think we were hoping it jump-started his immunity," Smith said.
"He has received an experimental drug every night," Hewlett added. She and Smith say they've been asked not to say which drug because it's experimental.
"We don't know whether this drug had any impact at all," Smith said.
WHO has endorsed the so-called convalescent serum approach, and says work on other drugs and vaccines must be accelerated. One drug made by a Canadian company called Tekmira has worked well in monkeys. A Japanese flu drug called Avigan protects mice against Ebola, and Massachusetts-based Sarepta Therapeutics is working on a drug called AVI 7537. North Carolina-based BioCryst is testing one called BCX-4430 in monkeys.
Debbie Sacra said she believes her husband eventually will be ready to return to Liberia. And she'll be ready to let him. "I think I faced my worst fears when he left," she said.
"Besides, that, now he'll have immunity," she said, laughing. "I am sure that when he gets his strength back he'll be ready to go back. He loves the Liberian people," she added. "He loves Liberia."