MONROVIA, Liberia — The spectre of Ebola is everywhere in Monrovia. A brass band led more than 100 people down the street one recent afternoon publicizing how to combat the deadly virus. Many in the crowd wore T-shirts emblazoned with "Don't be ashamed. Keep safe. Ebola is real."
Struggling to battle the stigma that Ebola carries, authorities have erected billboards around the city telling people how to avoid getting it or spreading it. "Ebola is real — Get the Ebola Facts" reads a poster at an information and sanitation station. Checkpoints with health workers monitoring residents' temperatures dot the chaotic and oppressively hot city.
Few people know the toll the epidemic has taken more than Joseph Tamba, who has been transporting the dead for disposal on his flatbed truck for about three months. "I see my brothers and sisters dying. We are talking about a huge amount of bodies," he told NBC News as he waited for the latest load outside Monrovia's Island Clinic, which has a special Ebola treatment center. "It makes me feel bad."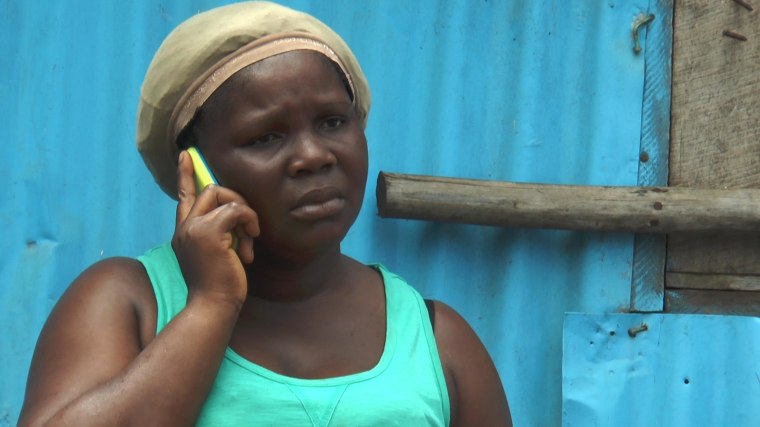 At the epidemic's peak, Tamba said he carried up to 75 bodies a day. He passes corpses on the street throughout the day — whether the people died from Ebola, or another disease that cannot be treated by the country's crumbling health services, he does not know. On Wednesday, a mostly naked man struggled and failed to get treatment at the John F. Kennedy Hospital's Ebola center. A handful of people with him shouted at health workers for help. The man died in the car as an NBC News team watched.
Liberia has recorded nearly 2,000 deaths and aid agencies say they still need hundreds of beds for patients in Monrovia.
IN-DEPTH
- Charlene Gubash and F. Brinley Bruton
Reuters contributed to this report.