Nancy Writebol was certain she just had malaria. It was common in Liberia, and she'd been working long hours supporting the team treating Ebola patients, hours that kept her out late in the evenings, when the mosquitoes were most active.
Her fever and achiness could have been early symptoms of Ebola, but she told NBC News in an interview before a press conference Wednesday that they also fit the more common illness.
It was late July and she'd felt well enough to have dinner with her husband and co-worker David, and one of the doctors, in their home in Monrovia. David and the doctor left for an all-staff meeting, and Nancy lay down to rest.
"David came in shortly after they left and he said, 'Nancy I have something I need to tell you,'" she said in an interview at the Charlotte, North Carolina headquarters of her employer, the missionary group SIM USA. "He said, 'Nancy, Kent has Ebola,' and my heart sank. And then David said, 'and so do you.'"
As the two spoke in separate interviews with NBC News, Dr. Kent Brantly and Nancy Writebol constantly referred to their concern for one another.
Writebol and Brantly are the first two Americans to have conquered the Ebola virus that is ravaging West Africa. It's taken more than 1,500 lives in Liberia, Sierra Leone and Guinea. Now it has infected a third American aid worker, another doctor working for SIM.
They both heard the news Tuesday. "My heart sank," Writebol said. "I just I didn't have any other words but 'oh, no.'" She immediately volunteered to head back over to help take care of him, but she isn't quite well enough yet to do that.
"They are part of the family," Writebol said, holding tightly to her husband David's hand as she spoke. "To hear the news is very sad, (knowing) the whole cycle of the progression of the disease and how that story might end."
Writebol and Brantly came to know that cycle all too well as they lost patient after patient. The two were working side by side, Brantly as a physician and Writebol helping to get doctors and nurses in and out of the protective gear they needed to wear to treat the Ebola patients pouring into their hospital in Monrovia.
They shared a deep Christian faith that led them both to the missionary work, and each had sought to both evangelize and help the needy in some of the most neglected parts of the world. Their two families had spent 10 months together doing just that in Liberia.
And they got infected together, too. They'll never know precisely when or how, but both feel they couldn't have been infected in the isolation unit — they took too many precautions.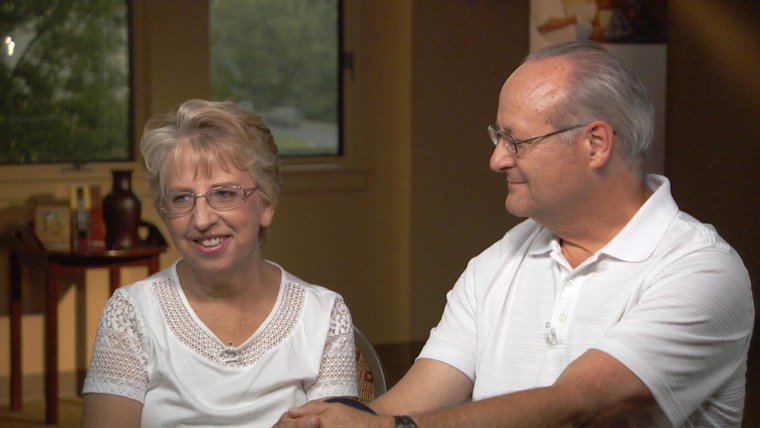 Writebol had been recruited from SIM's main offices where she'd welcomed new missionaries and helped their families get settled in. David was running the facility, ensuring lights and plumbing worked.
"My responsibility originally was I was going to mix the bleach solutions," Writebol said. She ended up helping doctors and nurses suit up before they entered the isolation unit, and then helped them remove the suits correctly when they came out.
It's a vital job — the layers of gloves, the goggles, the boots, the body suits all protect workers from the virus-laden bodily fluids that spread infection. But all that protection does no good if the doctors and nurses get even a few drops of that contaminated mess on their hands or skin, or in their eyes, as they pull the gear off.
Nancy helped spray everyone down, get the layers off in the right order and then made sure everything got either burned or disinfected.
"I was considered to be in a low-risk zone," she said. "There was a line, an actual line on the floor that I didn't cross. When they came out and I decontaminated them, I never touched them. I was wearing a gown, I was wearing gloves, and sometimes I was wearing a mask, but not all the time." But she always had a gown and gloves on. "There was never a fear that I would be contaminated."
So when she developed a fever, it never occurred to her that she might have Ebola.
Writebol, 59, had been worried about Brantly, who had become ill about the same time as she did. So it was natural for David to give her the news about Brantly first. And even though she was shocked, Writebol, who has two grown sons and who acted like a surrogate grandmother to Brantly's young son and daughter, kept practical concerns at the forefront.
"David went to hug me and put his arms around me and I knew how dangerous that was and I said, 'David — don't. Just don't'."
She heard voices. "I walked into the living room and our doctors were in the living room and all they could say is, 'We are so sorry, Nancy, we are so sorry.' All I can remember saying to them is, 'It is going to be OK.'"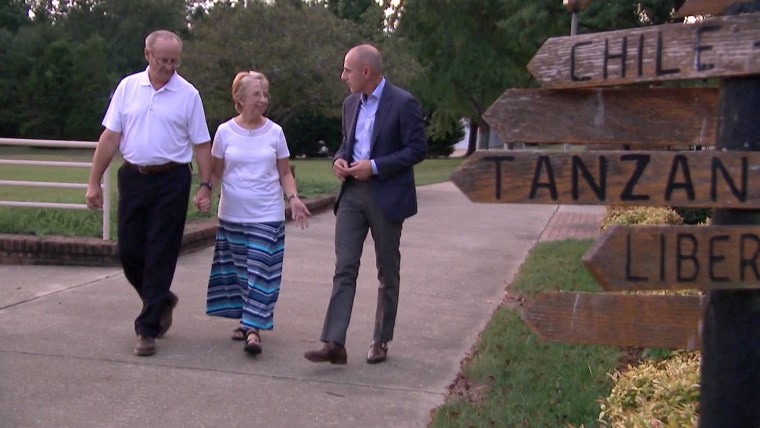 She doesn't remember feeling afraid. "I don't think I was being brave," Nancy said. "Looking back, I just think it had to be the peace of the Lord. There was no fear."
On and off through their illnesses, Brantly and Writebol were able to speak to each other and to their families. Brantly used his laptop computer; David Writebol stood outside the bedroom window to speak to his wife.
Then Samaritan's Purse, the missionary organization that Brantly works for, and SIM managed to get a single three-infusion treatment course of an experimental drug called ZMapp. A combination of lab-engineered antibodies, it is specifically designed to boost the body's immune response to Ebola infection. It had never been tested in humans.
It was offered to Brantly first. He said Nancy should get it. "This was not a heroic decision to sacrifice myself for the sake of Nancy," Brantly said. "I thought she was older than I am. She's sicker than I am."
He called her from his bedroom, where he'd been isolated since he became ill July 23.
"I wasn't sure I wanted to take it," Nancy said. "We had a phone conversation and I said, 'Kent what are you going to do?'" Brantly wasn't sure.
"I said, 'If you are not going to take it, I am not going to take it,'" Writebol said. "I wanted to know what his opinion as a doctor was."
In the end, the doctors decided. Brantly got much sicker. They gave him the first dose, and told him Nancy could take the next two doses.
"My doctors were very concerned I was going to die," Brantly said.
Then Brantly was flown out of Liberia to Emory University Hospital in Atlanta, where he made headlines by walking from the ambulance into the hospital.
Writebol was in much worse shape for her flight home.
"The night I was evacuated and when they put me on the airplane, I know it was bad. I was bad," she said.
"When I said goodbye to David, I was not sure that I would ever see him again." She wasn't vomiting or bleeding, but she was very, very ill.
It was a human touch that restored her spiritual confidence, she said. One of the doctors put her on a baggage conveyor belt to load her on the specially equipped jet that could fly her across the Atlantic safely, without infecting anyone else. "He put his hands around my face and said, 'Nancy, we're taking you home.'"
Then, she says, she "felt the Lord." "I said yes, Lord. You are enough."
As Nancy Writebol was wheeled into the two-room isolation unit at Emory University Hospital, Brantly struggled to see his friend and colleague.
"I could see through the window," he said. Their rooms in the isolation unit at Emory faced one another, just a few feet apart. "It broke my heart when I tried to wave to her," Brantly said. "She was unaware."
Writebol doesn't remember much about her arrival at Emory. Not only was she sick, but she was dehydrated and exhausted from having been in full personal protective gear for the entire journey from Liberia.
The doctors at Emory who treated them both agree — it was the supportive care that saved them. ZMapp is experimental and both patients got dosed late. But experience has shown that replacing fluids lost to diarrhea and vomiting, giving antibiotics to prevent other, so-called secondary infections, and watching the levels of red blood cells and critical immune system cells all can save lives.
Writebol doesn't remember having any special reaction to the ZMapp, but she remembers when she knew should would survive.
"There was a time when the doctors came in and said, 'You've turned the corner,'" she said.
"There was a time when I sensed — I had not been able to get up and walk and there was great pain in my feet, in the bottom of my feet and the top of my toes."
That did it. "Shortly after that, I said 'I am just getting up. I am going to the bathroom and take a shower today." And she did.