Little Nubia lost her mother just hours after she was born, but she's never been alone.
The tiny baby, still less than a month old, has become the mascot of the Ebola treatment ward run by Medecins Sans Frontieres (MSF or Doctors Without Borders) in Conakry, the capital of Guinea.
Born with Ebola herself, Nubia was not expected to live. Most babies born to infected mothers die, said Axelle Ronsse, the coordinator of MSF's Ebola response.
"Three days was the maximum days a child survived from a mother with Ebola," Ronsse told NBC News.
"Maybe she's a good warrior."
Miraculously, Nubia lived, and last Monday she was declared Ebola-free herself. Experimental drugs may have helped, as did the intensive attention from the staff and volunteers at the clinic.
Slideshow: Last Ebola Patient Treated in Guinea
She was the last known case in Guinea, one of the three countries hardest hit by the Ebola epidemic. Guinea's started a 42-day countdown to declare itself free of the killer virus that infected more than 28,000 people and killed more than 11,000 of them.
"Maybe she's a good warrior."
No one dared say the epidemic was really over, even though Sierra Leone and Liberia had been declared Ebola-free, also. Their caution was justified. On Friday, a 10-year-old boy in Liberia was diagnosed with Ebola and his whole family's being kept in medical care.
Health officials still are not sure where the last few cases of Ebola are starting. The Liberian boy had no known contact with anyone who had the virus, and Liberia hadn't had a case since June.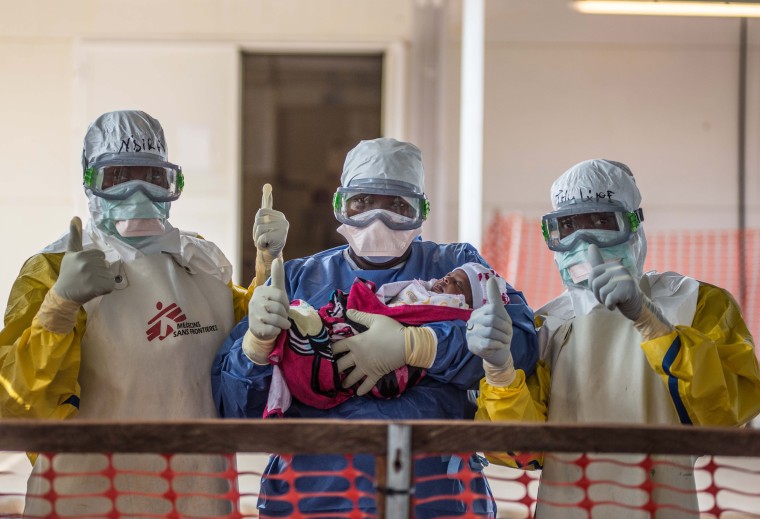 And even when they try their best to protect the population, there are failures. Nubia's mother was a perfect example.
In Guinea, officials were practicing what's called ring vaccination – vaccinating anyone who could have been in contact with any recent cases of Ebola. Nubia's mother, Mamasta, had been a contact of one of the last cases. But she was pregnant.
"She didn't get any vaccination because she was pregnant," Ronsse said. The vaccines being deployed in West Africa are all experimental, and no doctor wants to use an experimental vaccine on a pregnant woman. That precaution may have cost Mamasta her life.
So MSF threw medical conservatism to the wind when Nubia tested positive. They gave her the experimental drug ZMapp, meant to boost the immune response against Ebola virus, and an antiviral drug called GS-5734 made by Gilead Sciences.
"We did everything we could to save her," Ronsse said.
No one can say if the treatment is what saved the baby, but Nubia pulled through. And although the first weeks of her life were spent without touching the skin of another human being, she didn't go without a pair of loving arms to hold her.
"She has plenty of people that want to take care of her," Ronsse said.
"She was never alone. There was always someone close to her, 24 hours a day."
MSF has released a series of pictures showing Nubia being cradled by caregivers in yellow plastic robes and the weird protective gear worn by health workers in Ebola zones.
Ebola survivors who volunteered to help out at the clinic clamored for the chance to hold a little baby.
"She was never alone. There was always someone close to her, 24 hours a day," Ronsse said.
The survivors are believed to be immune, but they still wore protective gear. It wasn't for their own sakes, but to protect people outside the clinic after they left," Ronsse said.
Nubia still hasn't gone home to her extended family. Her father lost two of four wives to Ebola, but she has him, as well as brothers and sisters, aunts and uncles, cousins and grandparents
"It could be a good story to end this outbreak," Ronsse said.