The Ebola virus could spread exponentially now that it's reached a big city in the Democratic Republic of the Congo, World Health Organization officials said Friday.
At least 45 cases have now been reported in the large, central African nation, with one confirmed and several more reported in the busy river port city of Mbandaka. And 25 people have died, WHO said.
"The risk of international spread is particularly high since the city of Mbandaka is in proximity to the Congo river, which has significant regional traffic across porous borders," WHO said.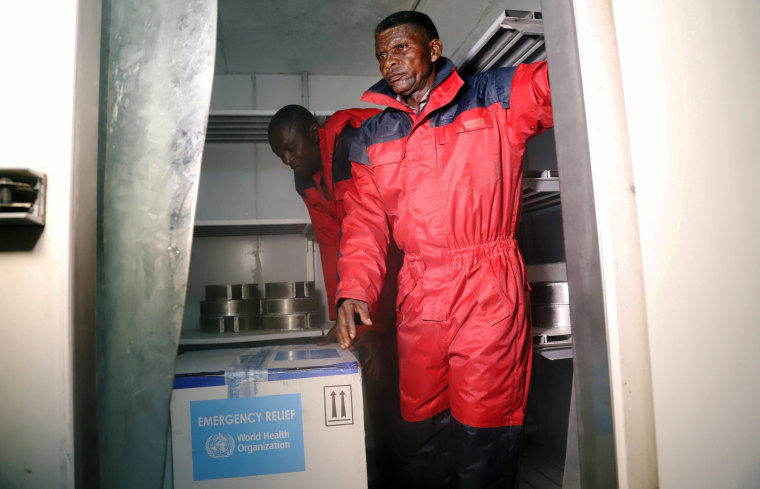 But it's not yet an international emergency, WHO decided after a committee of experts met in Geneva.
"At the global level the risk is currently low," WHO said.
Within the Democratic Republic of the Congo, formerly Zaire, the risk to public health is very high and the risk is high regionally, WHO advised.
"Nine neighboring countries, including Congo-Brazzaville and Central African Republic, have been advised that they are at high risk of spread and have been supported with equipment and personnel," WHO said.
International aid groups and local authorities are planning to deploy vaccine to try and control the virus. Because cities are so vulnerable to the rapid spread of disease, Mbandaka will get the first doses, said the WHO's emergency preparedness chief Dr. Peter Salama.
"We have to start in Mbandaka," Salama told reporters. He said 8,000 to 10,000 people will be vaccinated to begin with. "Of course as the epidemic grows, which it may, the numbers will increase," he said.
The virus can spread much more quickly in cities than it can in the remote regions where it usually causes outbreaks.
"Urban Ebola is a very different phenomenon to rural Ebola because we know that people in urban areas can have far more contacts," Salama said.
"That means that urban Ebola can result in an exponential increase in cases in a way that rural Ebola struggles to do."
WHO has more than 7,000 doses of vaccine, and more than half has arrived in the capital of Kinshasa.
Health workers will use it in a technique called ring vaccination, in which cases of the disease are tracked down and all the people they have been in direct contact with are vaccinated. Then the contacts of those vaccinated people are tracked down and vaccinated. This method eradicated smallpox at the end of the 1970s.
The vaccine, developed in Canada and made by Merck, is still considered experimental because it has not been formally licensed. Tests in Guinea at the tail end of the 2014-2016 Ebola epidemic in West Africa indicated it did save some people from infection.
Because it's experimental, that means extra paperwork in explaining the risks to people and getting their consent.
And it must be transported to Mbandaka while being kept at extremely cold temperatures. Getting to more rural areas will be a challenge. "It's very hard to reach them," Salama said. One town was reached by helicopters but efforts to clear airstrips for planes have yet to succeed, he said.
So far, health workers are trying to track down more than 500 people who have been in contact with known Ebola patients. It's time consuming in a place with spotty communications and poor to nonexistent roads. The preferred method of transport is motor scooter or motorcycle.
WHO is also trying to distribute equipment and supplies, including personal protective equipment for health workers. Three victims so far in this outbreak have been health care workers, who are at special risk as they are in direct contact with patients.
Caring for Ebola patients requires the use of completely protective outfits, including plastic coveralls, rubber boots, full masks, gloves and eye protection.
WHO said there is no reason to cut off the country from the rest of the world, but says people leaving the Democratic Republic of the Congo should be screened for fever and other symptoms of Ebola.
"Our biggest concern is that the virus will spread to Kinshasa," said Katherine Overcamp of Catholic Relief Services, one of several international aid groups working in the country.
Kinshasa, the nation's capital, has a population of 11 million.
This is the ninth outbreak of Ebola in the Democratic Republic of the Congo. Until now, the outbreaks have been in remote regions and affected usually fewer than 100 people, although a 1995 outbreak sickened 315 people and killed 250 of them and the first outbreak, in 1976, affected 318 people and killed 280.
In 2014-2016 an epidemic of Ebola sickened more than 28,000 people and killed more than 11,000 of them in Liberia, Guinea and Sierra Leone. It spread explosively in both urban and rural regions.
Overcamp, speaking from Kinshasa, said her group is helping spread important information about Ebola.
"There is not necessarily a good understanding that you can get the virus from touching bodily fluids, coming into contact with diarrhea and vomit," she said.
"In the DRC, like in many African countries, touching is part of a warm welcome," she said. Her group and others are sending out messages via radio, warning people against washing and handling the bodies of the dead and reminding them of the dangers of even shaking hands.
WHO has asked for $26 million to fight this outbreak. So far, donors have pledged $9 million, Salama said. "So we're $17 million short," he said.
Fighting the west African epidemic cost $3 to $4 billion, he said.
The U.S. Agency for International Development pledged $1 million on Friday.
"USAID is currently providing approximately 2,000 personal protective equipment kits, laboratory materials to confirm diagnostic testing, and technical expertise," it added.
"Furthermore, USAID has mobilized public health experts to serve as surge capacity in this mission."