BAUMHOLDER, Germany — Couches, televisions, a pool table and foosball games have been set up at Smith Barracks in rural Germany, ready to be used by soldiers returning from their Ebola-related missions in West Africa.
Instead of returning to their home bases immediately, the service members will be housed and medically supervised for 21 days in a newly established controlled monitoring area, a complex of buildings surrounded by a double fence. It can house about 180 soldiers.
"Our main mission is to keep service members, family members and German neighbors safe," Col. Scott Murray, commander of the 21st Theater Sustainment Command's 16th Sustainment Brigade, told NBC News.
U.S. military officials said that an Ebola case among those who would be monitored here is highly unlikely but that the quarantine of service members, all considered to be low risk because they had no direct contact to Ebola patients, is done "out of an abundance of caution."
Monitoring will include twice-daily interviews and temperature checks to screen for Ebola symptoms. Soldiers showing symptoms would be evacuated to Landstuhl Medical Center for further testing. If any tested positive for Ebola, they would be flown to the United States for treatment.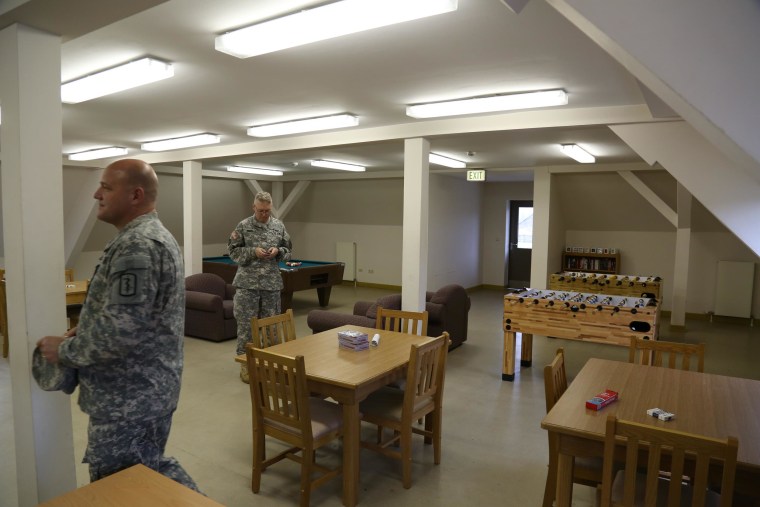 Murray said that the biggest challenge will be to keep soldiers entertained as they are spending three weeks at the facility, which includes four barracks-style buildings, a medical clinic and a dining tent.
"The risk of Ebola is so low that as a commander I think my challenge will be more that our service members during the 21-day period have plenty to do, and I think we've got that for them," he said.
The barracks, which had been empty after the drawdown of U.S. troops in Germany in recent years, were refitted within weeks for the new arrivals. Rooms were remodeled; fitness centers and entertainment areas were put into each building. High-speed Internet access and telephones will allow soldiers to communicate with families.
Overall, about 4,000 service members have deployed to West Africa to help fight the Ebola outbreak. Officials said only service members based in Germany would be monitored at the facility in Baumholder. Similar controlled monitoring areas have been set up at military bases in the United States and Italy.
They said that all preparations are finished but that they are still awaiting final approval by the German government, which as host nation has to approve changes to military facilities.