In 1972, a full four years before the Ebola virus even had a name, Dr. Thomas Cairns was a young doctor doing missionary work in the dense jungles of Zaire — a sprawling central African nation now known as the Democratic Republic of Congo.
A very sick patient came into Cairns' clinic and died before doctors could offer a diagnosis. This was not particularly extraordinary, given the panoply of exotic infectious diseases native to the region. The local authorities requested an autopsy to see if they couldn't figure out what killed this person so quickly. During the procedure, Cairns nicked himself with a scalpel, drawing blood. It was that moment that he became, quite possibly, the first non-African Ebola patient — and would become, almost certainly, the first non-African Ebola survivor.
"Twelve days later I became acutely ill," Cairns said. "I had a very high fever, intense aching, headache, vomiting, diarrhea, rash. My skin was peeling. I lost hearing in one ear for weeks. My hair turned white. We didn't know what was happening to me."
The illness that was ravaging Cairns' body was unlike anything any of the local medical staff had ever seen. "We thought it was going to kill me," he said. "That was a real possibility."
But, instead — inexplicably — Cairns began to feel better. It took weeks, but he was eventually able to get back on his feet, and even began practicing again, part-time at first and then back to a normal schedule. He didn't travel back to the U.S., opting instead to continue his work in the small villages that dotted the western and central African landscape. For four years, the illness that nearly took his life remained a mystery.
Then, in 1976, two nearly simultaneous outbreaks of a similar deadly virus in Sudan and Zaire took hundreds of lives in a short period of time. It flagged the attention of the Center for Disease Control, which began intensive epidemic research in the region, alongside the World Health Organization. As officials looked for the source of the virus that was decimating those who came in contact with it, they coined a name for it: Ebola, after the river that ran near the village of Yambuku, ground zero of what was becoming a serious epidemic.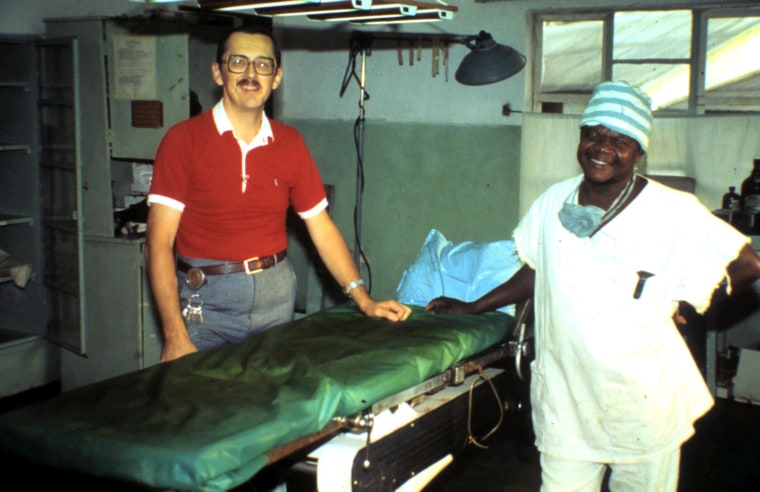 At the time, Cairns recalled, epidemiologists had fanned out across the region to collect blood samples from the indigenous population. They also took samples from about 50 expatriates working and living in the area. Cairns was included in the sample, and stood out immediately: He was the only one who carried a large amount of antibodies resistant to the Ebola virus.
That antibody level implied to doctors that Cairns had at one time been exposed to Ebola and had successfully fought it off. He was, effectively, immune to one of the most lethal diseases nature has ever produced.
"That's when we knew: I was, in all likelihood, the first non-African survivor of the Ebola virus," he said.
Cairns, 71, now semi-retired and working at an urgent care facility in a suburb of Minneapolis, did more than just survive. Health officials were so enamored with the level of Ebola antibodies they discovered in his blood that they took samples to store in the CDC freezers in Atlanta, to study and to use to help treat those who may come in contact with the virus in the future. (Over those initial years, Cairns gave several specimens to health workers but his antibody levels eventually lessened as he grew older, making his blood less immune to the disease than it once was.)
With the latest Ebola outbreak among the most deadly in the virus' 40-odd-year lifespan, Cairns remembered those weeks in '72 for the lack of information he and his colleagues had to work with. "We knew this thing was really bad, but that was about it."
Yet, decades later, even modern medicine and pathology have limits: Ebola's kill rate remains stubbornly high. In past outbreaks, as much as 90 percent of those who contract the disease have died from it. In the current outbreak, the rate appears to be about 60 percent.
Cairns credits his faith for not becoming one of those statistics. "It was literally the grace of God that brought me around back then," he said.