The freelance NBC News cameraman who was diagnosed in Liberia with the Ebola virus "was taken to the clinic very, very early on," and the other members of his reporting team, including Chief Medical Editor and Correspondent Dr. Nancy Snyderman, are "very healthy," Snyderman said Thursday night. "We have really worked hard to minimize our risk," Snyderman told MSNBC's Rachel Maddow, but "obviously, zero risk means never come to Liberia."
The cameraman, Ashoka Mukpo, 33, showed no elevated temperature when he, Snyderman and the rest of their crew were checked Wednesday at a border crossing, Snyderman said. But "as the day went on, he was starting to feel tired and a little achy," she said. "And in the field, we work long hours so thought maybe he just wasn't taking care of himself, and we sent him home to rest. He signed off, went home [and] called me later that evening with an elevated temperature."
Snyderman said she "suggested and requested he self-quarantine. He continued to check his temperature overnight, and this morning he went to the clinic run by Doctors Without Borders to be checked with malaria and also tested positive for Ebola," she said.
Related: Watch the Full Interview on msnbc.com
NBC News said it was flying Mukpo, Snyderman and the rest of her crew back to the U.S., where Mukpo will be treated and where the others will be quarantined for 21 days.
"We all have thermometers on us at all times, we are required not to shake hands, we wash our hands and feet with bleach," Snyderman said.
"We want to be respectful to our colleagues and the U.S. public," Snyderman told Maddow. "Because we know this is not a casually transmitted disease and because we don't have any symptoms, we really present zero to marginal risk. I mean, I don't want to say 'zero' because it's minimal ... Our returning to the U.S. is a very, very minimal chance of getting anyone [else] sick."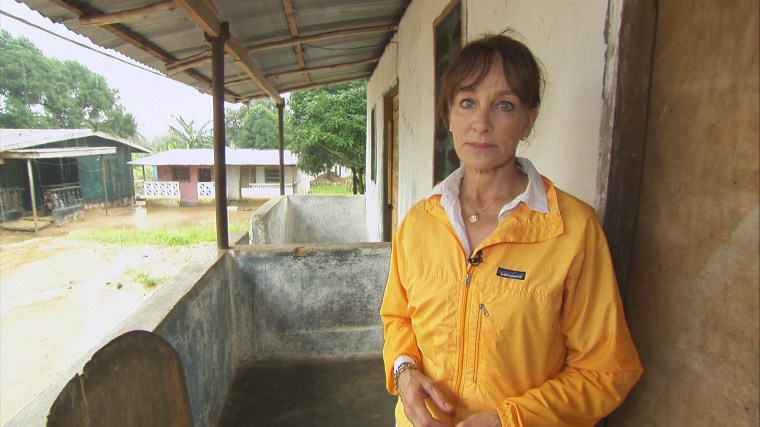 IN-DEPTH
SOCIAL