From her home in London, Memuna Janneh could only watch as the Ebola outbreak worsened the food shortages in her home country of Sierra Leone. Then the government banned public Christmas and New Years Eve gatherings.
Janneh knew she had to help. So she decided to use food to help sustain communities ravaged by the epidemic and keep the holiday spirit alive.
"I don't have the cure for Ebola. I am not a medic. I am not a superpower. But I thought to myself … perhaps I can do food," said Janneh.
Following a countrywide, three-day lockdown in Janneh's home state in September, she started LunchBoxGift out of her home. The campaign delivers nutritious, freshly prepared meals to patients and health workers on the Ebola front line in Sierra Leone.
"I was worried that people had no way to feed themselves if they were unable to leave their home. I could see the faces of those individuals who had no means to survive; I had to get involved," Janneh said.
During the government lockdown, Janneh converted her family's home in Freetown into a catering facility where a team of volunteers cooked, packaged and dispatched 2,600 meals to vulnerable communities.
From there, LunchBoxGift quickly caught fire. The hashtag #LunchIsOnMe spread across social media, inspiring Janneh to continue to do more to combat her country's hunger problem.
On Thanksgiving Day, Janneh launched the #GiveAMeal fundraiser on the micro-crowdfunding site Tilt.com. The new campaign, which will run until Christmas Day, aims to raise $80,000 to serve 50,000 meals in Sierra Leone over the next three months.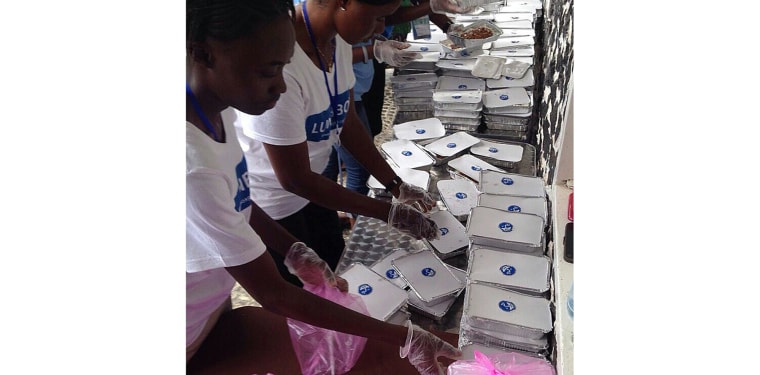 "This Christmas, patients and frontline workers won't even get to see their loved ones because of the isolation required with Ebola," Janneh said. "Over Christmas we will be serving special festive treats and surprise gifts to all the Ebola hospitals in Freetown. We can't give a hug, we can't even share a smile but we can still give love and show that we care by giving food."
In Sierra Leone, families traditionally deliver food to their loved ones in hospitals because they do not offer food. LunchBoxGift has been able to provide food for patients whose families lack the means or ability to do so.
Dr. Santingie Sesay, a recipient of the meals served by LunchBoxGift and the head doctor of the Hastings Hospital Ebola Treatment Center in Sierra Leone, is thankful that in addition to his concerns for the Ebola patients that he treats, he does not also have to stress about feeding his patients and leaving the hospital in search of food.
"It gives patients and health care workers something to be excited about during a trying time in the country," Dr. Sesay said. "Both patients and staff are eager to receive their lunch pack and you can feel the satisfaction after they enjoy a delicious lunch."
Dr. Sesay said the initiative offers a bit of stability in a time of complete uncertainty. And the surprise packaging makes it something to look forward to.
Every meal is packaged with the recipient in mind: light soups for those who are very ill with Ebola and are struggling to keep heavy food down; low sugar or low salt meals for patients who might have other underlying conditions; and solid food for staff and stronger patients. "Extra packs" are provided for those who are recovering and need additional sustenance to regain strength.
"I just want them to feel special. … The patients, nurses, doctors, cleaners, porters, burial teams, etc., are all heroes to the LunchBoxGift team. We could never reward them enough for their sacrifices," Janneh said.
All food provided is based on the Sierra Leonean palate. The cost of each meal is £1 or $1.60 — including bamboo packaging that can be burned along with hospital trash after an Ebola patient touches it to prevent the spread of infection.
Dr. Sesay said the charity has brought hope to Ebola patients and frontline healthcare workers through the simple, universal power of a home-cooked meal.
"The holidays are all about families coming together, sharing, feeding and feasting," Janneh said. "It is especially important for us to come together now to provide food and care to those in need."