Two Americanswho got infected with Ebola virus as they were trying to save others with the disease are struggling for their lives in Liberia, one of three West African nations at the center of the biggest outbreak yet of the virus.
They may have been infected by something as simple as wiping the sweat from their eyes, says another expert who's worked in the field fighting the outbreak.
Dr. Kent Brantly, 33, medical director for the aid group Samaritan's Purse, and his colleague Nancy Writebol, a hygienist, have been isolated and are being treated as possible for the virus, which has no cure. There's no specific drug that helps patients with Ebola — they get what's called supportive care, which includes saline solution, pain relief and fever-lowering medications.
"We are working as hard as we can to save their lives, as well as the lives of the Liberian people we are treating, also," said Melissa Strickland, a spokeswoman for North Carolina-based Samaritan's Purse, an evangelical humanitarian group co-founded by Franklin Graham, Billy Graham's son. "They had a rough night."
More than 1,000 people have been infected with Ebola in this West African outbreak, making it by far the biggest outbreak set since the virus was first identified in 1976. More than 660 have died, giving this outbreak a mortality rate of about 60 percent. In some outbreaks, the death rate has been up to 90 percent.
Health workers and relief groups are battling fear, mistrust and stigma, trying to coax people into seeking treatment as soon as possible. Early treatment appears to be saving lives, says Dr. William Fischer of the University of North Carolina-Chapel Hill, who spent two weeks treating patients in Gueckedou in Guinea.
"Having been there and seen the response to aggressive critical care, I am totally sold on the idea that we can reduce mortality with the interventions we have now," Fischer told NBC News. Just rehydrating patients with saline can really help, he said. People often show up with extremely low blood pressure because they've lost so much fluid from vomiting and diarrhea, he said.
"We were very aggressive," he said. "We were actually able to improve outcome with that aggressive approach."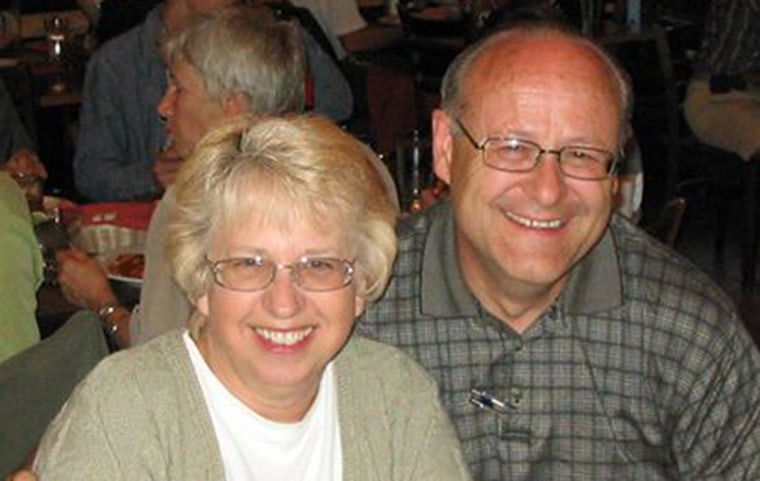 That's what doctors will be doing to help Grantly and Writebol, who both were in Liberia for altruistic reasons.
Writebol was in Liberia with her husband, David, as part of a group called SIM, short for Serving In Mission. "David and Nancy sensed God's calling to them to enter missions early in their marriage. God has prepared and equipped them to serve through a variety of life and ministry settings," SIM says in a web posting about their work.
Dr. John Munro, their pastor at Calvary Church in Charlotte, N.C., called the Writebols "modern-day heroes." Hundreds are praying for their recovery at the church after he relayed the news on Sunday.
"I think there was a gasp, you could almost hear a gasp of people just in shock," Munro told NBC Charlotte.
Brantly was treating patients; Writebol was working to help doctors and other health workers get in and out of their protective gear, Strickland said. That would include spraying them down with a chlorine solution and then stripping off and disposing of every piece of gear.
David Writebol is being tested for fever several times a day, Strickland said, but so far remains healthy.
Brantly and Writebol have been suffering from high fevers that come and go. Speaking to NBC Dallas-Fort Worth, one of Brantly's colleagues described him as a "humble family man" who was deeply religious.
"In this case when you're called to do something, to go somewhere, you have two options — either to answer that call or not," said Jason Brewington, a friend and colleague from John Peter Smith Hospital.
Brantly, a father of two, worked on missions in Haiti, Nigeria and Tanzania. At the Southside Church of Christ where the Brantly family are members, fellow churchgoers added him to the prayer list.
"He and his wife, I think before they even met, knew they wanted to do missions, and they have always lived their lives with that in mind at some point they would be on the mission field in a hospital doing what no one else wants to do," Brewington said.
Groups on the ground need funding, staff and equipment. "There is a desperate need for international intervention at this point," Strickland said. She said Samaritan's Purse was struggling to build a new facility that could handle another 40 patients at a time, on top of its current facility.
A basic tent is not enough — any clinic treating an Ebola patient is going to need to be able to isolate patients from healthy people and to provide the support and supervision they need.
Doctors and other workers must suit up in many layers of protection. They wear a full body suit, a face mask, several pairs of gloves and goggles. It's beyond hot, says Fischer.
"It's exhausting and you make mistakes by doing things like touching your face."
"If you are in this facility, you are in suits where the temperature is up to 115, 116 degrees and you are dehydrated because you are losing 3 to 5 liters of fluid inside your suit," Fischer said.
"It's exhausting and you make mistakes by doing things like touching your face. It's a game-changer."
The virus spreads in bodily fluids, and the eyes, nose and mouth present easy entryways for a virus. People can wipe their eyes without even thinking, Fischer said.
"It is very easy when you tired and exhausted and emotionally fatigued to touch your eyes when you have sweat dripping down in your face," he said.