Almost as soon as they got to Sierra Leone, epidemiologists Michelle Dynes and Anne Purfield saw Ebola do its worst: killing 20 nurses and a beloved doctor, wiping out entire families and making one orphan after another.
They struggled to hold themselves back from hugging people who'd lost as many as 10 family members, and cried for the five children buried in unmarked graves because they died before anyone could find out their names.
But the worst part was seeing how mercilessly Ebola punished anyone who cared. It's turned Sierra Leone, Liberia and Guinea into countries where the enemy is the person next to you, where hospitals are feared as the most dangerous places you could go.
"There was a woman who had come into the treatment center with her infant," said Dynes, who with Purfield first told the story on NPR's Story Corps. The young mother died, but her baby, still young enough to be breast-feeding, tested negative for the virus.
"But we know that baby's risk of becoming Ebola positive was very high, from contact with the mother and breast-feeding. The nurses decided they would keep the baby in the nurses' area so they could watch over the baby instead of putting the baby in the Ebola ward."
"How can anyone see the baby in a box and not love and comfort her?"
Dynes, who has three children of her own, understands the impulse.
"It's this tough choice between picking up the baby and caring for the baby and putting yourself at risk in contrast to just letting that baby sit in a box," she said. "This speaks to the mother in all of us. How can anyone see the baby in a box and not love and comfort her?"
But the baby did develop Ebola infection, and so did all but one of the dozen or so nurses. The baby and most of the nurses all died.
"They weren't making any different choices than we would," Dynes said. "We all understand that need to love and care for babies and children."
Dynes and her colleagues Purfield and Melissa Rolfes all work at the Centers for Disease Control and Prevention's headquarters in Atlanta and all did overlapping rotations helping out at Kenema Government Hospital in Sierra Leone. Purfield was working to help set up counseling support to Ebola survivors, Dynes was working on health promotion and Rolfes was helping Sierra Leone's health ministry figure out the extent of the epidemic.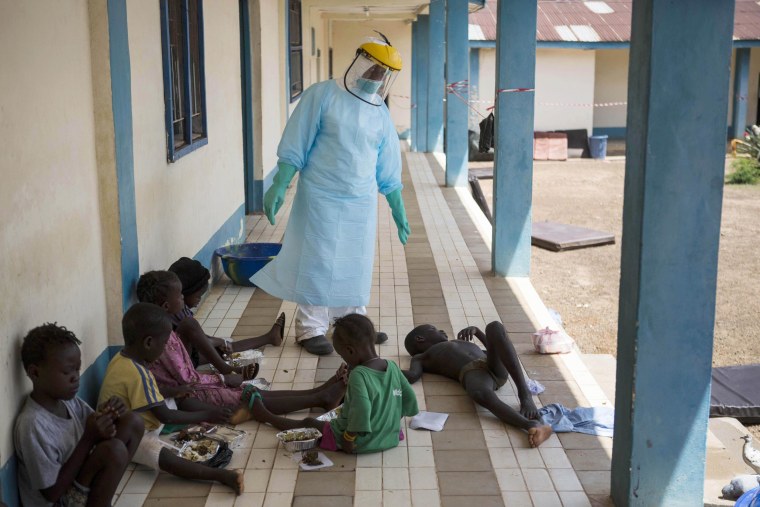 They were all keenly aware that they were just there for a few weeks, while their Sierra Leonean colleagues were living the horror 24 hours a day, seven days a week, for the foreseeable future. The World Health Organization predicts infections could spike up to as many as 10,000 a week in West Africa if aid doesn't get there much more quickly than it is.
They watched what it did to people. "Other than seeing their colleagues die, one nurse, Thelma, told me she hadn't held her children in a month," said Purfield. She was afraid of infecting them.
Anja Wolz, emergency coordinator for Medicins Sans Frontieres (MSF or Doctors Without Borders), wrote about similar feelings in an essay she wrote in August for the New England Journal of Medicine.
"When (a 6-year-old) boy died, we tried to console and calm his sister, but the PPE (personal protective equipment) made it difficult to touch her, to hold her, even to speak with her. She died the next day," Wolz wrote.
"It made me sick inside to think I wouldn't be able to comfort her."
Rolfes, who has a 1-year-old at home, watched as recovering Ebola patients celebrated the imminent release of another patient. "There was this 5-month-old being passed around. I couldn't help but see my daughter there," she said. "It was hard for me to think how I would handle it if I had seen this child on the roadside or in the market or in the hospital seeking comfort. It made me sick inside to think I wouldn't be able to comfort her… If your child is crying, you grab them and hug them and make them feel better."
The CDC workers had it drummed into them that one of the most dangerous things they could do was touch another human being.
"There was never a time when I felt safe enough to give anyone a hug," said Rolfes. "I accidentally touched Michelle's knee one night. I felt like I needed to apologize because it was such a breach. It was weird."
"The thing that hit me hard was seeing so much suffering and knowing you couldn't provide emotional support, a pat on the back, even," Purfield said. "I was with a woman whose husband had died and all you can do is put your hand over your heart and look at them with the most sincere look you can to let them know you are feeling for them."
Dynes added: "I had met a woman who had lost 10 members of her family. Two of them had died that morning. She was sobbing. I couldn't provide the comfort that I knew she needed."
And there was just a twinge of guilt. "Everyone knew the risk was not mine and everyone knew I was going back to my cushy life," Purfield said.
It made coming back to the United States a little awkward. But in contrast to some of the quarantines imposed by some schools with students or employees who may have been in contact with contacts of Ebola patients, these experienced CDC employees knew they posed no risk to anyone else so long as they had no symptoms.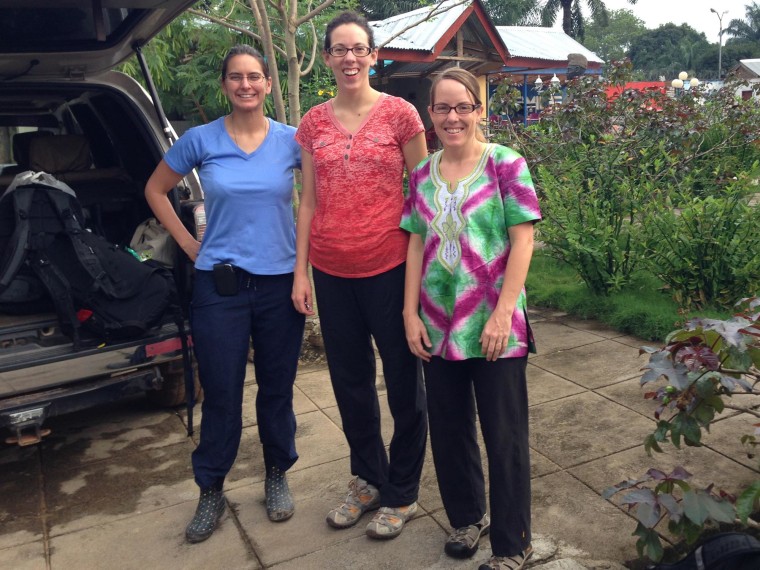 Still, each experienced a small pause. "For me, there was a little bit of hesitation, but not because I was afraid to give anyone Ebola. It was because I hadn't had human contact for a month," Purfield said. "You just get out of practice."
She was ecstatic to see her 14-year-old golden retriever. "And he got the hug of his life," she said.
And Dynes thought about steering clear of her kids, aged 9, 11 and 12. "But the moment I saw them, there wasn't any hesitation. We all know that unless you have symptoms you can't give Ebola to another individual."
All three agree they would like to see the focus on Ebola turned back from the U.S. fears about cases here to the place where the need is real. "People are there fighting while the rest of us in the U.S. are carrying on in such a way," Purfield said. "We want the story to be told because there is so much continued suffering."
CDC recruits volunteers from all its employees. "In a heartbeat I would go back," Purfield said.