Bureaucracy and red tape are slowing the budding Ebola aid effort in West Africa, aid groups complain. The U.S. federal government now says 4,000 troops will be deployed in Liberia alone to help distribute supplies, at a cost of $750 million for the first six months. The response from aid organizations: Hurry up.
"We need the stuff down there right now. The bureaucracy is not responsive to the magnitude of this crisis," said Ken Isaacs, the vice president of international projects and government relations at Samaritan's Purse, one of the main aid groups working in Liberia.
And in Sierra Leone, an opposition politician says a shipping container filled with medical gear and mattresses has been held up at a port for more than a month. Alpha Chernor Bah said the container is one of four carrying $500,000 worth of supplies that he has arranged for shipment from the U.S. "I am trying to help because this is a public health emergency to save lives," he told The Associated Press. "The country is in a crisis period, and there should be no red tape in clearing the container from the port."
"We need the stuff down there right now."
The U.S. military opened two medical labs set up to diagnose Ebola cases in Liberia this week, said Gen. David Rodriguez, who commands U.S. troops in Africa. "We are also establishing a facility to train health care workers, enabling health care workers to safety provide direct medical care," he told a news conference.
Treatment centers will probably take a little longer. "The treatment centers, the ones we have been tasked to build, will probably take until mid-November right now," Rodriguez said.
Isaacs says it's clear it will take too long to build treatment centers, as the number of infections passes 7,000. The World Health Organization projects there will have been at least 20,000 cases by November. So Samaritan's Purse is spearheading a new and different approach to fighting the worsening Ebola epidemic. It's providing gear to families so they can more safely care for patients at home.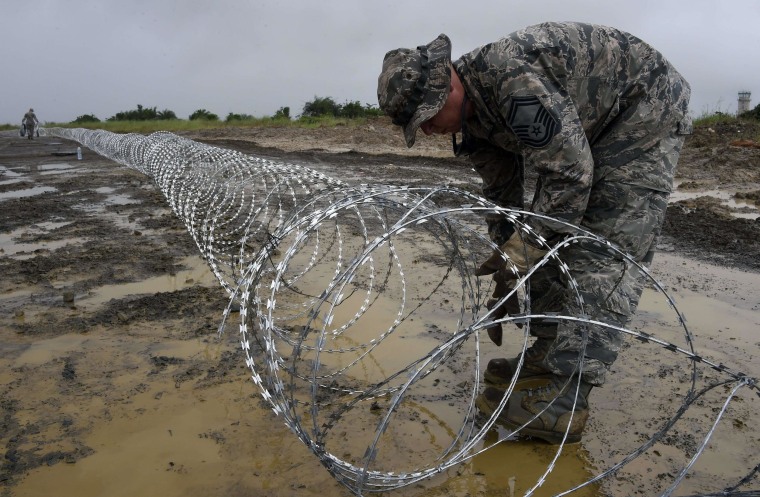 The group, whose staff doctor Kent Brantly was the first American with Ebola to be airlifted to the United States for treatment, shipped 100 tons of relief supplies to Liberia by air Oct. 1. They include 30,000 kits containing rubber gloves, detergent and soap.
But it's taking too long to distribute. "More needs to be done now," said Isaacs. Plans for a United Nations helicopter airlift fell apart, he said, and now supplies will have to be driven by truck along rough roads — a three-day journey. Isaacs asked the U.S. government at a congressional hearing two months ago to assign the military to help distribute supplies from nonprofits like his own, but it's not happening yet, he said.
Once it's distributed, the equipment is designed to make an immediate difference. "Each person who has an infected family member will get a home-based kit," Isaacs told NBC News.
Right now, the group is "training the trainers" — ready to deploy community workers to help teach people how to use the kits to help protect themselves when caring for a sick family member. They'll help distribute the kits and ensure people can use the equipment properly.
While treatment is important, preventing transmission is even more important, experts agree.
"The most important thing is to diminish the infection rate. It has got to be below one to one," Isaacs said. Right now, a patient infects on average two others, which us why the epidemic is worsening.
"The most important thing is to diminish the infection rate."
"If you can cut transmission from eight family members to three family members, that's progress," said Dr. Suzanne Donovan, an infectious disease specialist at the University of California Los Angeles who is just back from working at a clinic in Kenema, Sierra Leone.
Just providing soap and water can help. CDC said in a report issued Tuesday that even in unaffected areas of Liberia, supplies of soap and water and hand sanitizer are running out.
"Our plan is to train the caregiver in how to provide care while protecting themselves in their own home," Isaacs said. "This is necessary because of the sheer number of patients. There is no way enough beds are going to be built. There's just no way. Home-based care is already happening. It's just not good."
The home trainers will also help people learn how to get rid of the prodigious amounts of waste generated by an Ebola patient — quarts of diarrhea and vomit, all loaded with infectious virus. Those can be buried outside in a staked-off area, Isaacs said.
The U.S. is sending similar equipment, including 140,000 sets of personal protective equipment, 10,000 of which have already been delivered.