People living east of the Rockies might miss their chance to witness the once-in-a-lifetime "Great American Eclipse" on Monday as cloudy skies roll in across large portions of the country, according to Weather.com.
A swath of the United States from stretching coast to coast, from Oregon to South Carolina, will have the chance to see the moon completely cross in front of the sun on Monday.
The full eclipse cuts a 70-mile wide path of "totality" across the U.S., and millions are expected to flock for a viewing.
Those in the Pacific Northwest will have the best view of the eclipse as the skies are forecast to remain cloudless throughout the day.
However, in the Northern and Central Plains, thunderstorms and showers could block the solar spectacle in the afternoon. Scattered showers are also expected in the Northeast and Southeast, which could also obscure the view for those hoping to see the eclipse.
While poorly-timed storms could block the optimum eclipse viewing experience, Weather.com explains that storms are not likely to last the duration of the visible eclipse.
"A single thunderstorm won't last long enough to affect the entire two- to three-hour viewing period of the eclipse in any given area," Linda Lam explained on Weather.com. "However, one of these stray thunderstorms could be so poorly timed it occurs over part of the area seeing an eclipse for the roughly two- to three-minute period of totality."
The eclipse — which, unlike the sun, actually moves from West to East — will begin in middle of the morning if you're in the Pacific Northwest, and head into mid-day and the early afternoon more towards the Southeast, ending around 4 p.m. ET, according to the Weather Channel.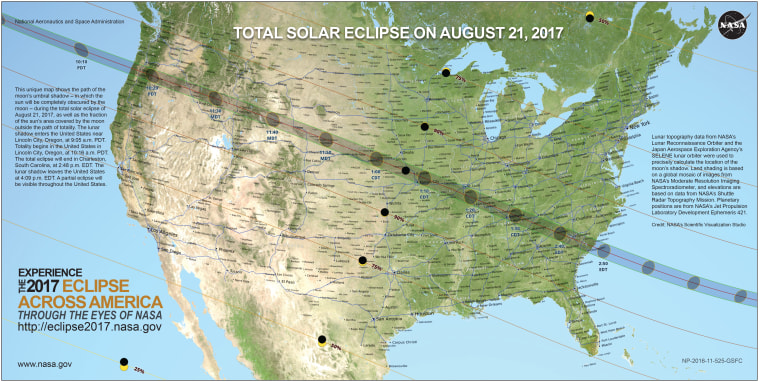 You're in luck if you're up in the Northwest of the country, Frank Giannasca, senior meteorologist at the Weather Channel, said on Sunday.
Giannasca's forecast matched Lam's, and he added that "the areas of most concern" for rain or thunderstorms was "across parts of the central Plains, into parts of upper Midwest.
The potential cloud cover across Nebraska and northern Kansas and Missouri, into the coastal Carolinas, could break as storms roll in and out, he said.
"In that area there may be more in the way of cloud cover over into the coastal Carolinas, again it's going to be kind of scattered type of thunderstorm situation," he said. There may be breaks between the storms he said, offering eclipse aficionados a chance to get in their viewing, he said.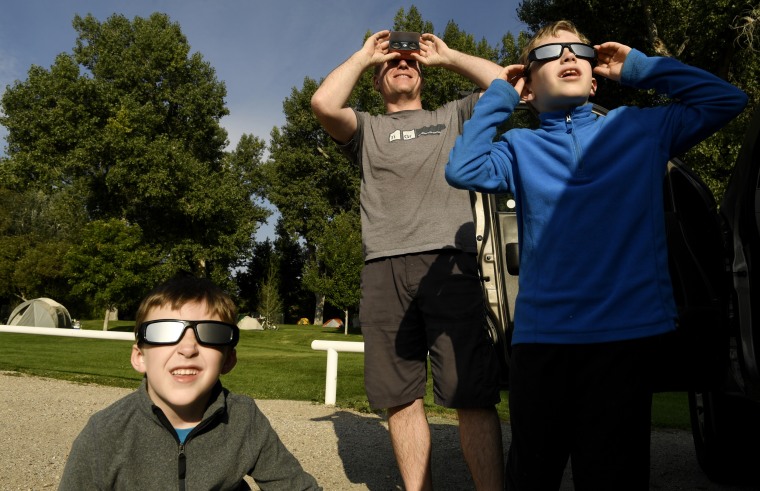 Giannasca added that even in areas expected to see thunderstorms, viewers shouldn't be totally discouraged.
"The toughest thing is at this time of the year, you tend to have a lot of convective weather — which means storms that pop up here and there, so it does necessarily cover the sky completely, it's sort of scattered about," he said.