Terrorism remains on the table as a possible cause of last week's Egyptian airliner crash — even though officials have yet to receive any claim of responsibility, said Egypt's foreign minister.
In an interview with NBC News on Tuesday, Foreign Minister Sameh Shoukry cautioned that what likely happened on EgyptAir Flight 804 before it plunged Thursday into the Mediterranean Sea remains unclear without concrete evidence.
Egyptian officials initially said the possibility of terrorism or mechanical failure could not be ruled out — and Shoukry wouldn't squash either scenario.
"I don't want to speculate related to the cause. It might be terrorism, it might be technical or any third possibility," said Shoukry, warning that terrorists might make a claim of responsibility even when they can't back it up with hard proof — or stay silent to "create a high sense of confusion."
ISIS, for instance, released a picture of what it claimed was the improvised bomb it used to bring down the Russian Metrojet plane over Egypt's Sinai Peninsula in October. Egypt's president has said terrorism was the cause of that crash.
"If we are discussing terrorist organizations, they also do what they deem in their best interest to disrupt or perpetrate violence and keep all of the international community on its seat's edge," Shoukry said.
He also declined to definitively rule out that an explosion had occurred ahead of the Flight 804 crash, as reports of a blast became a source of confusion Tuesday that other Egyptian officials tried to downplay.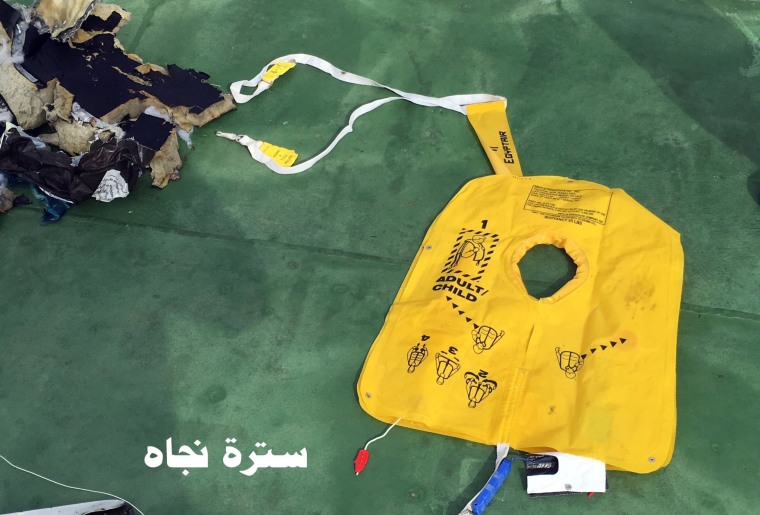 The Associated Press earlier quoted a senior Egyptian forensics official who said dozens of body parts recovered from the crash site and examined at a morgue were small — indicating there was likely an explosion on board.
The Egyptian Forensic Medical Department, however, said it was wrong information and "baseless."
Shoukry said there is nothing that "leads to that direction" of an explosion. Still, the possibility of an explosion or bomb, he added, shouldn't be crossed out since it remains unclear why Flight 804 disappeared from radar and crashed without pilots trying to warn air traffic control.
Related: Aviation Chief Says We're Still 'Far Away' From Finding Fuselage
"It remains high on the priority list in terms of potential and possible causes," Shoukry said.
The jetliner was carrying 66 people on board when it vanished en route from Paris to Cairo. Smoke was detected aboard the plane during the flight, according to France's air accident investigation agency.
The search, meanwhile, continues in the Mediterranean with the help of the French, Shoukry said. Teams are looking in waters as deep as 10,000 feet for Flight 804's fuselage as well as its black boxes.
Plane debris, passenger belongings and body parts have been located so far in the widening search area.
Shoukry said the hunt is still in its early stages, but "we can always get lucky" in finding all of the wreckage.