Search teams sweeping the Mediterranean Sea for the crashed EgyptAir jetliner are also scouring the waters for the plane's black boxes — indestructible devices that would yield concrete data in determining what happened.
Flight MS804, which was en route from Paris to Cairo overnight Wednesday, would have had two types of black boxes on board: a cockpit voice recorder and a flight data recorder.
The cockpit voice recorder can capture all the ambient sounds inside the cockpit, from conversations to engine noise to alarms.
The flight data recorder, meanwhile, would contain all the technical functions of the aircraft — including its airspeed, altitude and direction.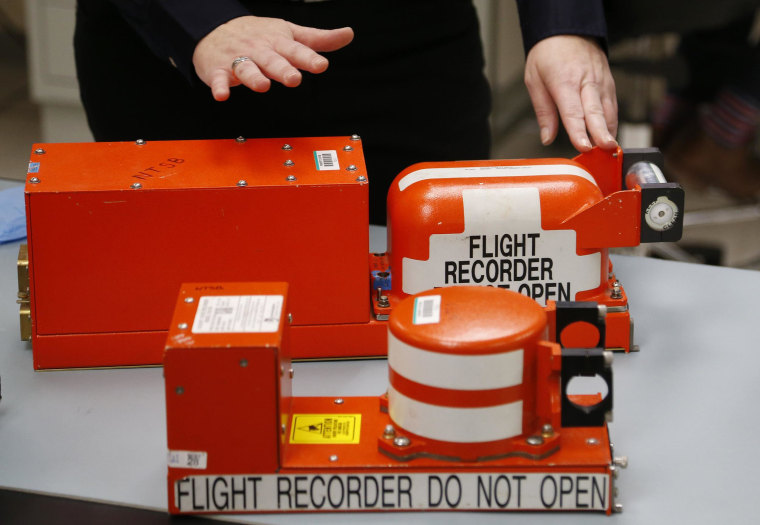 The black boxes — which are actually orange — are built to withstand crashes, high temperatures and submersion in water. They're outfitted with an acoustic beacon, known as a pinger, which allows the device to be picked up by a signal analyzer if they're lost underwater. But the pingers are only battery-powered for up to 30 days — often making the hunt for black boxes a race against time.
Related:What We Know So Far About Flight MS804
That was the case with missing Malaysia Airlines Flight MH370, which disappeared two years ago while flying over the southern Indian Ocean. It has not been found.
Black boxes have been crucial in analyzing what led to other plane crashes. For instance, they helped investigators determine that one of the four hijacked planes on 9/11 was deliberately plunged into a Pennsylvania field after passengers tried to stop the terrorists.
So far, some debris and passengers' belongings from Flight MS804 have been located, but a search continued Friday for the majority of the wreckage.