The EgyptAir jet presumed to have plunged into the Mediterranean Sea early Thursday was flown frequently over the past week, records show.
The Airbus A320 crisscrossed from its home airport in Cairo to parts of Africa and Europe before making a stop in Paris on Wednesday afternoon.
That night it took off as Flight MS804 on what was meant to be a 3-1/2 hour return trip to Cairo with 66 passengers aboard.
It never made it.
Here is a look at the ill-fated jet's itinerary and last known movements before vanishing from radar:
Tuesday (local times)
8:47 a.m.: Lands in Brussels from Cairo.
1:59 p.m.: Lands in Cairo from Brussels.
8:14 p.m.: Lands in Asmara, Eritrea, from Cairo.
Wednesday (local times)
12:02 a.m.: Lands in Cairo from Asmara.
5:33 a.m.: Lands in Tunis, Tunisia, from Cairo.
9:17 a.m.: Lands in Cairo from Tunis.
3:55 p.m.: Lands in Paris (Charles de Gaulle Airport) from Cairo.
11:09 p.m.: Flight MS804 departs Paris for Cairo.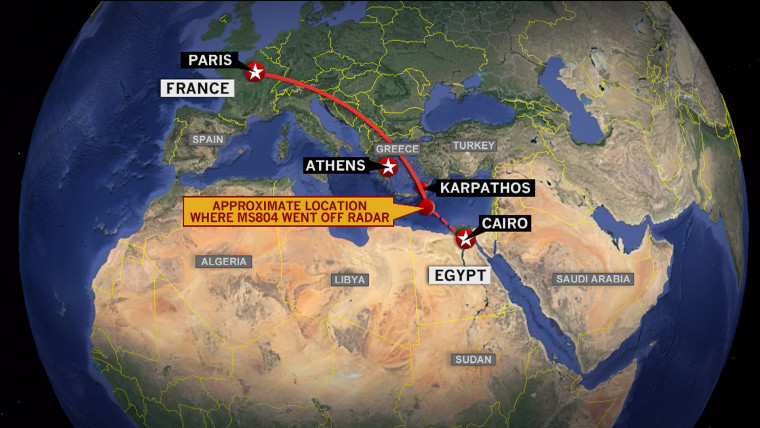 Thursday (local times)
2:24 a.m.: Flight MS804 enters Greek airspace. Air traffic controller clears the jet's flight path. Subsequent transmissions are reportedly normal as plane flies at altitude of around 37,000 feet. A cheerful pilot thanks air-traffic controllers in Greek as the plane readies to leave Greek air space.
Around 2:45 a.m.: A Greek armed forces operation center data shows that the plane was approximately 10-15 miles inside Egyptian airspace at an altitude of 37,000 feet when it executed a turn of 90 degrees left and then a turn of 360 degrees toward the right, dropping from to 15,000 feet. The flight then drops off radar at 10,000 feet.
3:27 a.m.: Greek air traffic controllers attempt to communicate with the pilot to transfer communications over to Egyptian airspace but despite repeated calls, the flight does not respond. Air-traffic control calls emergency frequency.
3:45 a.m.: Joint search and rescue operations are activated to find the flight.
12:22 p.m. (approximately): French President Francois Hollande announces the plane has crashed, warns against speculating over cause.