Anguished relatives and friends of passengers aboard EgyptAir Flight MS804 waited for news on the fate of their loved ones Thursday.
The Airbus A320 traveling from Paris to Cairo carrying 66 people was about 10 miles into Egyptian airspace at an altitude of nearly 37,000 feet when it vanished at around 2:45 a.m. local time (8:45 p.m. ET), according to the airline. French President Francois Hollande later confirmed it had crashed.
Authorities ushered families of the passengers and crew into a closed-off waiting area in Cairo's airport.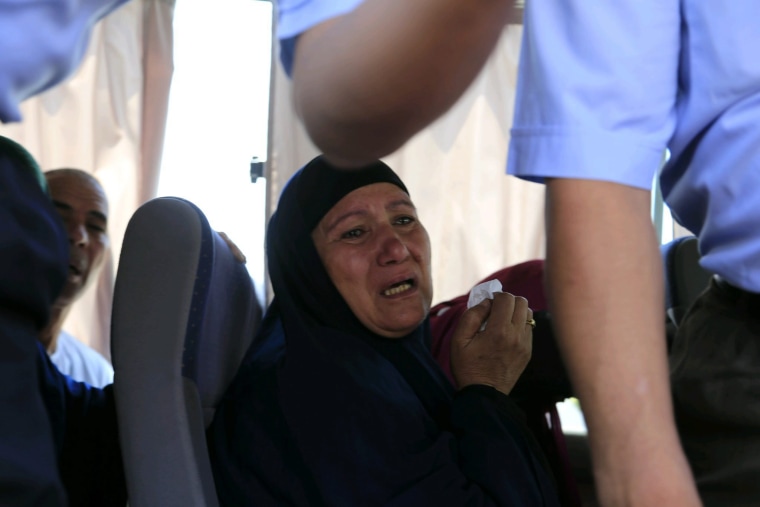 Ayman Nassar, who said he was from the family of one of the passengers, walked out of a passenger hall with his daughter and wife.
"They told us the plane had disappeared, and that they're still searching for it and not to believe any rumors," he told Reuters. All three were in a distressed state.
Two women and a man who said they were related to a crew member left a hall where families were being kept.
"We don't know anything, they don't know anything. No one knows anything," the man told Reuters.
Meanwhile, the mother of flight attendant rushed out of the hall in tears. She said the last time her daughter called her was Wednesday night. "They haven't told us anything," she said.
The office of Egyptian President Abdel-Fatah el-Sisi said the country's National Security Council had directed the government to "provide all assistance possible to the families of the passengers and crew."
The Paris airport press office told NBC News that a few loved ones in Paris had been scheduled to fly to Cairo on a EgyptAir flight at 15:45 (10:45 a.m. ET).
A police source in Paris told Reuters that investigators were interviewing officers on duty Wednesday when the flight took off to find out whether they heard or saw anything suspicious.
"We are in the early stage here," the source added.