Search and recovery efforts were suspended for the night as Egyptian officials said Thursday that terrorism was more likely to blame than a mechanical failure for the disappearance of an EgyptAir flight en route from Paris to Cairo.
Speaking in Paris, French President François Hollande said that he had spoken with Egyptian President Abdel-Fattah el-Sissi and that authorities had concluded that Flight MS804, carrying 66 people, "crashed at sea and has been lost."
EgyptAir retracted its announcement that debris from the flight was found during search operations in the Mediterranean Sea near the Greek island of Karpathos. "We stand corrected on that," EgyptAir Vice President Ahmed Adel told CNN, saying initial information from "official channels" was incorrect.
Live Blog: What We Know About the EgyptAir Crash
The jetliner left Charles de Gaulle Airport at 11:09 p.m. Wednesday Paris time (5:09 p.m. ET), and it vanished about 3½ hours later, shortly before it was due to arrive in Egypt. The Greek defense minister said radar indicated that the plane made two sharp turns and dropped more than 25,000 feet.
Two U.S. officials familiar with data the United States gathers in the region told NBC News that initial information from equipment like infrared and multispectral imagers strongly indicated that an explosion occurred about the time the plane was reported missing.
The officials cautioned that if there was an explosion, the cause remains unknown. "Mechanical failure? Explosives?" an Obama administration official asked. "No idea at this point."
Egyptian Civil Aviation Minister Sherif Fathy said he wouldn't speculate, but when pressed by reporters, he said the possibility of a terrorist attack was stronger than that of a technical failure. He shied away from using the word "crash," however, saying he preferred "missing" until wreckage is found.
The plane was about 175 miles from Egypt's coast when it vanished, officials said. Radar showed no adverse weather in the area at the time the jet disappeared, adding more mystery to its last known maneuvers, with about a half-hour left in its 3½-hour flight.
Almost immediately after entering Egyptian airspace, the plane swerved sharply and then lost altitude before it dropped off radar, Greek Defense Minister Panos Kammenos said at a news conference.
At 37,000 feet, the plane "executed a turn of 90 degrees left and then a turn of 360 degrees toward the right, dropping from 37,000 to 15,000 feet, and then the picture we had was lost at about 10,000 feet."
Scouring the Mediterranean Sea
Greek air traffic controllers had a normal interaction with the pilot as he flew above the island of Kea, said Konstantinos Lintzerakos, director general of the country's civil aviation authority.
Lintzerakos told NBC News that the plane exited Greek airspace at 3:26 a.m. local time (8:26 p.m. ET Wednesday) and disappeared from radar screens two minutes later — at which point controllers notified Egyptian authorities.
There were 56 passengers — including three children — along with seven crew members and three "security" personnel on board the Airbus A320, EgyptAir said. The passengers included 30 Egyptian nationals, along with citizens from 11 other countries, among them Canada, France, Britain, Belgium and Iraq.
Related: Missing EgyptAir Jet Raises Fears of 'Worst-Case Scenario'
Egyptian and Greek authorities were focusing search efforts in the Mediterranean Sea, with assists from other nations. The Greek military confirmed that one of its frigates and two of its aircraft were involved in a search about 130 nautical miles south-southeast of the island of Karpathos.
The U.S. Navy also said one of its P-3 Orion long-range patrol aircraft had joined the search at the request of the Greek government.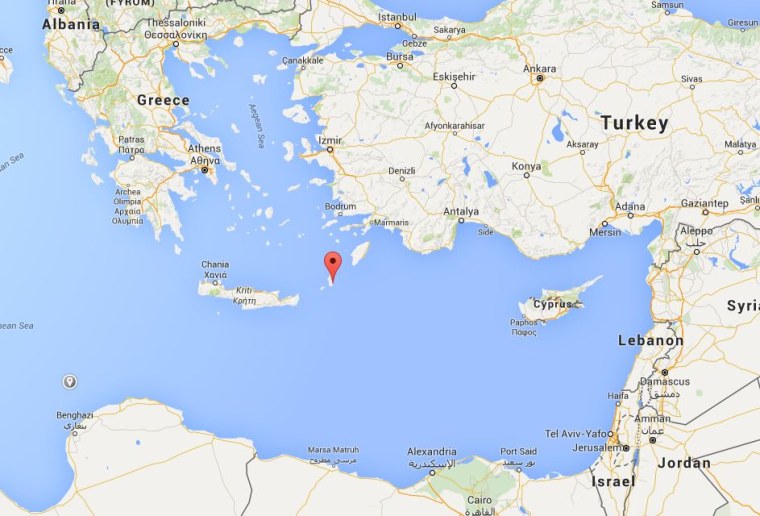 The Paris prosecutor's office confirmed that it had opened an investigation. The British Air Accidents Investigation Branch, meanwhile, said it had offered to assist Egypt's authorities, as well.
Airbus said the plane was made in 2003 and delivered to EgyptAir in 2008, adding that the aircraft had accumulated about 48,000 flight hours. EgyptAir said the pilot, whom it identified as Mohamed Said Aly Shakeer, had 6,275 flying hours, while the co-pilot, Mohamed Ahmed Mamdouh Ahmed Assem, had 2,766.
Passengers' Families Wait for News
Authorities stressed the need to protect relatives of the passengers, whose names haven't been released.
French Foreign Minister Jean-Marc Ayrault met with families who gathered at the Paris airport and told reporters that it was clearly an emotional time.
He urged a halt to speculation out of respect for the families, saying supporting them was the first "priority."
Anguished relatives also gathered at the Cairo airport. EgyptAir said it had brought in doctors to watch over distressed family members.
While there was no immediate indication whether terrorism was involved, Egyptian aviation security has been under scrutiny since a passenger jet crashed after taking off from Sharm el-Sheikh airport in October.
ISIS claimed responsibility for downing the Metrojet plane, and the incident raised questions about how any potential explosives could have been smuggled on board and whether there were security failings on Egypt's end.
Analysts were cautious, but they said terrorism couldn't be ruled out.
"The current indications are leaning toward some sort of abrupt incident, as opposed to some sort of gradual malfunction," said Daniel Nisman, a security analyst at the Levantine Group.
Nisman pointed to the altitude of the plane — which he said suggested that there hadn't been an attempt to descend because of, say, a loss of cabin pressure or engine failure.
Related: Airbus 320 Has 'Excellent Safety Record'
"It doesn't exhibit the normal features of something accidental," he said. "Nothing should be ruled out — but that also means that malicious intent shouldn't be ruled out, either.
"If — and totally if — it was malicious intent then it could be that it was done in order to send some sort of a message," Nisman added, noting that Egypt has been a focus of ISIS propaganda.