There's one thing that both anti-abortion and abortion-rights activists agree on. A shift is underway in Europe — in politics, prosecution and protest. Battle lines are drawn for what threatens to be a nasty fight, with both sides taking cues from the U.S. In Part 4 of a series, NBC News examines the debate.
ROME — Getting an abortion in Italy may be legal, but finding a doctor willing to perform one is anything but easy.
Conscientious objection means 7 out of 10 gynecologists refuse to give abortions, according to the Ministry of Health. The numbers are even higher — nearly 90 percent — in some parts of Italy.
The stats demonstrate the challenges in reconciling legislation with cultural attitudes in the overwhelmingly Catholic country which surrounds Vatican City.
"Doctors in Italy hold the safeguard of human life in high regard"
Dr. Mirella Parachini fought to help get Italy's abortion law passed in 1978 and remains a vocal activist for reproductive rights today.
"It seems that nothing will ever change," the 62-year-old gynecologist told NBC News.
The legislation also allowed for conscientious objection — and Parachini says she sees too much of it at her Rome hospital, male and female doctors alike.
"In Italy they don't want to do it because it's a sin … It's a taboo." Parachini explained. "Objectors? They are the majority."
The Pope Lives Next Door
While the World Health Organization recognizes that health-care providers have the right to conscientious objection over abortions, it says that does not permit them to "impede or deny access" to abortion services because doing so delays care — "putting health and life at risk."
The United Nation's Commissioner for Human Rights takes a similar line — and says countries must organize health services to ensure that conscientious objection doesn't prevent women from accessing health services.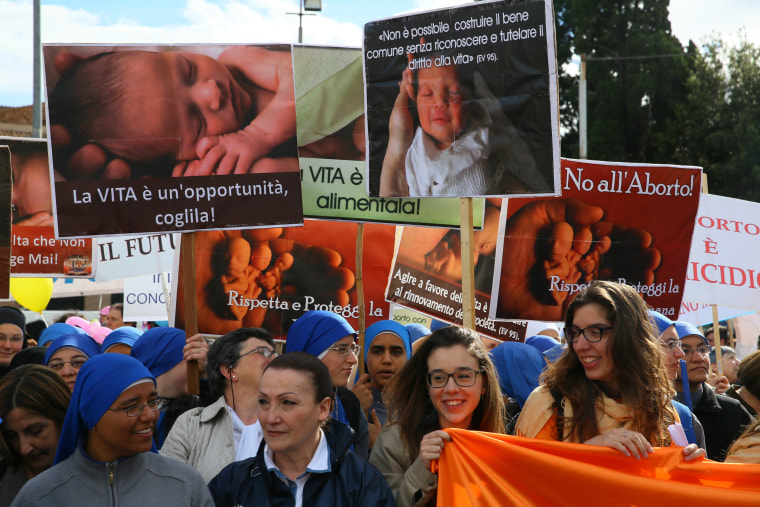 Abortion-access group and providers have been challenging Italy over that issue for years.
Dr. Silvana Agatone is a gynecologist in Rome and leader of "The Free Italian Association of Gynecologists for the Application of Law 194" — Italy's abortion law.
"To find a hospital, clinic and doctor who performs the abortion ... that's not an easy task," she said.
In some places, the retirement of a doctor can jeopardize access to abortion, others where a doctor's vacation means the service won't be offered for weeks.
While abortions are permitted for pregnancies of up to 90 days in Italy, Agatone said sometimes finding a clinic or doctor willing to perform the procedure takes longer than that.
Christian Fiala has researched conscientious objection in Italy and said the numbers are probably higher than the official figures show.
"Usually the numbers are an underestimate of the real restrictions on the ground," said Fiala, who serves on the board of the International Federation of Professional Abortion and Contraception Associates.
He noted that his home country of Austria also allows conscientious objection — but doesn't see the same level of dissent.
"[Italy] had the bad luck that the Vatican is in their capital," he said. "The Vatican exerts a tremendous influence."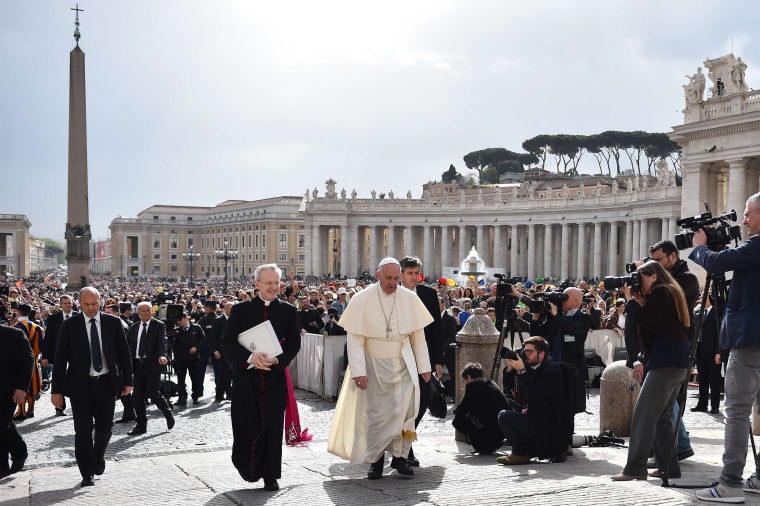 However, a February 2016 Ipsos poll found that 55 percent of Italians respondents said abortion should be permitted whenever a woman decides she wants one.
That compares to 62 percent in Britain and 33 percent in Poland — two countries where the debate over abortion access recently has heated up.
The International Planned Parenthood Federation (IPPF) brought a collective claim to the Council of Europe in 2012 alleging Italy was not meeting its obligations to protect women's access to abortion. The Council of Europe agreed in a report issued two years later.
Related: Meet the American Peddling Abortion Pictures Abroad
Italy made some moves to look into the issue — holding roundtables and trying to find "practical solutions," IPPF's Irene Donadio acknowledged. But nothing changed.
That's not to say there haven't been signals sent: Italy's Supreme Court in 2012 sentenced a doctor who was a conscientious objector to a year in jail for refusing to assist a woman who'd had an abortion and started hemorrhaging.
A subsequent complaint brought by Italy's largest trade union — CGIL — to the Council of Europe was similar to the IPPF claim but also alleged that doctors who performed abortions suffered discrimination.
In a stinging report issued last week, the Council of Europe found in the union's favor.
"It is still not established that mechanisms have been put in place to ensure that access to safe abortion services, or to ensure care before and after abortion, is guaranteed, notably when the hospital or the health center has a particularly high number of conscientious objecting staff," the Council of Europe said.
Shortcomings in providing abortion services "remain unremedied and women seeking access to abortion services continue to face substantial difficulties in obtaining access to such services in practice," it added.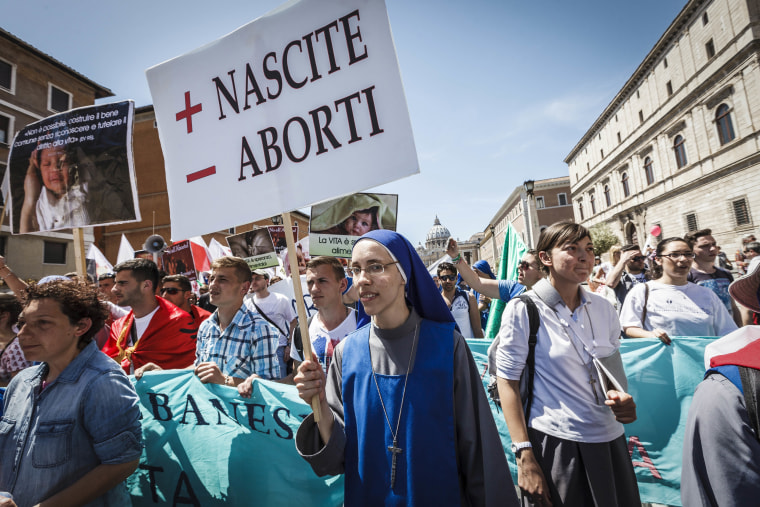 Doctors and abortion-rights activists said the report sent a strong message to Italy's government and objectors.
"It is a very important reminder that women's rights are to be taken seriously, that people are watching and the women are not alone and that the government has a responsibility and it must find solutions," Donadio said. "It's not enough to say it's too difficult to solve. It's not a good excuse.
Vincenzo de Filippis, vice president of the World Federation of Catholic Medical Associations, dismissed the EU criticism as "inappropriate and baseless."
"The law on abortion in Italy is applied correctly across the spectrum. Europe complains because there are too many conscientious objectors against those who agree to perform abortions, but there is a reason for it," the Italian told NBC News. "Doctors in Italy hold the safeguard of human life in high regard. That's why the number of conscientious objectors are so high and on the rise, especially about young doctors. It's not a decision based on religion, but on ethics."
He stressed that objectors "don't stop or obstruct" women seeking abortions, saying they have a "choice of doctors" to pick from.
Age Divide
That argument doesn't stand up to many doctors performing abortions, like Alessandro. The 60-year-old said he thinks an age divide is exacerbating the problem.
"The old generation of non-objectors, those like me who fought and demonstrated for women's rights in the '70s are slowly retiring," explained Dr. Alessandro, 60, who would only give his first name. "There are not enough young doctors who want to do this job."
Related: Women in Europe Share Their Abortion Stories
For the past 30 years he's led the internal abortion clinic at a Naples hospital, where Alessandro said he's been stigmatized for his practice.
"It's a cultural problem, because we are seen as the 'bad guys,' from which to keep the distance," he said.
How bad is it? Alessandro said he's sued seven colleagues for libel and defamation.
"They were trying to obstruct our work," he explained.
The level of objectors — not just from doctors but also nurses, anesthesiologists — means that an even heavier workload falls on a small subset of shoulders.
"No wonder the number of objectors is on the rise: sometimes doctors decide not to perform any more abortions out of exhaustion for this whole situation," gynecologist and pro-abortion activist Agatone said. "Terminating a pregnancy has always been seen as a dirty job, and still is. And those brave doctors who agree to it don¹t have an easy life."
She noted that Italy's government recently increased the size of the fine for having an illegal abortion 10-fold.
Related: You Can Be Jailed for Life for Getting an Abortion in U.K.
A woman can now be fined between 5,000 and 10,000 euros for having an illegal abortion — up from a largely symbolic 51 euros.
"Imagine a woman who suffers health complications following an illegal abortion. Now she may not decide to go to the hospital because she doesn't to face that fine, putting her own life at risk," Agatone added. "We have now had an abortion law for almost 40 years, but sometimes it doesn¹t feel like we have one at all."
NEXT IN THIS SERIES: This Is the Doctor Behind Abortion by Boat, Drone, Mail