/ Source: Associated Press
Legions of women across Poland dressed in black and went on strike Monday to protest a proposed law that would ban all abortions.
Tens of thousands of demonstrators braved the cold and rain to rally in the main square of Warsaw's historic Old Town and enormous "Black Monday" protests were also reported in major cities like Poznan, Wroclaw, Szczecin and Gdansk and in many smaller towns across this country of 38 million.
In Czestochowa, where Poland's most revered Roman Catholic shrine is located, some 60 women who work in City Hall called out sick and those who did come in wore black, the Associated Press reported.
It was a massive show of defiance against Poland's conservative government and the powerful Catholic Church, both of which back a new law being reviewed by Parliament that would make all abortions illegal — even in cases of rape or incest or when the woman's life is at risk.
It would also jail women who seek abortions and the doctors who provide them.
Related: 'Coat Hanger Rebellion' Grips Poland
"I have two children and it's not like I am some kind of hardline feminist, but I do not agree with somebody depriving me of the right to my own health or that of my children," 34-year-old banker Agnieszka Krysztopolska told the AP while she rallied in downtown Warsaw. "I think this bill is just dangerous."
Magdalena Gwozdz, 28, brought her 17-year-old sister to the protest.
"This should be a woman's choice and abortion should be available in case of rape or a damaged fetus," Gwozdz said. "This is Europe and we are in the European Union."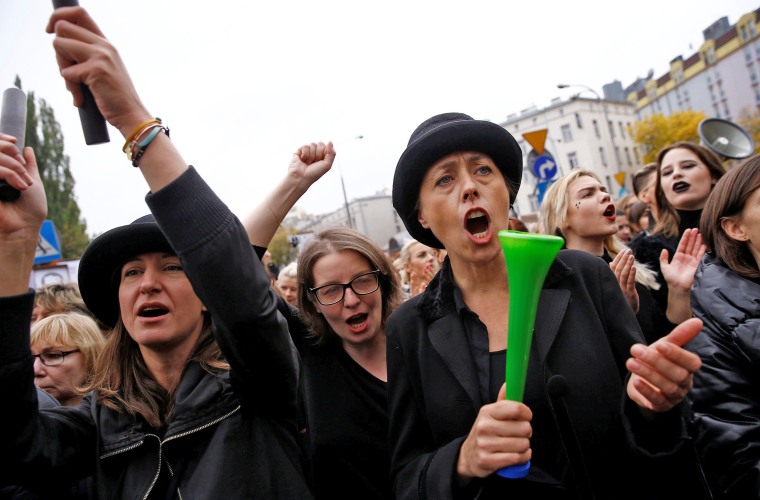 As Gwodz spoke, many stores and restaurants in central Warsaw were closed in solidarity with the demonstrators while protesters chanted "My body, my business!" and "A dead mother is a lousy mother!"
In Brussels, more than 200 black-clad women showed their support for the Poles in front of the European Union offices.
"Women must not be forced to deliver children from rape or that are unable to survive," Brussels-based Polish writer Grazyna Plebanek told the Polish news agency, PAP.
The protests came on the heels of a demonstration Saturday in front of the Polish parliament building in Warsaw by thousands of women who donned black clothes as a sign of mourning for the feared loss of their reproductive rights.
Warsaw Bishop Henryk Hoser responded to the defiance Monday by denouncing what he called a "civilization of death" and there were much smaller counter-demonstrations staged by anti-abortion foes after morning Mass.
Poland is a deeply Catholic country, but in April the ruling Law and Justice party's push to ban all abortion sparked the so-called "Coat Hanger" rebellion.
Thousands of women hit the streets holding coat hangers to symbolize self-induced or back-alley abortions. Even more shocking to most Poles, protesters disrupted Masses by standing up and walking out while the priest was in mid-sermon.
Recent polls show that most Poles favor the current 1993 abortion law, which allows the procedure only in the case of rape or incest, if the fetus is damaged, or to save the life of a mother.