Thousands of people carrying coat hangers and posters protested Saturday against a proposal to completely ban abortion in Poland.
Poland has some of the strictest abortion legislation in Europe. Abortion is illegal except for in cases of rape or incest, if the mother's life is in danger or if the fetus is severely damaged.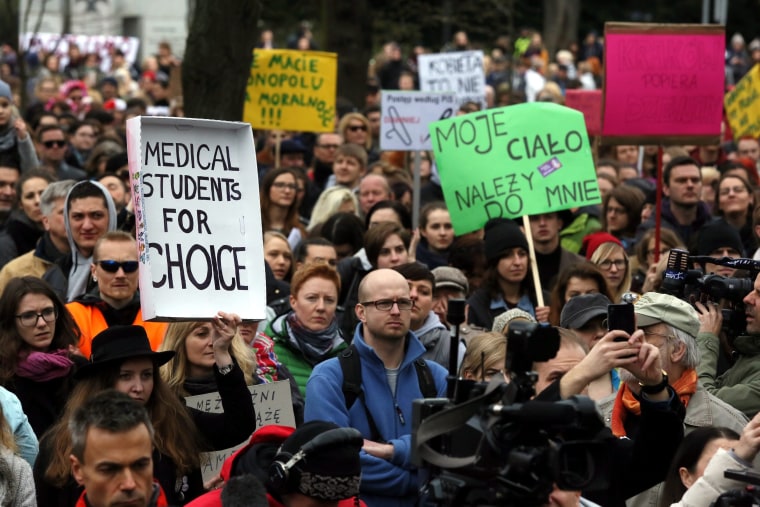 Protests have erupted after the Roman Catholic Church — which wields great influence in the country — called to further restrict laws and ban abortion outright. Polish Prime Minister Beata Szydlo has expressed support for the total ban, along with the leader of the ruling Law and Justice party.
The protesters have used coat hangers as their symbol, evoking memories of the U.S. pro-choice movement.
"It's not only a protest against the new draft law, it's protest against existing law," said Krystyna Kacpura, executive director of the Federation for Women and Family Planning. "Really, we have no access to abortion."
Thousands of Poles turned out in Warsaw and other cities on Saturday, according to The Associated Press, the second big protest in as many weeks.
Several other European cities organized solidarity protests, with well over 300 people turning out in London to shout "my body, my choice" in front of the Polish embassy.
"We're not women, but we're here," said Mariusz Gasior, one of many men among the crowd.
He called the proposed ban "outrageous" and "barbaric."
Fellow protester Karol Szulzyk, 35, led many of the chants as his 2-year-old daughter Justina played with a poster that read "our bodies our choice."
He laughed that they'd thought about putting a sign that said "this is our choice, not your will" on his wife's baby bump. She's expecting a third daughter, and Szulzyk said all his daughters should have a right to decide for themselves what they do with their bodies.
"If she doesn't want to have children, that's her choice," he said.