LONDON — More than 15,200 children arrived alone in Europe this year after completing dangerous migrant journeys, according to the United Nations.
A total of almost 150,000 people entered Europe seeking new lives during the first nine months of 2017, the U.N. refugee agency, UNHCR, said in a quarterly update titled "Desperate Journeys."
That's under half the number in 2016, which saw record levels of migration, but it still creates headaches for governments struggling to process arrivals and prevent children from being exposed to exploitation.
"Concerns remain high that many women and girls arriving in Europe are victims of trafficking," the report said.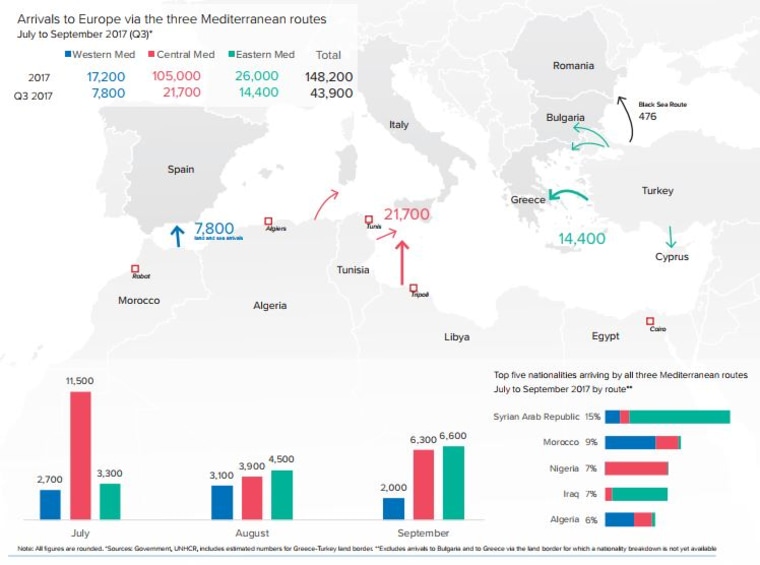 Children were also among the almost 3,000 people who died or are missing at sea after attempting the journey since January, the report said.
At least three such deaths were recorded in the past week. On Wednesday, the remains of a young migrant were found in a mountain village in Greece, while a 6-year-old Afghan girl was hit by a train on the Serbia-Croatia border on Tuesday, according to the U.N.'s International Organization for Migration (IOM).
On Saturday, a 10-year-old Afghan boy was crushed to death on board a packed boat carrying at least 66 people aiming to reach the Greek island of Lesbos, according to the ANA news agency.
Related: Germany opened its borders to refugees. How's that going?
Many of the lone kids have been orphaned during the journey.
Although the flow of migrants has eased compared to last year, many are spending more time in camps and shelters awaiting the asylum application process.
In the past three months, Greece has encountered a wave of families fleeing the ISIS conflict in Iraq and Syria, according to Leo Dobbs, a spokesman for the UNHCR operation in Greece.
"In this area, people are fleeing conflict," he said. "Many children have already experienced trauma."
The UNHCR also noted a diversification in the routes taken to get to Europe.
The numbers arriving in Italy had fallen compared with last year, it said, but Spain had seen almost twice as many migrants as in 2016.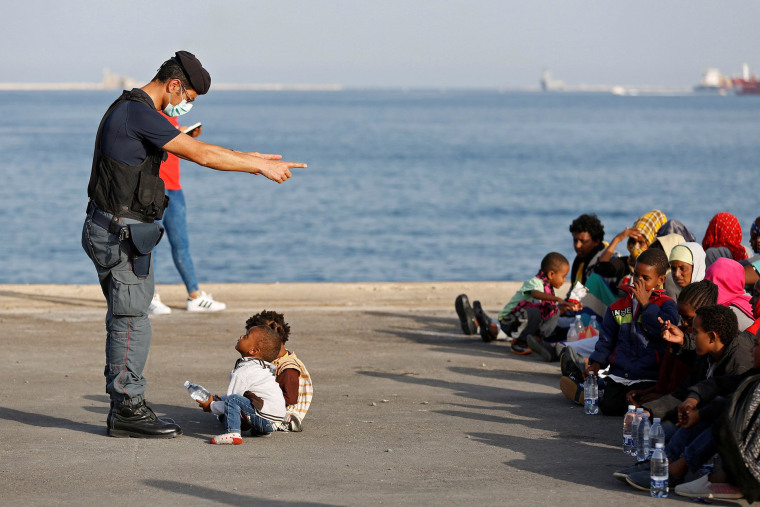 Closing off the shorter routes using navy patrols could force refugees to seek deadlier alternatives, according to Professor Philippe Fargues of the European University Institute in Florence.
"Shutting the shorter and less dangerous routes can open longer and more dangerous routes, thus increasing the likelihood of dying at sea," he said in an IOM report Friday that concludes Europe's Mediterranean border is the world's deadliest.
Even many children accompanied by adults suffer in grim and unsanitary conditions. Earlier this year, NBC News reported how dozens of families were living in woods near the French port city of Dunkirk because officials were refusing to provide accommodation fearing it would encourage yet more refugees.
Separately, officials in Libya are investigating reports of African migrants being sold as slaves before they can attempt the sea crossing to Europe.