/ Source: Associated Press
The death toll after a truck "full of bodies" was found abandoned on the side of a highway has reached 71, Austrian officials said Friday.
Authorities also confirmed that three suspects believed to be involved in people smuggling have been arrested in connection with the case. At least one other individual is being hunted.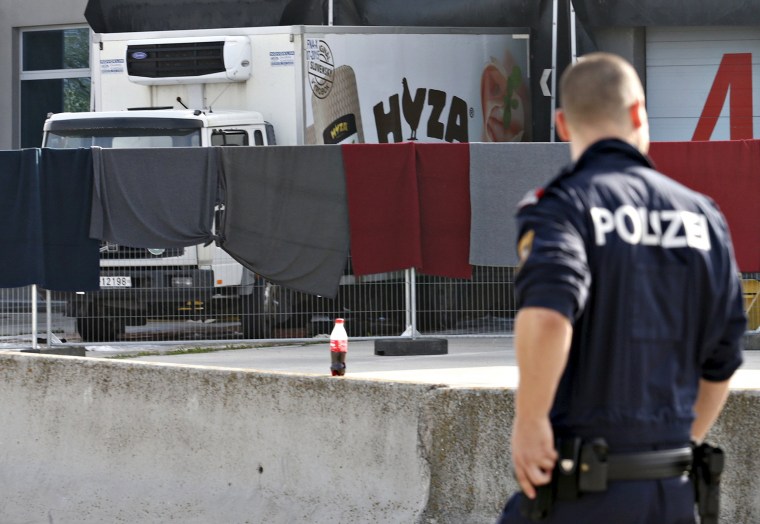 The victims were 59 men, eight women and four children — including a girl who was no older than two years of age, according to Burgenland Police director Hans Peter Doskozil.
Investigators originally thought up to 50 refugees had died inside the refrigerated vehicle, which had been parked up on the shoulder of the busy road linking eastern Europe to France and Germany.
The grim discovery was made Thursday about 10 miles from Austria's border with Slovakia and Hungary — where thousands of migrants have recently arrived from Syria, Afghanistan and parts of Africa to seek new lives in the West.
Officials said a Syrian travel document was found in the vehicle and that the occupants likely suffocated.
Workers cutting grass at the side of the road noticed fluids from the decomposing bodies seeping from the truck's back door.
"We have more refugees in the world than at any time since World War II"
It was not immediately clear how long the truck had been in the area, where temperatures in recent days had been as high as 90 degrees. Forensic teams were dealing with the discovery, with police initially only able to say the vehicle was "full of bodies."
Austrian prosecutor Johann Fuchs described the incident as an "unbelievable tragedy." He said after witnessing investigators removing bodies from the scene on Thursday that it was "very difficult to get back to work today."
Doskozil said the three detained people were not ring leaders. "We currently have three people under arrest in Hungary... and expect that that this is the trace that will lead us to the perpetrators," he told reporters.
The deaths overshadowed a meeting in Vienna of European leaders to discuss the migration crisis. German Chancellor Angela Merkel said she was "shaken" by the news.
"The world's eyes are upon us," she told reporters Thursday. "This is a warning for us to tackle the issue of migration quickly. We have more refugees in the world than at any time since World War II."
The truck was taken overnight to a customs building in the village of Nickelsdorf, which has refrigeration facilities and where forensic specialists clad in white protective suits and yellow rubber boots could be seen wheeling body bags away.
GALLERY: Serbia Stands at Gateway to Western Europe
The 7.5-ton vehicle once belonged to a Slovakian poultry producer but had been sold in 2013 or 2014 and was registered to a Romanian citizen in the Hungarian city of Kecskemét.
Melissa Fleming, spokeswoman for U.N. refugee agency UNHCR, said it was "deeply shocked and saddened at the grim discovery," adding: "This tragedy underscores the ruthlessness of people smugglers who have expanded their business from the Mediterranean sea to the highways of Europe. It shows they have no regard for human life and are only after profit. It also the desperation of people seeking protection or a new life in Europe."
The war in Syria has contributed to record numbers of migrants attempting to cross into Europe from Africa and the Middle East this year, often taking perilous sea crossings and stowing away in trucks.
On Aug. 9, 86 refugees — including an eight-months pregnant woman and 16 children — were freed from the back of a locked, windowless truck on another highway in Austria.