The West is "responsible" for the refugee crisis in Europe, Syria's President Bashar Assad said Tuesday, while admitting that the exodus is a "great loss" for his country.
"The West now is crying for the refugees with one eye and aiming at them with a machine gun with the second one," Assad said, repeating his accusation that the West supports Islamist militants against the regime in Syria's bloody, four year old civil war.
"If you are worried about them [refugees], stop supporting terrorists," Assad said in a televised interview aired on Russian channels. "This is the core of the whole issue of refugees."
Europe is facing chaos at its borders as thousands of migrants and refugees continue to flock there in search of a new life. The UNHCR says more than 428,000 Syrians applied for asylum in Europe between April 2011 and August 2015. There are more than 4 million registered Syrian refugees in neighboring countries including Jordan, Lebanon and Turkey.
"Those refugees left Syria because of the terrorism," said Assad, calling attempts to level the blame on his regime for the humanitarian crisis "Western propaganda."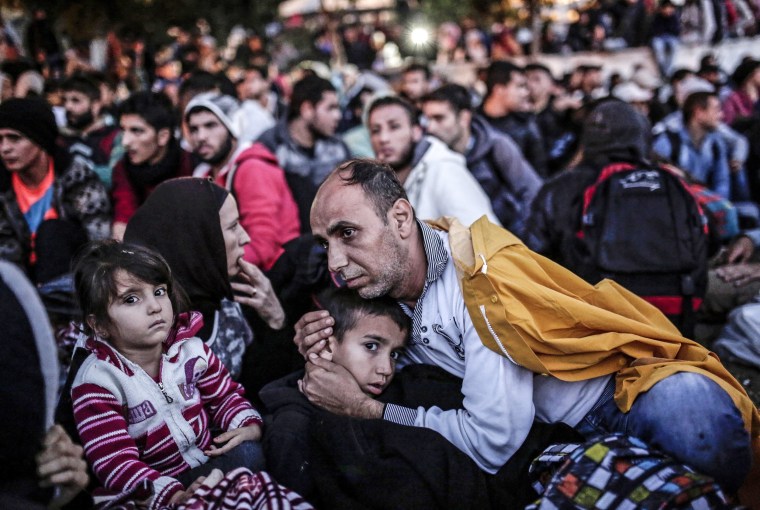 Western powers maintain that regime brutality is the root cause of the refugee crisis, not Western policy. The U.K.-based Syrian Observatory for Human Rights estimates that 240,000 Syrians have died and 2 million have been injured since the conflict began. The UN says more than 12 million Syrians are in need of humanitarian assistance.
Related: Syrian Refugee: Everyone is Being Killed in Syria
The U.S. is conducting airstrikes in Syria in a bid to defeat ISIS, the terrorist group which now occupies vast swathes of the north and east of the country. The Pentagon announced in May that the US is also training groups of Syrian rebels to fight against ISIS on the ground.
Related: ISIS Second in Command Killed in U.S. Airstrike, White House Says
Even though the U.S. and Assad are fighting the same enemy, he said in the interview that there is no cooperation between the two forces.
"There's not a single coordination or contact between the Syrian government and the United States government or between the Syrian army and the U.S. army," he said.
While Western leaders have been calling for Assad's ouster for years, the regime continues to receive support from Russia, its longtime ally. US officials have confirmed that Russia is building up its military presence in Syria, and Russian officials have advocated for the establishment of a broad international coalition - including the Assad government - to fight terrorism in the region.
Assad did not rule out cooperation with the international community.
"We have no objection to cooperating with all these countries provided it is a real and not a fake coalition to fight terrorism," said Assad.