CALAIS, France — It was meant to bring shelter to shivering refugees and poke fun at Europe's poor response to the migrant crisis. But part of a onetime exhibition by artist Banksy has been torn down only hours after being installed in the notorious "Jungle" camp in northern France — and may end up on eBay.
The elusive street painter ordered materials from his now-closed "Dismaland" theme park to be used for huts in the sprawling, squalid camp where ordinary tents provide little protection from the elements.
Wood from the British "bemusement park" was sawn up and converted into makeshift homes for people who have fled countries including Syria and Iraq.
The "Dismaland" sign — a spoof Disneyland — was altered to read "Dismal aid" in an apparent jab at the response by authorities to the humanitarian crisis. Rumors spread through the camp that the secretive artist himself was at the site to help the construction.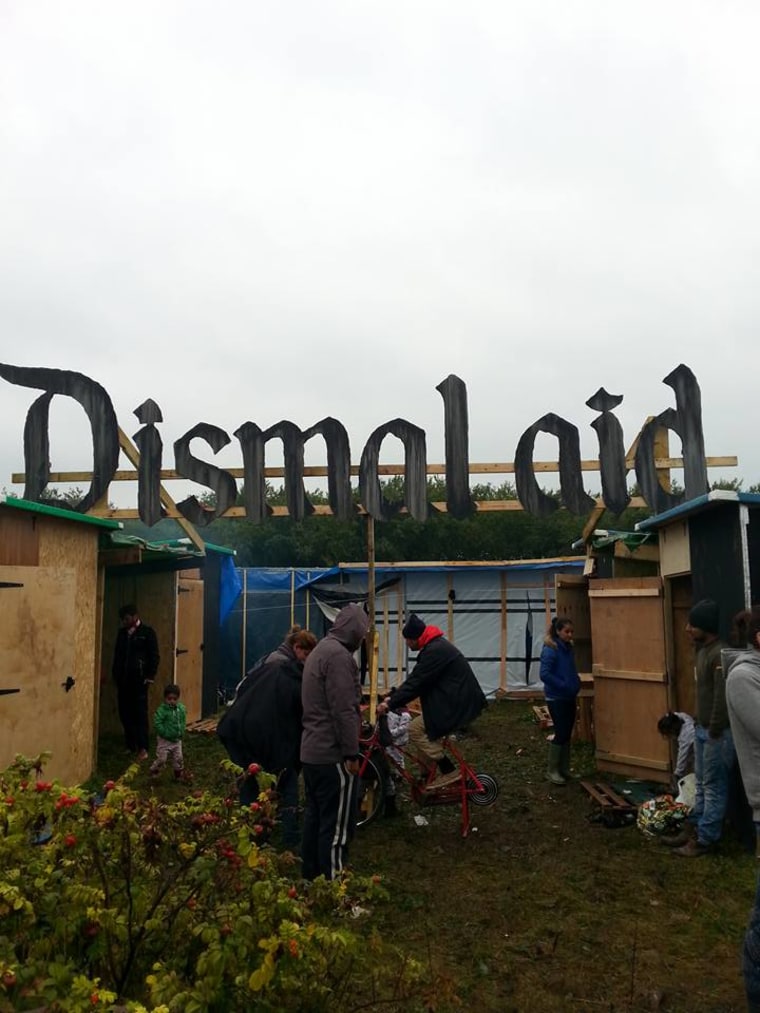 But the lettering was quickly torn down by unidentified onlookers who reportedly accused Banksy of capitalizing on the plight of refugees and who wanted to cash in on the millionaire artist's sought-after creations.
"They were saying, 'He's got all that money to help but he just wants publicity off the back of people here' and they took down the sign as soon as the workers left the camp," said British aid worker Lee McGrath, who witnessed the Oct. 16 episode.
"They were accusing Banksy of trying to glorify his own name, but I see that what he's doing is not meant to be seen on that level — he's just saying that what's being done for people here is dismal," he told NBC News. "He's trying to draw attention to the lack of help for people here. But they didn't see that, they just took the sign down."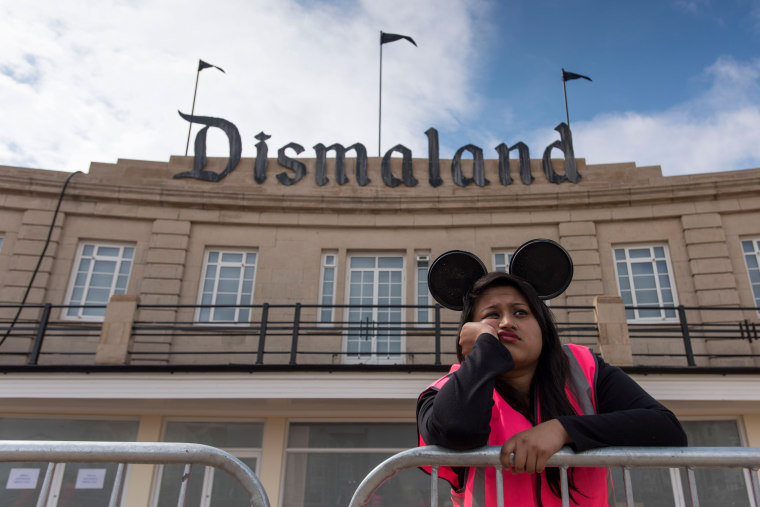 McGrath, from Mablethorpe, Lincolnshire, believes volunteers from one of the many disparate aid groups working at the unsupervised camp removed the lettering.
Banksy does not sell photos or prints of his world-famous street art, but books about his pieces and poster reproductions are a lucrative industry thanks to interest from fans around the world.
"I hear they're going to try and sell it on eBay, but they can't because I went and took an 'i,'" McGrath added. "If anyone wants to sell the sign to make a profit, they can't because I've got part of it. I'm not telling you where it is, but it is secure."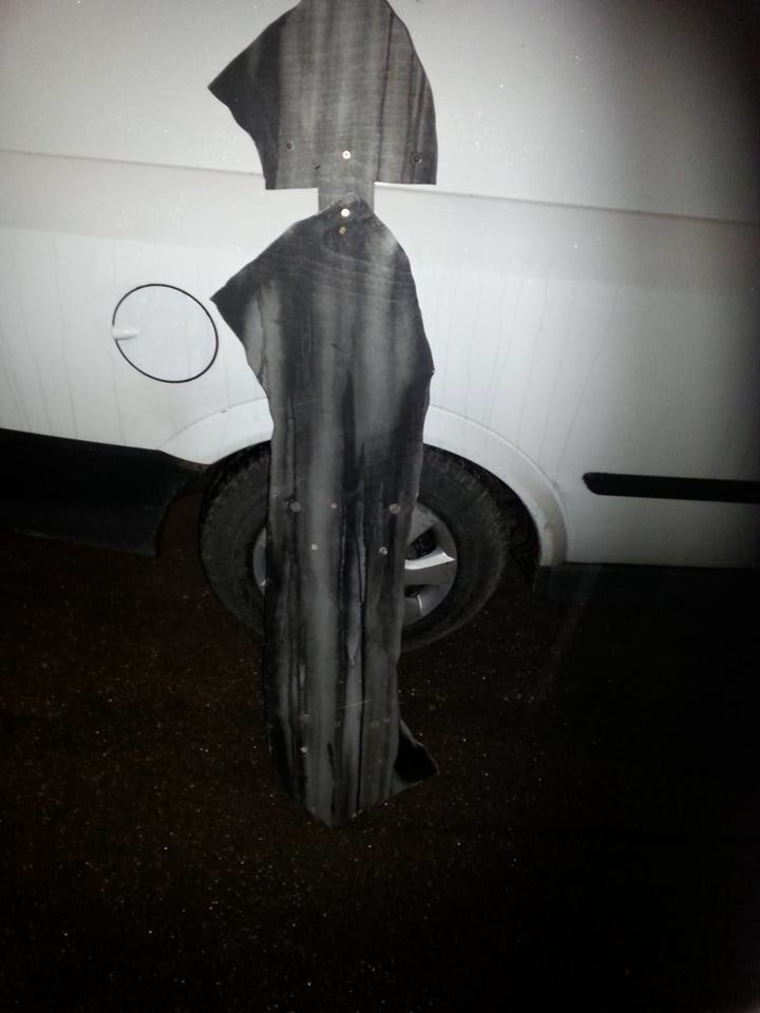 In 2013, a Banksy mural was ripped from the wall of a London store and was subsequently listed for sale by a Miami auction house for between $500,000 and $700,000 — but the sale was halted following protests from local community leaders.
Another Banksy mural, on the wall of a building in Kent, is at the center of an ownership dispute after it was removed by the building's owner and listed for sale — also in the United States — for an expected $750,000. However, a local arts charity has blocked the move.
McGrath, who helps the group Lincolnshire Aid 2 Calais, said the wooden shelters at Dismalaid were an imperfect solution — but better than tents which are more vulnerable to the worsening weather.
Authorities say 6,000 refugees and migrants are now at the makeshift camp known as the "Jungle," where diseases and mud from heavy rain are creating a worsening problem for authorities.
Another aid volunteer, who did not want to be identified, told NBC News that he had spoken to the workers who constructed Dismaland and that they planned to be back with more wood and materials over the coming weeks.
"They said they would be back to build more," he said. "I don't know if Banksy was ever here. Maybe he's here now and we just don't know it!"
The scrubland shanty town has grown as migrants attempt to reach Britain by climbing into the back of trucks and clinging to the wheels of trains passing through the Channel Tunnel.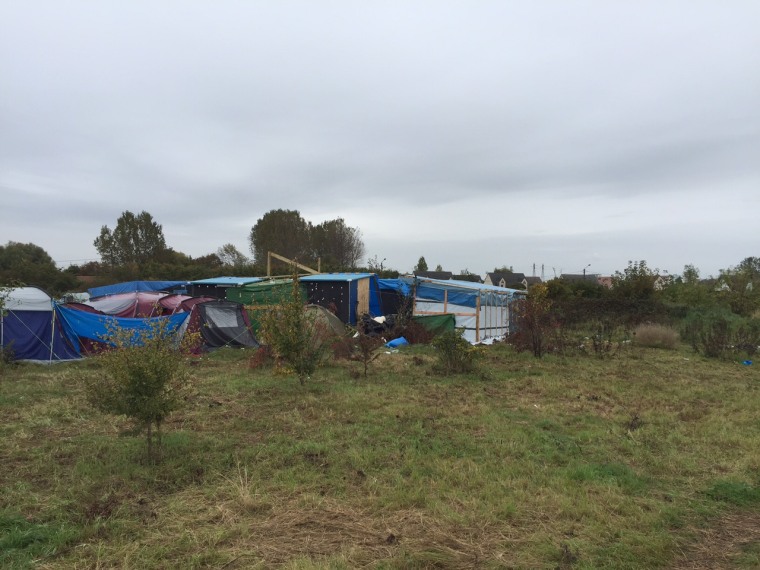 Dozens have died during audacious bids to thwart police near the tunnel entrance and around roads leading to the ferry terminal.
Representatives for Banksy declined to comment at all about the Calais project, but a source dismissed the removal of the sign as "silliness."
Dismaland, which attracted 150,000 visitors, opened in August and ran until September 27.
A message posted on the exhibition website read: "Coming Soon: Dismaland Calais. All the timber and fixtures from Dismaland are being sent to the 'jungle' refugee camp near Calais to build shelters. No online tickets will be available."