LONDON — The secretive artist known as Banksy said he is dismantling his latest exhibition and shipping its pieces to provide shelter to refugees and migrants camped out in France.
Banksy opened "Dismaland" in August, a so-called "Bemusement Park" in the English seaside town of Weston-super-Mare featured a decaying castle and model boats full of refugees, among other works by the elusive artist and others such as Damien Hirst.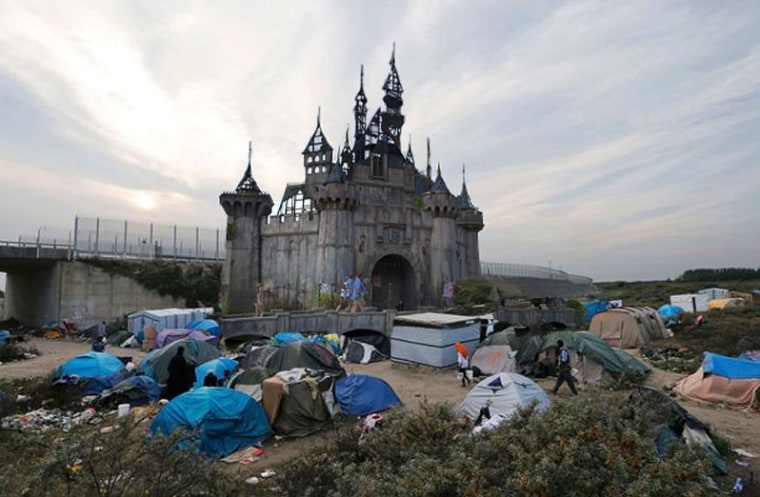 The "Dismaland" website on Sunday featured a short message saying that the park would be closing — permanently.
"Coming Soon: Dismaland Calais," the message read. "All the timber and fixtures from Dismaland are being sent to the 'jungle' refugee camp near Calais to build shelters. No online tickets will be available."
Related: Welcome to 'The Jungle,' Ground Zero for Migrants
Banksy's publicist, Jo Brooks, confirmed to NBC News on Monday that the dismantling of the theme-park exhibition had gotten underway Monday morning after the park shut its doors at 10 p.m. on Sunday. Further details on the closure and plans were not immediately available.
The message was posted along with a photo of a castle in "Dismaland" surrounded by what appeared to be migrant tents.
Thousands of refugees and migrants camp out in the so-called "jungle" of Calais in hopes of eventually making it across the tunnel to the U.K.
Banksy — whose identity has never been revealed — can fetch as much as $500,000 for his work.