ZEEBRUGGE, Belgium — Don't feed the refugees, and calls for a "camp like Guantanamo."
This is just some of the rhetoric coming out of Belgium, where a new front line in the European migrant crisis has opened up.
While the influx in the tiny nation has yet to reach the crisis levels of its neighbors, a possible incursion of migrants wanting to make their way to the U.K. has spooked officials.
The director of a Belgian regional tourism office, Peter De Wilde, warned that hotels and hostels would lose government help and subsidies if they housed registered asylum seekers along with "regular" guests or for periods of more than three months.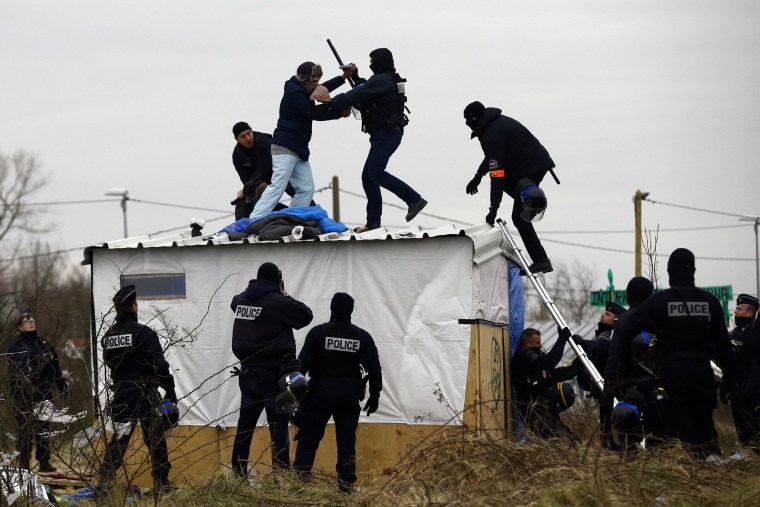 Meanwhile, the mayor of a swanky beach resort near the port city of Zeebrugge called for a "camp like Guantanamo" to house them. And on February 1, Carl Decaluwé, governor of the Province West-Flanders, urged Belgians not to feed refugees "otherwise more will come."
The flow of migrants in Belgium has been a small fraction of the more than 1 million of those who entered Europe in 2015 — but it is growing. In November, police detained and processed 362. By January, that number had risen to 950, according to the Province of West-Flanders.
"The number of refugees has risen, there are many more asylum seekers entering the country this year than the years before," said Dirk Jacobs, a professor at the Université Libre de Bruxelles specializing in migration. "Thousands of trucks end up in Belgium, so quite simply that's the final stop for migrants who traveled in them."
The rise in arrivals comes as neighboring France continues dismantling the sprawling "Jungle" camp housing some 4,000 in Calais, on the English Channel, and as Hungary sends troops to reinforce its borders.
Those who are detained in Belgium are immediately sent to the last European country they were in before arriving in Belgium, or if they have no documentation given the opportunity to claim asylum and released.
Interior Minister Jan Jambon has warned that the number of detained could reach into the thousands as migrants struggle to find alternative routes to Britain.
"The problem that we need to solve here is about maintaining public order," he said while announcing a February 22 sweep that netted 619 migrants during its first 7 days.
Belgium also has begun patrolling its border with France and suspended a Europe-wide passport-free agreement because of what it said was an increase in arrivals from France.
Migrants sheltering in Stella Maris Church Zeebrugge, the only place in the country with ferries to the U.K., insist they post no threat.
"Trying to scare these people is useless — they traveled 8,000 kilometers to get here and they have already lost everything."
Twenty-three-year-old Rasool said all he wanted to do was find a safe and welcoming home after leaving Iran, where he said he was in danger because of his conversion to Christianity.
After spending the night trying unsuccessfully to access Zeebrugge's port, Rasool said he returned to Stella Maris only to discover the police had detained around 40 of migrants who had been sheltering there. Not only that, he said, everyone's belongings had been removed — including his German identity document.
Related: Why Europe Can't Pull Up Its Drawbridge
"All I want now is to go back to Germany," said Rasool, who only provided his first name. "But I don't know if I will manage without my papers."
Under European Union law, refugees have to claim asylum in the first country they arrive in. Some have traveled across the continent trying to avoid getting official documents until getting where they want to settle.
Another migrant told NBC News she had been on the road for months and was close to giving up hope. The 22-year-old woman, who spoke on condition of anonymity to protect her family still in Iran, said she had lost all her money to a smuggler who never delivered on his promise to take her to the U.K.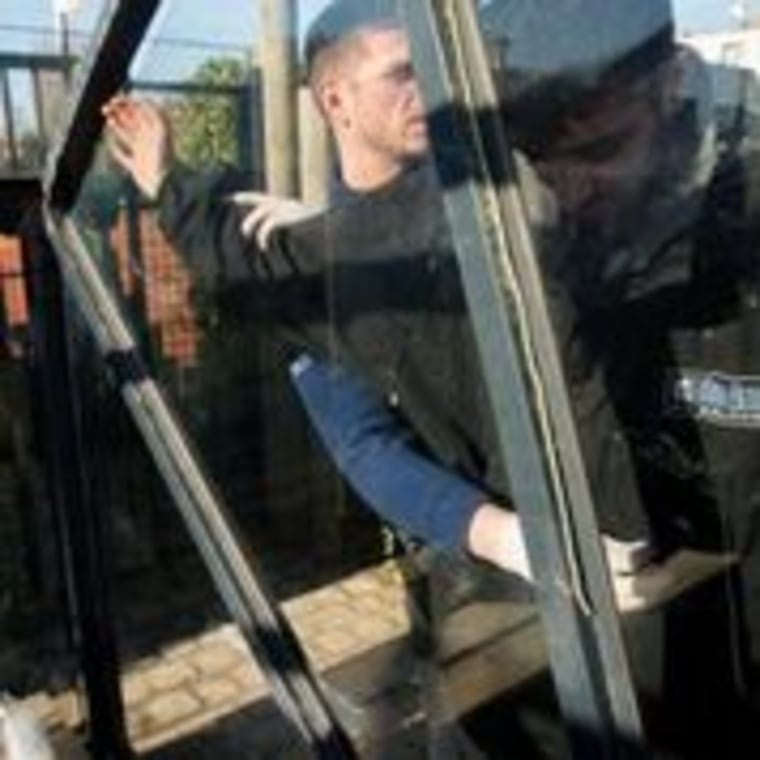 "I'm so close, but I cannot take it anymore. It's very hard, very hard," said the former psychology student from Isfahan, Iran. "I'm tired of fleeing the police and living outside in the cold."
She has abandoned her quest to emigrate to the U.K. and will claim asylum in Belgium — which she sees as a defeat.
Up until mid-February, the refugees around Stella Maris spent their days in the square outside the church. They have grown more discreet to avoid growing police checks and have abandoned tents to shelter in sleeping bags covered with plastic tarp.
Volunteer Ronny Blomme, who has been helping migrants by giving them food, drinks, sleeping bags and warm clothes at the church since they began arriving in November, says he is wants to make up for the failure of officials to deal with the problem humanely.
"Trying to scare these people is useless — they traveled 8,000 kilometers [4,970 miles] to get here and they have already lost everything," he said. "What we need is a humanitarian solution."
"The people are offended of our reactions, but because they do not live here. If they saw this every morning under their windows, they would react differently."
Blomme, who served in the Belgian army during the war in the former Yugoslavia, said he was angry about the way his government was dealing with the migrants.
"In the Balkans at the time, refugees were treated better than they are here today," he said.
Didier Franckx, another volunteer, admits that he doesn't want refugees to camp there.
"It does not amuse us," he said. "But we cannot let these people die of hunger and cold."
But some of Stella Maris' neighbors don't agree with the volunteers' work and hope the government will clean up the city.
"If we continue to help them, in a few weeks we will end up like in Calais," said neighbor Marieke, who only provided her first name.
"The people are offended of our reactions, but because they do not live here. If they saw this every morning under their windows, they would react differently," she added. "The government is right to take decisive measures."