LONDON — Benedict Cumberbatch surprised theater-goers by saying "f*** the politicians" during an impassioned on-stage speech about Europe's refugee crisis, audience members told NBC News Friday.
The Oscar-nominated star had just finished a performance of "Hamlet" at London's Barbican Centre when he criticized the British government.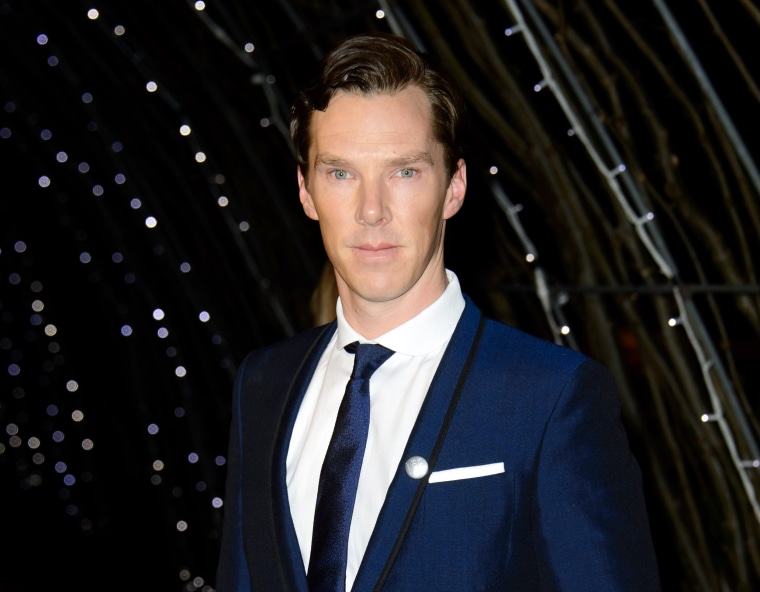 "He stayed at the front and gestured for silence," said Charlotte Fletcher, a 25-year-old public relations worker who was in the audience on Tuesday. "He burst into this magnificent monologue about Syrian refugees, about how they are all fathers, mothers, daughters and sons, just like us."
Cumberbatch then attacked plans by the U.K. government to accept 20,000 refugees over the next five years, a figure condemned as too meager by opposition lawmakers and campaigners.
"Then he just shouted, 'F*** the politicians!'" Fletcher told NBC News. "It was a wonderful moment. It was very impassioned and from the heart. It was amazing to see an actor just being so impassioned and raw."
Another audience member, Rachel Martin, who is from London and in her 50s, described the speech as "so moving."
"The show was fantastic but you left in tears after his speech," she told NBC News. "It was very eloquent, emotional and beautifully put … He gave a four-letter word to the politicians and said, 'We've got to do something about it.'"
Both audience members said the speech went down well and was received by rapturous applause. However, Fletcher added: "The parents next to me had two young-teenage children and I think they were a bit taken aback!"
Cumberbatch has become a vociferous campaigner on the crisis, which has seen more than 700,000 migrants and refugees arrive in Europe since January, according to the United Nations. At least 3,300 have drowned in the Mediterranean Sea while taking to make the journey this year.
He has been giving nightly speeches after the "Hamlet" curtain call, imploring the audience to donate money to the charity Save the Children.
The star of TV series "Sherlock" and Academy Award-winning "The Imitation Game" said donations from his "Hamlet" audiences have so far raised more than £100,000 (around $150,000) for the appeal.
Cumberbatch's agents did not immediately respond when contacted by NBC News on Friday.